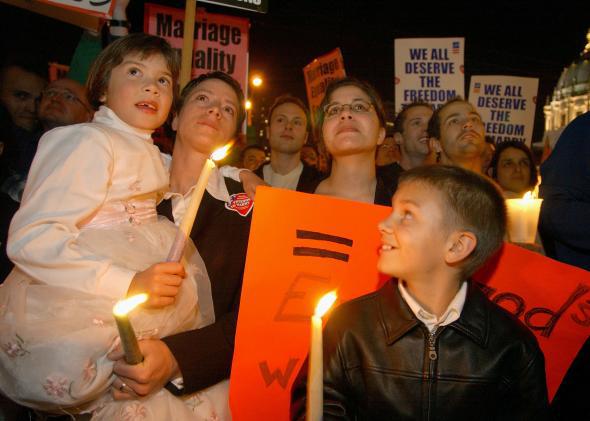 Natalie Angier of the New York Times has written a massive piece on a subject that's frequently debated but rarely examined in a sober way: The rapidly changing American family. Angier interweaves profiles of particular families with various notable trends—blended families, cohabitation, immigration, gay parenting—that have rapidly upended what Americans even mean when they talk about family. Angier, in fitting with her job as a science reporter, doesn't render any judgments about these changes, except to note that most of them are here to stay. Americans may cling to an "unshakable star-spangled belief in the value of marriage and family," but we also "value our liberty, the pursuit of personal happiness," she notes. And so we'll keep on forming our diverse and unconventional families, choosing what makes sense to us over what we're "supposed" to do.
Most of the press speculating on the impact of all these diverse family structures is of the worried sort: Worried that those single people, especially women, will never find love. Worried that those cohabitating couples with children will somehow ruin those children. Worried about declining fertility. Worried about whether two dads can raise a happy, healthy child. 
But I say embrace the chaos. One thing that rarely gets discussed about the explosion in DIY families is how it breeds a sense of open-mindedness and flexibility. My generation was the generation of blended families, and many of us quickly realized that the only way to function in a world where stepparents and stepsiblings create impossibly complex familial arrangements is to adopt a live-and-let-live attitude.
Perhaps this is why the millennial generation is so famously tolerant and appreciative of community. They've grown up in a world where no one's family looks exactly like anyone else's, a situation that quickly teaches you to take people as they come instead of trying to fit them into predetermined boxes. And complicated familial relationships—you say that your flower girl is your ex-husband's new daughter?—can teach us to emphasize the emotional connection over the delineated family structure.
Angier reports that when she asked people to define family, their answers were usually similar: "Love! Kids! Mom! Dinner!" What they also are is vague, and oriented toward how you feel and what you do in your day. It's not about being married and staying married, but about the warm embrace of people who you have decided count as your family. We may be "sappy family romantics," as Angier puts it, but maybe we are so in part because that romance, and not the strict definitions of what constitutes a family, is what is holding our families together.
---