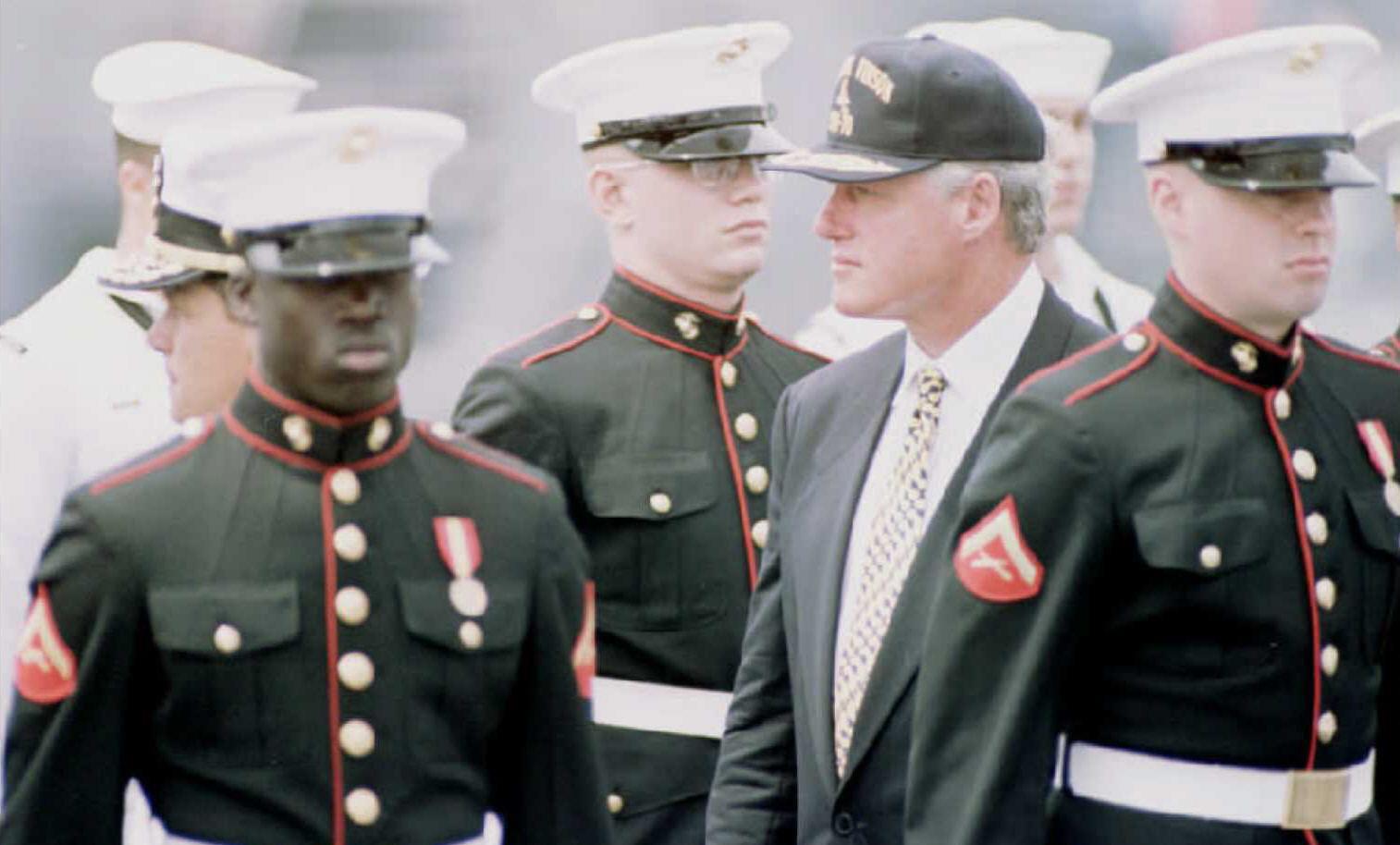 Gen. Jim Amos is on a mission to make male and female Marine Corps uniforms more uniform. The Marine Corps commandant began tinkering with the designs for the Corps' formal blue dress uniforms this summer, requiring some women stationed at Washington's Marine Barracks to take off their lady uniforms—which feature a blazer-style lapel over a white dress shirt—and try on a modified version of the male style, which boasts a "distinctive mandarin-style collar trimmed with the Corps' gold eagle, globe and anchor insignia." But now, Amos is considering some edits to the male uniform as well. In order to establish a uniform head covering for male and female Marines, he's proposed that either (1) women begin donning the male dress cap, which extends up into a big, white, circular crown, or that (2) both men and women adopt a new, more streamlined style that does not stretch so valiantly in all directions.
Some Marines are not pleased about option No. 2. The new caps "look like women's hats," a "senior Marine source" told the New York Post. "The Marines deserve better. It makes them look ridiculous." It "looks too French," one commenter added. The "last people we want to associate our Marines with would be the French military." (You just got burned, Green Berets.) Amos had attempted to soften the blow by naming the new style after Sgt. Maj. Dan Daly, a Marine who earned a Medal of Honor for his service in World War I and was a man. But the Corps quickly saw through that ruse. "Those are cute," Sgt. Arlene Tibbs said when she spied the new Daly cap last year. "I like this one because it looks girly.''
It's understandable that male Marines might be a little sensitive about the prospect of appearing "girly" or "ridiculous." After all, nothing screams "macho" like a mandarin collar adorned with gold brooches. And dressing up for formal events by placing a big white disc on the top of your head? Not exactly the height of sartorial restraint. These uniforms are actually purposefully ridiculous—they're replete with wacky touches designed to obviously distinguish members of the military by branch, rank, and venue. The thing that's really grating to some Marines is that their commanding officers are finding it increasingly unnecessary—and even counterproductive—to further distinguish Marines based on gender.
There's nothing inherently masculine about a mandarin collar or feminine about a Daly cap. (Try saying that to Daniel Daly's face, "senior Marine source.") Marine Corps uniforms only take on gender associations when the male and female versions are defined in opposition to each other. When the Marine Corps Times surveyed its readers about the proposed edits to the female jacket last year, 79 percent of female respondents opposed the change. But among men—whose own uniforms didn't stand to change at all—94 percent objected to women stepping into their uniforms. It may seem traditionally masculine to malign everything that's perceived as "girly" and "French," but all this worrying about what you're going to wear in the morning? I hear that's kind of a feminine thing.
---