Earlier this month, June Thomas asked in Outward if America was ready for a musical about a butch lesbian. The lesbian in question, Alison Bechdel, is the subject of a bold new musical that had its premiere Tuesday night at the Public Theater in New York. Featuring music by Jeanine Tesori with book and lyrics by Lisa Kron and based on Bechdel's best-selling graphic novel of the same name, Fun Home tells the story of Bechdel's childhood in rural Pennsylvania, her coming of age and coming out to her parents, and the suspected suicide of her father four months later. While I'm a fan of musicals, this one, while at times a delight, has a difficult time living up to its source material. 
To be fair to Tesori and Kron, Bechdel does an intimidatingly fine job with her own words and illustrations of presenting her childhood in a funeral home where her father, a closeted gay man, was a perpetual perfectionist. His demands of cleanliness and barrettes from his young daughter tell us everything we need to know about his interior struggle.
Moreover, the graphic novel form allows for freedom from pesky constraints like linear time and geographical space; the theater, however, is less forgiving. As a result, the show opens with young Alison, played by the exceptional Sydney Lucas, shadowed by the modern-day Alison, the default narrator, played by Beth Malone, who seems to be illustrating the show as it takes place. Then there's a third, college-age Alison (Alexandra Socha), who plays the role of "sexual discovery phase" Alison, first with timidity and then with gusto. Fun Home jumps around among the three of them with no clear logic, flashbacks happening within flashbacks. In perhaps the most emotional scene—dad's final moments—the older Alison, in a confusing attempt to convey what she's thinking while relaying the anecdote, takes the place of the college-aged one that should be there, chronologically speaking.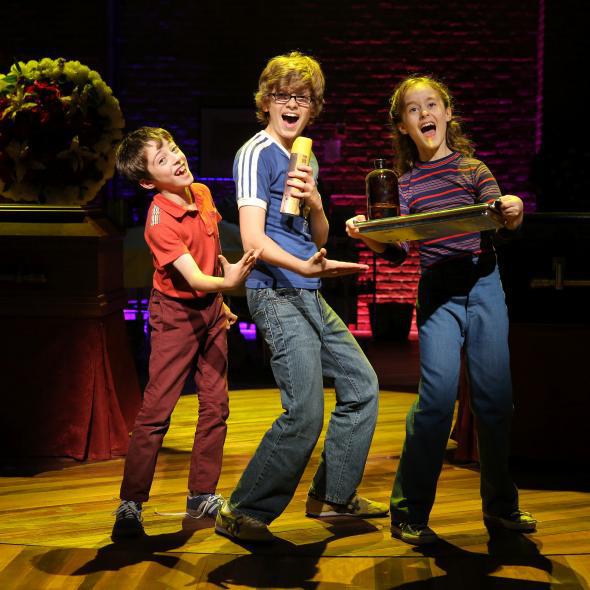 There are moments when the show tries to acknowledge its origin on the page, like when the family visits New York City during Fleet Week and Alison wakes up as her dad is sneaking out, presumably to salute a few of America's sailors. The set is gone, and in its place is a black curtain. As college-age Alison enters the stage, white lines begin to divide the space as three different scenes take place. In one, we have college-age Alison waiting for her parents to acknowledge the letter she sent them in which she reveals her lesbianism, and one panel over, we have the young Alison asleep in a sleeping bag. It's a nice nod to the book, but it adds more confusion than clarity to the production.
But Fun Home is not all longing and sadness; there are also moments of pure joy, and the musical shines during these. At the performance I attended, the loudest applause came after Alison (Lucas) and her brothers practiced their imaginary commercial for the funeral home by singing "Come to the Fun Home," in the style of a morbid Brady Bunch special. Same goes for the awkward and then ultimately lovely scene in which Alison (Socha) discovers her sexuality with her friend-turned-lover Joan, causing her to wake up singing the aptly named tune, "Changing My Major."
But aside from these few bright spots, it's not clear that a musical is the best second format for the material. Midway through the show, Alison's father, Bruce, sits down with her as she starts to illustrate for the first time and tells her that the story is cluttered and messy and tries to organize it. The metaphor for Bechdel's life may be obvious, but in many ways, it's also a metaphor for this production.