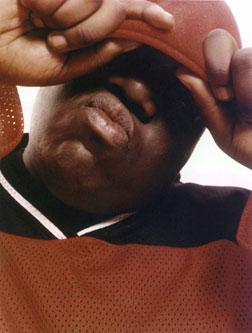 Biggie Smalls, aka the Notorious B.I.G., was raised in Brooklyn, N.Y., and represented the borough throughout his short but illustrious East Coast/West Coast beef-heavy career. So it makes sense that local resident LeRoy McCarthy wants to honor the innovative rapper by naming the intersection of St. James Place and Fulton Street "Christopher Wallace Way," using Biggie's birth name on a street sign near his childhood home. Unfortunately, McCarthy is facing some opposition to this plan from community board members.
DNAinfo reports on the objections, which include that "he was a school dropout at 17," "was arrested for drugs and weapons charge, "and physically the man is not exactly a role model for youth." That's right, folks, a board member fat-shamed Big Poppa. Another board member said that he "did not appreciate" that the rapper "referred to women with derogatory names in his music."
There's no doubt that Biggie's lyrics often had misogynist themes. But let's face it: Misogynist song lyrics only count against you if you're black and/or a rapper. A hero in a Willie Nelson song goes around shooting prostitutes, and Johnny Cash cheerfully sang about killing women, even romanticizing cocaine use while he was at it. No one bats an eye when these men are honored in museums and by having streets named after them. Joey Ramone got his street corner, despite singing a gleeful tune called "You're Gonna Kill That Girl." When it comes to country western and punk, for some reason, it's easier to understand that audiences have complex relationships with crime narratives in pop music, much as they do with Scorsese films and AMC shows that depict drugs and violence, even misogynist violence, in glamorized ways while still expecting viewers to know that it's wrong. Hip-hop has always been held to a different standard. 
The streets of New York City are named after a fascinating group of men and women—some genuine heroes, some slave owners and Gilded Age plutocrats. Surely there's room for a man whose main contribution to history is some excellent music, and who, as Jody Rosen wrote in a 2009 piece for Slate, "reclaimed the zeitgeist for New York." As Rosen noted:

B.I.G. was a thugged-out version of the classic New York neurotic. He was as New York-to-the-bone as Woody Allen, and in the early 1990s, NYC hip-hop was in need of a local hero.
So give the man his corner.

---