The Vault is Slate's history blog. Like us on Facebook, follow us on Twitter @slatevault, and find us on Tumblr. Find out more about what this space is all about here.
William Still, Philadelphian and son of a formerly enslaved woman who had escaped to freedom before his birth, was a prominent conductor on the Underground Railroad. Starting in 1852, Still recorded details about each fugitive he encountered, writing down names, ages, skills, status of family members, names of slave owners, and conditions of enslavement.
Below are four journal pages in Still's hand, recording the particulars of runaways he met over two days in June 1855. These bare details tell complex stories about the experience of enslavement. The life stories recorded here show how much uncertainty and instability played a part in the cruelty of slavery. Even if one had a (as Still called it) "mild" master, there was always the possibility that the owner might marry a confrontational and abusive wife or die and pass the slave into the hands of an alcoholic relative. Threats of being sold, Still's accounts show, were often used against slaves as a form of control.
The passage of the Fugitive Slave Act in 1850, making it illegal for anyone to help or harbor escaping slaves, meant that the very act of keeping this diary put Still at risk. As the curators of the Historical Society of Pennsylvania's Preserving American Freedom project, which recently digitized the Still diaries, point out, Still was also risking the lives of the people whose details he wrote down. But Still had been reunited, through the Underground Railroad, with a brother who was left behind in slavery when his mother escaped and thought that his diary might serve to reconnect other families.
Still, who became a successful businessman later in life, eventually wrote a book using his notes, which were (happily) never discovered. His 1872 work The Underground Railroad: A Record of Facts, Authentic Narratives, Letters, &C, Narrating the Hardships, Hair-Breadth Escape and Death Struggles of the Slaves in Their Efforts for Freedom, as Related by Themselves and Others, or Witnessed by the Author is available in full text via Project Gutenberg.
A transcript follows the page images.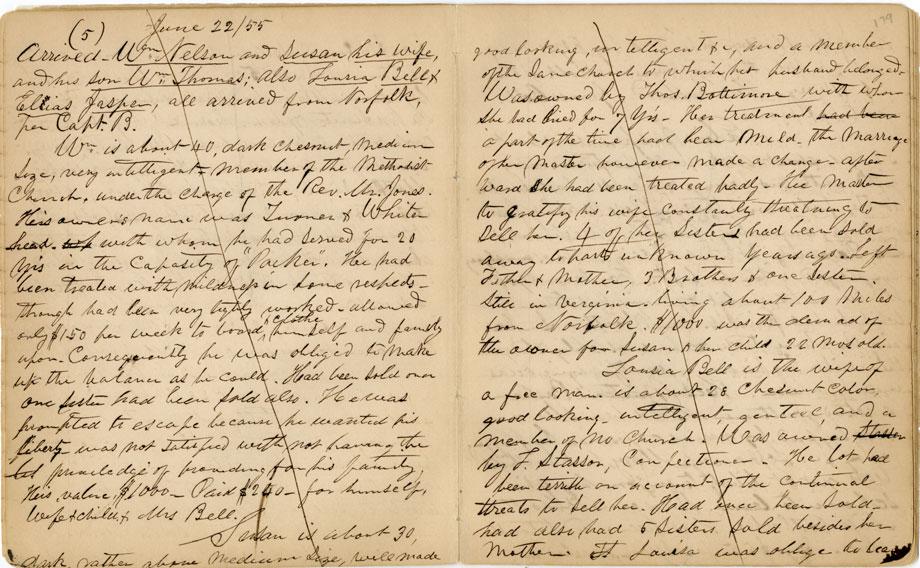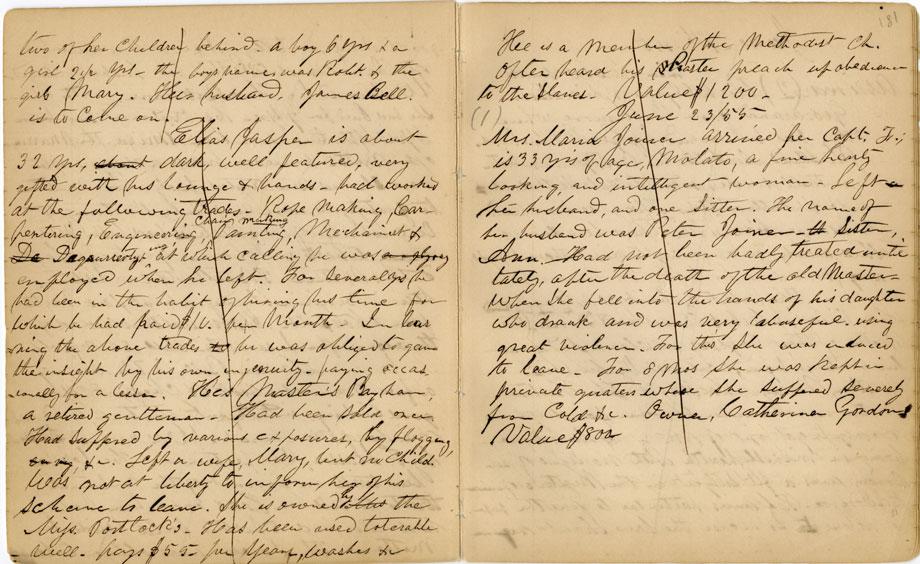 Transcript (provided by the Historical Society of Pennsylvania):
June 22/55
Arrived. Wm Nelson and Susan his wife, and his son Wm Thomas; alsoLouisa Bell & Ellias Jasper, all arrived from Norfolk, per Capt. B.
Wm. is about 40, dark chesnut, medium size, very intelligent, member of the Methodist Church, under the charge of the Rev. Mr. Jones. His owner's name was Turner & Whitehead. wh with whom he had served for 20 yr's in the capasity of "Packer". He had been treated with mildness in some respects, though had been very tighly worked, allowed only $1.50 per week to board & clothe himself and family upon. Consequently he was obliged to make up the balance as he could. Had been sold once one sister had been sold also. He was prompted to escape because he wanted his liberty—was not satisfied with not having the bl priviledge of providing for his family, His value $1000–. Paid $240– for himself, wife & child & Mrs Bell.
Susan is about 30, dark, rather above medium size, well made [page break] good looking, intelligent &c, and a member of the same church to which her husband belonged. Was owned by Thos. Bottimore with whom she had lived for 7 yr's. Her treatment had been a part of the time had been mild, the marriage of her master however made a change, afterward she had been treated badly. Her master to gratify his wife constantly threatening to sell her. 4 of her Sisters had been sold away to parts unknown years ago. Left Father & mother, 3 Brothers & one sister. Still in Verginia , living about 100 miles from Norfolk. $1000 was the demand of the owner for Susan & her child 22mos. old.
Louisa Bell is the wife of a free man. is about 28 chesnut color, good looking, intelligent, genteel, and a member of no church. Was owned Stassen by L. Stasson, Confectioner. [Her] lot had been terrible on account of the continual threats to sell her. Had once been sold, had also had 5 sisters sold besides her Mother. Th Louisa was oblige to leave [page break] two of her children behind. a boy 6 yrs & a girl 2½ yrs —the boys name was Robt. & the girls Mary. Her husband, James Bell. is to come on.
Elias Jasper is about 32 yrs , stoutdark, well featured, very gifted with his tounge & hands, had worked at the following trades, Rope Making, Carpentering, Engineering, Chair MakingPainting, Mechanist & DeDegaurreotyping , at which calling he was emplyoy employed when he left.5 For several yrs he had been in the habit of hiring his time for which he had paid $10. per month. In learning the above trades so he was obliged to gain the insight by his own ingenuity, paying occasionally for a lesson. His Master's Bayham, a retired gentleman. Had been sold once. Had suffered by various exposures, by flogging, envy, &c. Left a wife, Mary, but no child. Was not at liberty to inform her of his scheme to leave. She is owned by Mrs the Miss. Portlock's. Has been used tolerable well. pays $55– per year, washes &c. [Page break] He is a member of the MethodistCh. Often heard his mPaster preach up obedience to the slaves. Value $1200–
(1) June 23/55
Mrs. Maria Joiner arrived per Capt. F., is 33 yr's of age, Molato,6 a fine hearty looking, and intelligent woman. Left a her husband, and one Sister. The name of her husband was Peter Joiner, the Sister, Ann. Had not been badly treated until lately, after the death of the old Master. when she fell into the hands of his daughter who drank and was very abuseful. using great violence. For this she was induced to leave. For 8 mos she was kept in private quarters where she suffered severely from Cold &c. Owner, Catherine Gordon Value $800–