To Brie, or not to Brie? If you ever find yourself selecting cheese for a party, that is the question. You might think it's a good idea to brie. In the last few decades, the cheese has become the default choice for a "classy" occasion. As online grocer FreshDirect puts it, "It's what your guests expect (and want) you to serve." How could you go wrong?

I am here to tell you that you can go wrong. In fact, you go wrong just about every time you choose Brie for a party. The reasons are simple: It's bland, it's boring, and—at least in the United States—it's rarely even the real thing.

It wasn't always this way. There was a time when Brie—at once buttery and earthy, literally oozing with flavor—was the cheese of royalty. Charlemagne was reputedly a devoted fan. At one of history's poshest parties, the Congress of Vienna, the 19th-century French diplomat (and prominent foodie) Talleyrand reportedly called for a break from divvying up the nations in order to stage a cheese tournament. Lord Castlereagh of England spoke in favor of Stilton, Dutch minister Baron de Falck nominated Limberger, and Italy and Switzerland countered with Strachino and Gruyère. Talleyrand remained quiet until the end, when the Brie was brought in. After a vote, the conference declared another king, le roi des fromages ("the king of cheeses").

But the intervening centuries have not been kind to Brie. As the legacy of the Congress of Vienna collapsed, Brie's region of origin, Brie, was ravaged by the Franco-Prussian War; the area's dairy industry has never been the same. Next, as Steven W. Jenkins laments in his Cheese Primer, the land fell to industrialists. Around the 1950s, Brie became largely a factory cheese—produced not by small farms but by factories in another region, Lorraine.

It gets worse. Brie's popularity boomed in the United States in the '70s and '80s, even as the finest Bries were being shut off from these shores. In 1985, the FDA, fearing dangerous bacteria, began to require that all cheeses be pasteurized or at least aged for 60 days before they're imported. Since the Brie of Talleyrand and Charlemagne was always an unpasteurized cheese that would spoil if aged for so long—and since good bacteria were considered necessary to make a proper Brie—the law effectively outlawed true Brie from the United States.

As a result, the "Brie" you'll find in the U.S. today is generally Brie in name only. The oldest and most popular varieties, Brie de Meaux and Brie de Melun, are required by French law to be made with raw milk, and are thus prohibited from crossing our borders. (Don't be fooled: If you've ever bought a cheese labeled "Brie de Meaux" in the U.S., it was almost certainly not the real thing: The U.S. importer Anco registered "Brie de Meaux" as a trademark in the '70s, allowing them to slap the label onto cheeses that aren't actually made with raw milk in the township of Meaux, but instead are made with pasteurized milk, and so have a different texture and flavor.) In the U.S., there are no rules governing what you can call a Brie, meaning that juggernauts like Lactalis (one of the largest dairy producers in the world and owner of the Président brand) can bestow the Brie label onto even the most flavorless cheeses.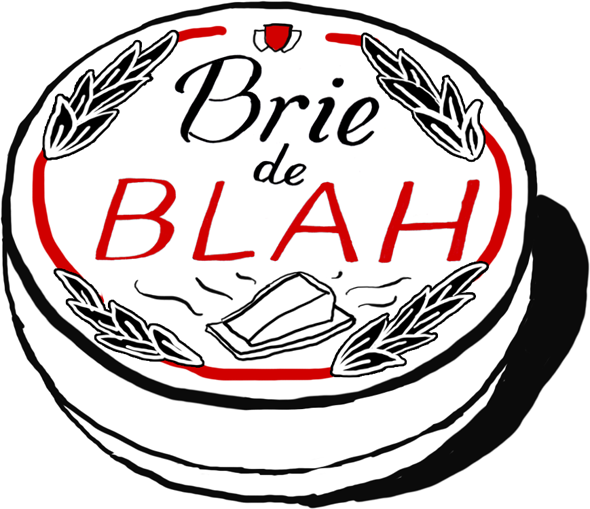 So why, if our Brie is so woefully ersatz, has it continued to be so popular? (Greenwich Village's Murray's Cheese Shop confirmed to me that it's still one of their best-sellers.) I fear it's precisely its blandness that makes it so omnipresent. Today's Bries—especially the plastic-wrapped wedges you'll find in the bins at your grocery store—promise the cachet of a fine French cheese without any of the potential drawbacks. There's no difficult-to-pronounce name, no stinkiness, and no strong flavors to offend delicate palates. As several French exporters told the New York Times more than three decades ago, the American taste for Brie had already "evolved to a general preference for a bland, somewhat underripe product." Just give us the butteriness and none of the character. If we want flavor, we'll tart it up with crushed pepper or herbs.

If you think I'm overstating my case, I suggest you talk to a cheesemaker or cheesemonger. When I emailed Jenkins, who is now the cheesemonger for New York's Fairway Market, he did not mince words:
There is real Brie (1 percent, literally), and then there is factory brie (lower case 'b', 99 percent). Day. And. Night. … Anyone who chooses the 'brie' found in the shittiest supermarkets, the finest supermarkets, the chichiest food shops is making a really bad choice.
He went on:
Again, any purported sophisticate that does not understand this is no more than a dilettante. There is absolutely no redeeming reason for ever allowing pasteurized 'brie' into one's life. The stuff doesn't even run. The running should be the American cheeselover—AWAY from this phony-baloney.
If you absolutely must have a Brie for your dinner party, there may be some reasonable options. At Fairway, for example, Jenkins imports a Brie from French cheesemaker Robert Rouzaire that is "thermized," rather than pasteurized. (Essentially, the milk is heated at a low temperature for a long time rather than at a high temperature for a short time.) At Murray's, there is no unpasteurized Brie, but they do have a handful of cheeses that constitute the next best thing. Upon offering me a taste of their favorite Brie, Brie Fermier—which is pasteurized, but made with an eye toward flavor—they pointed out that it tastes not only mushroomy but, startlingly, like broccoli. It was undeniable.

But for many, of course, it will be impossible to travel to a store like Fairway or Murray's to get the Rouzaire or even something like the Fermier. If these options are not available to you, or even if they are, I would suggest that there are hundreds of other good party-cheese options—a Manchego, a Taleggio, a Gouda, or even a good cheddar. In the era of Whole Foods and foodie culture, surely you can count on your hosts and fellow guests to appreciate a range of pleasures that extends further than just double- or triple-crème. It may not be what your party companions expect, but it's what they'll love.