The bird cage has long been an object that transcends its original function, a metaphor for writers, a stage prop for go-go dancers, and a perennial inspiration for designers (and DIYers with spray paint and a glue gun).
The ornamental diamond-and-emerald-encrusted gold bird cage in Coco Chanel's Paris apartment inspired the fashion house's bird cage earrings and a memorable 1992 Chanel perfume TV spot starring Vanessa Paradis as caged bird. Recent bird-cage-inspired designs include French designer Mathieu Challières' series of bird cage lights for the Conran Shop outfitted with fake birds made from real multicolored feathers and Mineheart's streamlined cage light fixture filled with a lone feather designed to showcase a bare bulb.
According to aviculture blogger Patricia Sund, the bird cage has been traced as far back as 900 to 1340 A.D., when pre-Columbian Paquime Indians from the Mexican state of Chihuahua built adobe aviaries for their scarlet macaws modeled after their own pueblo-style homes. Birdkeeping became fashionable in 17th-century England and France, and cages became a home accessory, tricked out with brass, mahogany, porcelain, and silver. In the 18th century, the rich kept songbirds in elaborately crafted cages fashioned like architectural models of human dwellings, and gilded cages featuring chirping mechanical birds were a popular wedding gift amongst Victorians.
Since the late 20th century, bird cage design has shifted from an emphasis on form to function as research on the needs of birds has revealed their penchant for having space to fly around and a clean place to perch. Nevertheless, it's the petite, dome-shaped, cartoon-simple Tweety Bird cage silhouette that is the usual stuff of children's drawings and interior designer's dreams.
Last week, two French designers featured at the biannual mother of all international design trade fairs, Paris' Maison et Objet, used the bird cage as a vehicle and flew it to the moon.
And then there was the Alice in Wonderland moment: a hanging, human-scaled, gilded bird-cage chair by French designer Anouchka Potdevin, arresting bleary-eyed passersby with its larger-than-life form while they stared and asked "Why?", and then "Why not?"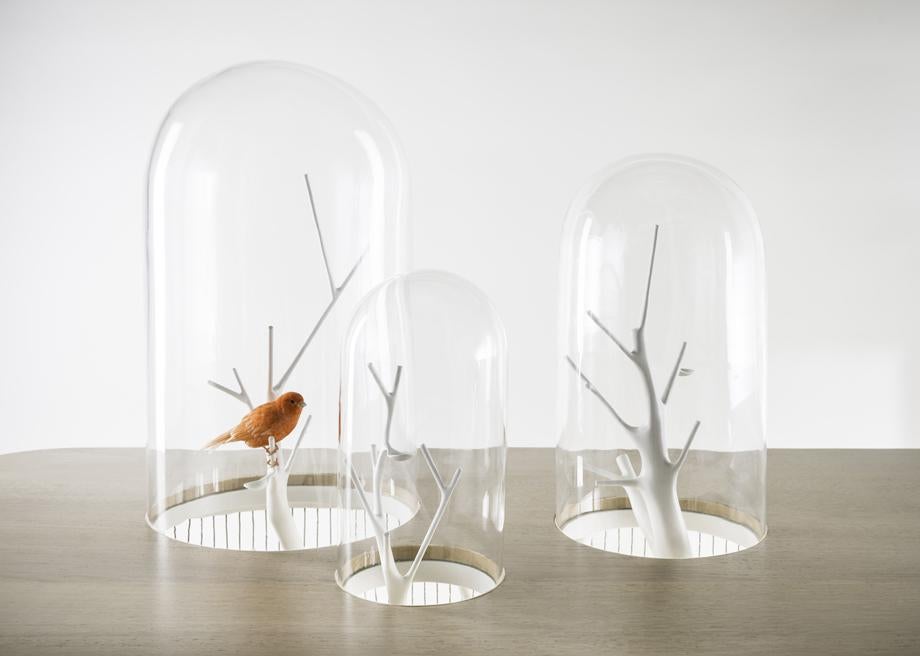 The one-off piece costs $30,000 and is more a provocative exercise in style (and pissing off animal activists) than a mass-market proposition, though de Lafforest included usable feeders and a water basin in the streamlined design.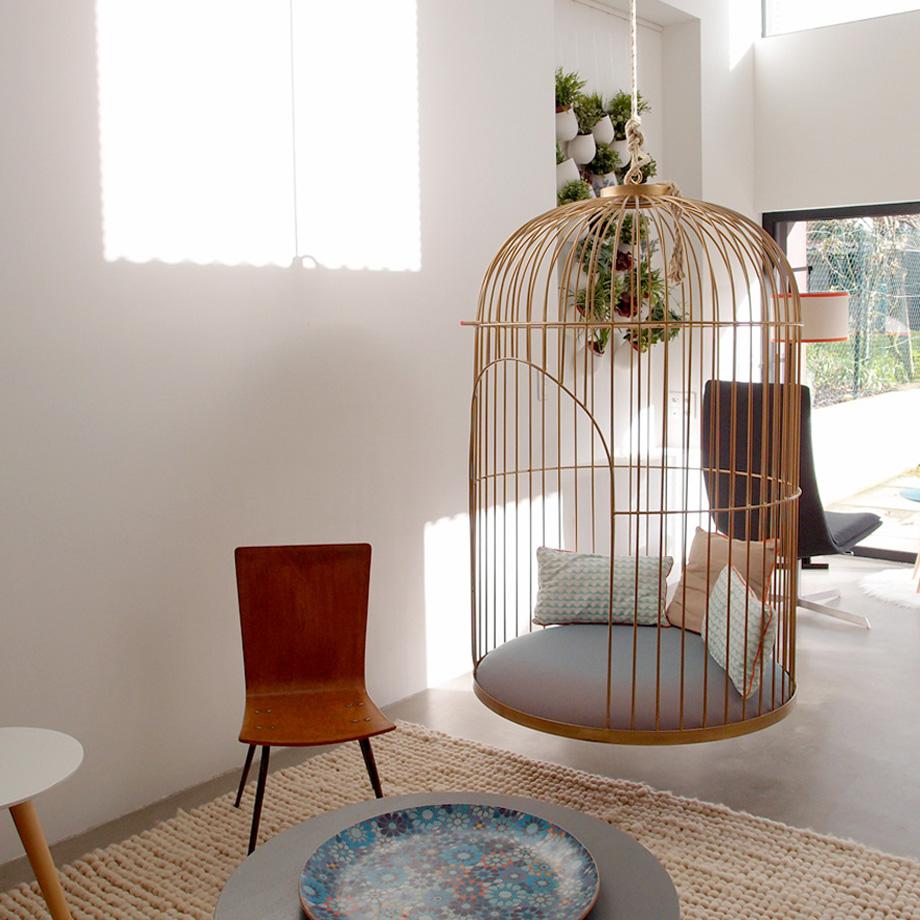 Based on a private commission she built in 2011 for an airy, high-ceilinged house, the 5-foot-tall bird-cage chair, which can be hung or posed on the ground, is now on sale for $3,900.