On a recent Culture Gabfest podcast, when asked to recall a cultural item from childhood that had made a profound impact, Julia Turner started talking about a mesmerizing picture book featuring a "fictional mouse architect" who had clients all over the animal kingdom. Her fellow panelists were incredulous and amused. But the book exists! And it was discussed perceptively (under the Australian title House by Mouse) by Australian architecture critic Naomi Stead in a recent essay on children's books that feature architects. A portion of that essay, which appeared on Places Journal in 2012, is reprinted below. To read the rest of the essay, click here.
As a child I never had my own copy of House by Mouse. I borrowed it—on almost continuous loan—from the public library. Later my sister tried to procure one for me as a surprise present, and as she eventually told me, in those years she encountered numerous lost souls like herself, wandering the Internet looking for this or that long-lost book, many mourning a childhood copy that had been loaned but never returned. Although well out-of-print by now, House by Mouse can still be found in some secondhand online bookshops, although it's not cheap. (It's listed on Alibris starting at $100.) My sister eventually realized that the same book had been released in the U.S. with a different title (Need a House? Call Ms. Mouse!), found a copy, bought it, and presented it to me, triumphant.
This U.S. version has the same authors as the version I knew in Australia—George Mendoza is the writer and Doris Smith the illustrator. Peculiarly, though, it has an entirely different text, and perhaps for this reason was reviewed rather brutally in the New York Times, in November 1981, with reviewer Doris Orgel judging that "the text, about 'world famous decorator' Ms. Mouse and her clients, has no merit. It's really just a gimmick, arch and slapdash, with unfunny jokes aimed at grown-ups." But, she continues, "children won't mind"—the merit of the book lies in its illustrations. The text in the Australian version was much more straightforward, with simple description and no jokes. Interestingly, the gender of several of the animals changed between the two versions; in the American version, the bear became male and the pig became female—a much closer match, it seems to me, to gender stereotypes. (But that's another story. I also don't recall registering, as a child, the significance of the mouse architect being female, although one never knows the subconscious influence of such things.)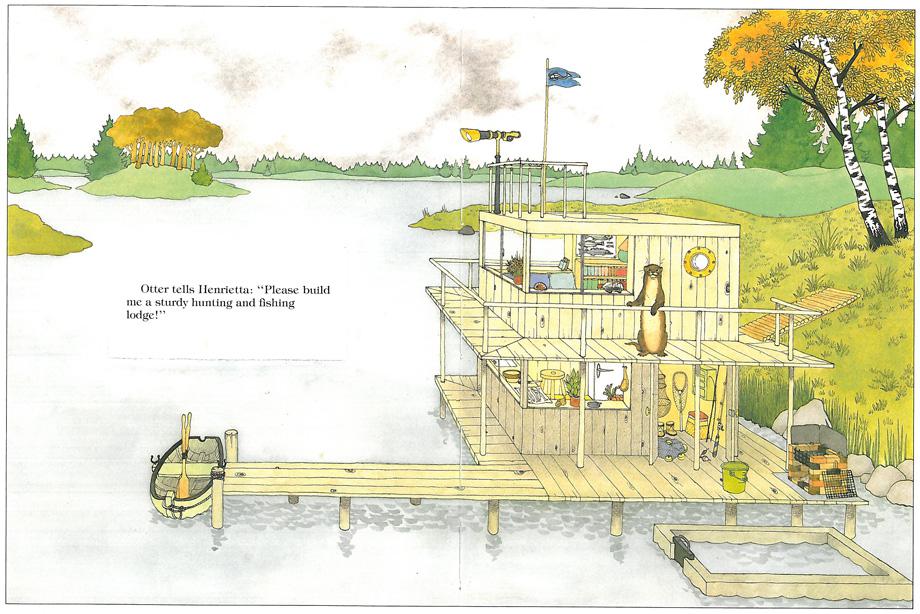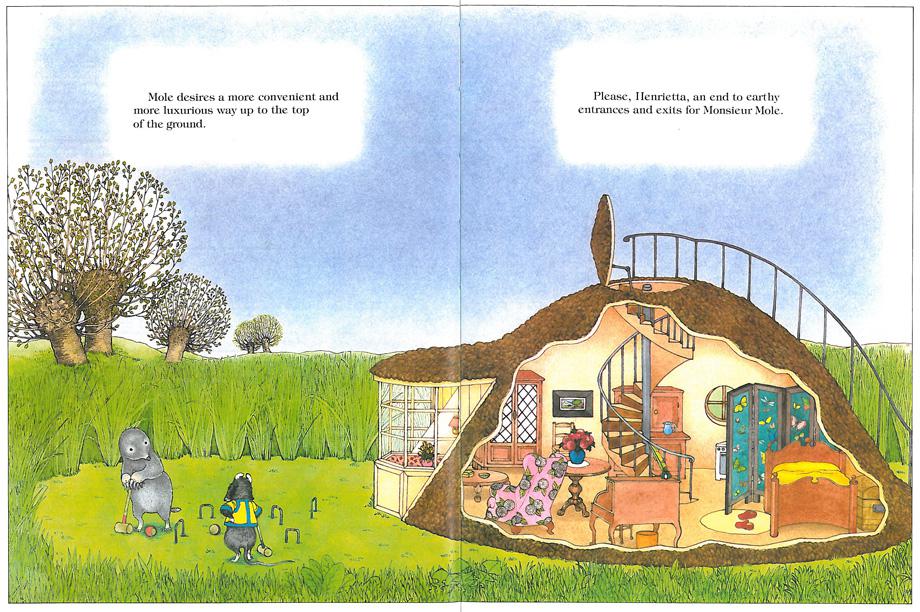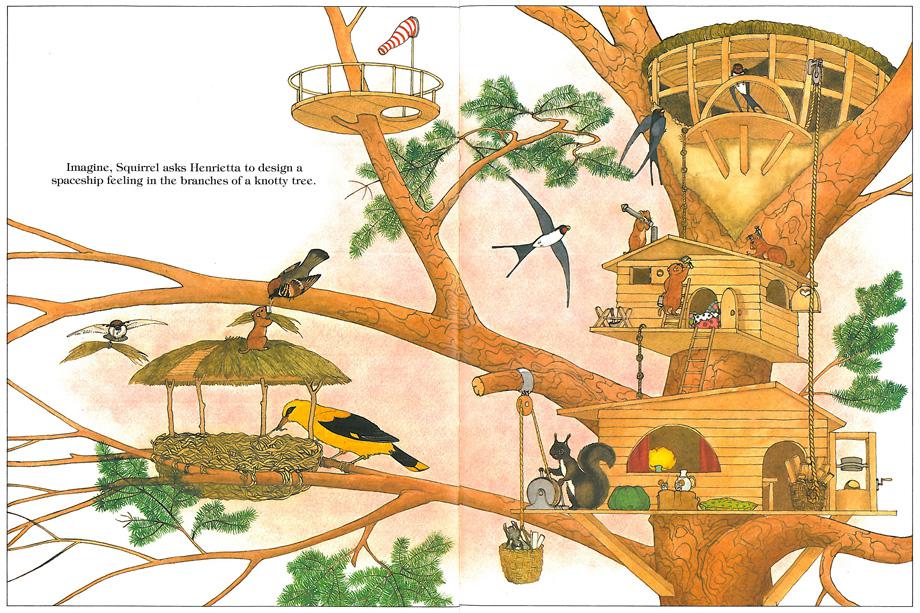 The things I liked about House by Mouse were many. It was partly the inventiveness of the houses: Imagine a squirrel's treehouse accessed via a basket drawn up by rope! Imagine a molehill with a croquet lawn! But it was also the idea of occupying such unusual spaces—this is much the same delight I feel today when I see real buildings being adaptively and cleverly reused. In House by Mouse I favored the underground (and underwater) dwellings, to a lesser extent the suspended and treetop ones, and those that I liked least were conventional dwellings. The pig's mansion, for example, was not appealing at all, and I distinctly remember skipping that page with a kind of contempt for this "normal" house, with its boringly vertical walls and windows, neoclassical colonnade and manicured grounds. 
The mouse architect's own house was more engaging. Though a fairly modest, split-level Sea Ranch–esque timber number, it did feature the mouse architect's various places of work: the study with its plan drawers, rolls of paper, and paintbrushes; the drawing board located in its special niche under a skylight on the mezzanine. Each room seemed perfectly fit for its intended activities, perfectly orderly and predictable, seemingly a recipe for the good life, in every sense of the words. And then there was the large round "picture window," a gesture that to my young eye was the equivalent to hanging out a sign saying: This is Architecture.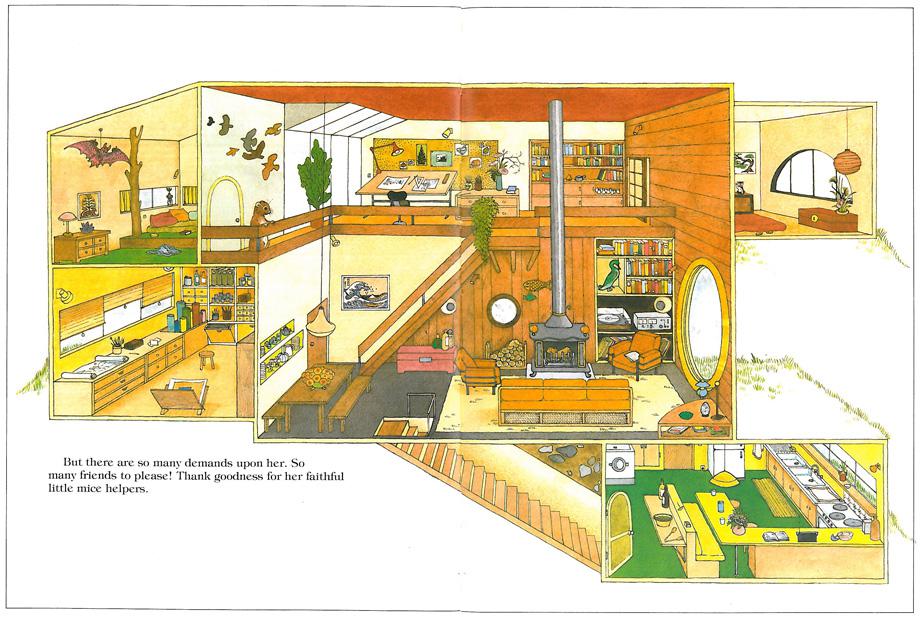 At the end of House by Mouse, the architect is shown in her own favorite leisure environment, which proves to be not a conventional house but instead a temporary campsite in the forest. It is this sense of inhabitation—inhabitation as living inventively—that runs powerfully through the book. Most of my pleasure lay thus in the sense that through the alchemical magic of the mouse-protagonist's creativity, each dwelling was not only completely original but also perfectly and absolutely suited to its occupant, in defiance of orthodoxy. All of the houses were individualized to each animal, not only to bodily needs but also to desires—one might say that each house represents not just a life but also a lifestyle. And since the animals all had highly diverse habits and habitat needs, this individualization stood in for the possible diversity of the human clients that a human architect might design for.
Most of the dwellings in House by Mouse were really leisure pavilions, animal versions of a folly or holiday house. The spider's web-wired recording studio/performance stage was all techno-bohemian fantasy; meanwhile, the otter relaxed on its boathouse, and the owl surveyed the world from its study/planetarium at the top of a tower. But the houses I loved the most showed evidence of industriousness: the rabbit's stock of vegetables carefully stored for the winter, the caterpillar's orderly rows of plants flourishing under grow-lights in the attic of a home in a suspended, hollowed-out pear. In such ways did House by Mouse offer up the intermingled pleasures of organization, predictability, and abundance that together make up domestic serenity and security. 
To read the rest of this essay and see more images from the book, go to Places Journal.