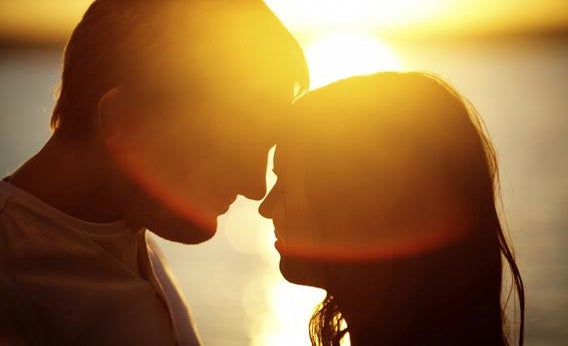 The summer romance stories you sent in, when I asked, are full of connections made and missed, moves brilliant and boneheaded, and the occasional act of God or moose. Some stories were drenched in nostalgia—I could imagine the sunset photo that went along with them. They all captured the not-quite-real-life essence of summer. Even were about relationships that started with the odds of permanence against them, and that was mostly the very best thing.
I'll start with the moose. Jonathan Huntress was 19 in 1963 when he got a summer job as a cafeteria boy at Fishing Bridge in Yellowstone Park. He took a girl named Pat to Lake Yellowstone beach. "We sat on a log at the edge of the woods and looked across the water. In front of us was the lake with Mount Sheridan and the Grand Tetons at the far southern end, the still snowy peaks glistening in the light of a gorgeous full moon," he wrote. It was a first-kiss moment. Except that in his peripheral vision, Jonathan saw movement, and when he reluctantly turned his head, he saw an enormous bull moose pounding down the beach. So much for the kiss.
Another missed opportunity, this one the summer after junior year of high school. Michael had a girlfriend at home, but at camp he met Ali, "whip-smart and funny and "beautiful, with chestnut hair falling past her waist." On the last day of camp, on a whale watch, they walked out to the prow of the boat and stood together. "I wrapped my arms around her, inhaled the scent of her hair. But then I backed off," he wrote. "One of the few regrets that haunts my life: I should've kissed her."
Rina Goldfield met a guy the summer she was 17 when he knocked on her door and asked for a haircut. "Dan sewed me a cucumber-colored dress; he built me a bicycle decorated with gold manatees; he called me during thunderstorms," she wrote. She left him for a guy who read Virginia Woolf. Years later, he found her again and asked her to an R&B show. But the relationship foundered a second time at the hottest point of August. She was sorry mostly to lose the comfort of remembering his younger self.
Here's a story that doesn't fizzle, from an anonymous reader about the summer before she started medical school and before she'd had sex, not a state of affairs she sounds that pleased about. She had beautiful friends who sucked up all the male attention. But one night, she went to a club with them and met the guy who was the life of the party and wanted her. They all went back to his place and he gave her a pill she thinks was ecstasy. And you know what? This is a tale of drugs and sex that doesn't end in disaster. She had the "most crazy, passionate night" of her life. And that was more than enough. "I never wanted to see him again because I felt that if I actually knew who he was that it would ruin my perfect perception of that night," she wrote. On to medical school.
Some of you wrote about love that outlasted the summer. In 2008, Sarah Levy scored a summer internship with the National Forest Service in a small town in central Idaho. (It had "a crosswalk that steered walkers directly between two bars.") She met Katy, her boss, in a parking lot outside the grocery store. "She looked so hot in her tank top, Chaco's, and macho silver belt buckle. She showed off her ability to back a trailer up a hill on a pot-holed dirt road." Sarah and Katy had a Jewish domestic partner ceremony in Portland, Ore., last September. They hope to marry soon.
Jon Carroll needed the help of Hurricane Elvis, which hit Memphis 10 years ago. He let a friend stay at his place until her power came back on. "She never went back," he wrote. "We were married about a year later and our second dance was to "Rock You Like a Hurricane."
Sarah Lyons needed a sumo tournament. In Japan on a summer research program, and she met a German fellow graduate student at one. They next went to a Tokyo fish market and then spent their last six days in the country ditching their friends and making last-minute hotel reservations to see each other. They stayed away from "what next" until the last night, then decided to say goodbye. "But within a month, he had bought a plane ticket to visit me in the US," she wrote. "This week will mark the two-year anniversary of our first fish market date, and I'm currently in the middle of my fifth visit to Germany." 
In the summer of 1972, Lori Borger went to see the final rehearsal of a group of actors heading off the next morning for a USO Tour of the Pacific Command area. "When the guy playing the lead walked out, the strangest feeling came over me," she wrote. "I wasn't giddy or anything; it was more of a quiet, stirring feeling." She told the friend she was with that she was going to marry that guy. Three years later, she did. They've been together for more than 37 years.
---