This question originally appeared on Quora.

Answer by Bobbie Ragsdale, U.S. Army Cavalry Officer:
Once upon a time in 2005, Jon Stewart visited the United States Military Academy at West Point to play to a sold-out, 5,000 seat show. (West Point, for the record, possesses one of the largest theaters in the country, Eisenhower Hall.  "Ike Hall," as it's known, was designed for addressing the entire Corps of Cadets at once. Traveling shows, bands, comedians, etc, frequently play there to an audience of mostly upstate New York types.)
I, Cadet Corporal Ragsdale at the time, being the most enterprising member of the West Point Theater Arts Guild & Dialectic Society, was self-selected to be Mr. Stewart's security detail while he was on post, a position that was probably not necessary, but one that I frequently created when posed with the opportunity to hang out with someone interesting. I met a lot of neat people this way, but none were cooler or more down-to-Earth than Mr. Stewart. While Jay Leno showed up in a double-stretch limo and Martina McBride in a double-decker tour bus, Jon Stewart arrived in his single-everything POV, which is military-speak for "his own damn car." That's right, he drove himself to the show from NYC. No private helicopter or Aston Martin that becomes a cigarette boat. Nope, just a simple Ford Explorer. And he got out, dressed like this: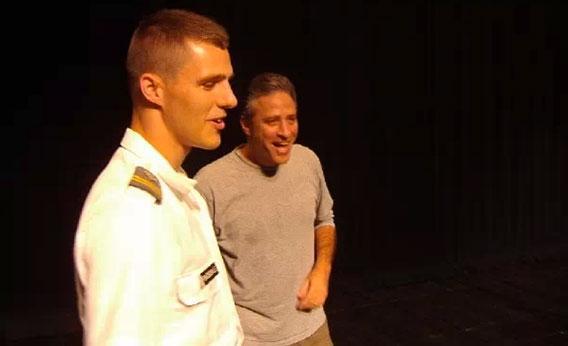 No entourage, either. His tour manager or agent or whatever showed up a little later in his own SUV, but that was it. Essentially, I was his entourage. Not that there was much to do. He was several hours early, so I showed him around the stage and then we hung out in the green room for a bit, swapping jokes, talking about Hurricane Katrina, which was only a few days old at the time, and reminiscing over an old Daily Show bit that involved Sheriff Harry Lee shooting Nutria in New Orleans canals with SWAT snipers (fellow NOLA natives will know what I'm talking about).

Fast forward a bit to his show, which was hilarious. I actually bought tickets, something I almost never did, so that my girlfriend could come see the show. Seriously, though, it was one of the best stand-up shows I've ever seen. Very breezy, quite blue, and hardly resemblant of his hard-hitting political focus on Comedy Central. Afterward, he signed her copy of America: The Book, which was new at the time.

But that's not the story. During the show, he had a lot of back-and-forth with the audience of mostly Cadets. In an almost unheard-of turn of events, Cadets nearly bought out the show before tickets went public. At one point, someone shouted, "FIRSTIE CLUB!"
Now, a little background is in order. At West Point, each class has a nickname, and the seniors are called "Firsties," which comes from their official status as "First Class Cadets." West Point is a military post like any other, which has fairly typical laws concerning alcohol, but Cadets abide by a special set of rules. In general, alcohol can only be consumed by Cadets (who are of appropriate age and rank) in special circumstances, such as balls, or at the Firstie Club, a bar just across the street from Ike Hall. Funny thing about the Firstie Club: hearkening back to the old Officer's Club concept, only Firsties are allowed. For anyone else to enter is a big deal, such being prohibited by God, or at least by a Three-Star General, which is basically the same thing. As a Sophomore (aka "Yearling") myself, I had never seen its sanctuary or tasted its bounty.
Jon, not knowing any of this, simply paused and replied, "… the f*** is a Firstie club?" Five-thousand fingers rose and pointed to house left, trying at once to explain all of the above in that cacophonous way that only 5,000 pumped up young Americans can. Displaying the sharpness of mind for which he is known, he quickly put 1 and 5,000 together and said, "Sure, I'll meet you there."
Now, people say lots of things on stage. An audience can be both demanding and judgmental, and you say what you have to say to keep the show moving along. Things said on-stage are like things said while naked: perhaps sincere in the moment, but rarely considered with accountability later. As soon as the show was over, I bounded from my seat, up to the stage to usher him back to the green room and see that he wasn't disturbed. Imagine my surprise when his first words were, "So, how do we get to this 'First Club?'"

As it turned out, he did need security. I, my 98-pound girlfriend, and another Army Officer—a Green Beret no less—ushered him outside and over to the back entrance of the bar, shooing off mobs of people as we went. The small pub began to pack with nigh about the entire, 1,000 member Firstie Class. The remaining three underclasses waited outside, miserably, in the cold, and crying hot tears of loneliness, I like to imagine. After BS-ing by the dumpster for a minute, we went in, walked through the kitchen, and came out behind the bar.

The place went nuts. My first time in the Firstie Club, as a Yearling, and I was a goddamned national hero, having delivered Jon Stewart in the company of a Green Beret and my new civilian girlfriend, who no longer needed impressing … ever again. But Jon still had more cool left to burn for the night. As Firsties are clamoring to shake his hand and get autographs at one end of the bar, the clearly overworked bartender was on the other end, shilling Schlitz on tap to a seemingly endless horde of firsties whom, being too far away to experience the Beatific Vision for themselves, were forced to buy cheap beer as consolation.
Jon saw this and sided, not with the lonely Firsties, but with the overstressed bar keep, who was forced to deal with their dissatisfaction over the sad reality of the constraints of space and mass as it applies to 1,000 people trying to occupy the same point. He stopped the autographs and said, "Hey! I used to be a bartender! I can do this!" Then he started serving beers. To the Cadets. For free. 

He was working the drafts like a pro(-bono) for several minutes before the bar manager finally came out and said to the Officer and me, "Um, you know you're gonna have to pay for those, right?" "Yeah, yeah," we said. "Just let this happen … this is magical, you curmudgeon." Well, we didn't actually say the last part, but we thought it really hard.
When all was said and done, and the taps were nearly tapped, we walked back up behind the theater and wished Jon a happy farewell. Except he didn't know how to get back to the city, and this was before everyone and their brother had a GPS. So I gave him and his agent directions. I hope they were good and he didn't get lost.
He was back on TV on Monday, so I guess it all worked out. I was still at West Point, though, and had a pretty intense inspection the next morning. So that kinda sucked…

More questions on Jon Stewart: