The other day a young woman called me and said she worked for one of the network morning shows. "They're starting a weird news segment," she said, "and I hear you write about weird stuff, and I wondered if you had any story ideas for me."
"Lady," I said, "this is Florida. We get that kind of stuff every day. Just read the papers!"
Her call got me to thinking about Florida's constant stream of weird stories. I've previously enumerated the elements common to many of them. But I wondered: Is there an ultimate weird Florida story, one that surpasses all the rest to be the weirdest "weird Florida" story ever?
The weirdest one I've ever covered is the one recounted in my book The Scent of Scandal, which is about how the discovery of a new orchid species led to a grand jury investigation and armed federal officers raiding a greenhouse looking for contraband flowers. But I know there are far weirder Florida stories than that.
So I consulted with some friends who consider themselves connoisseurs of crazy, and I polled such experts as Eliot Kleinberg, author of Weird Florida and Weird Florida II, and Lynn Waddell, author of the forthcoming book, Fringe Florida: Travels Among Mud Boggers, Furries, Ufologists, Nudists, and Other Lovers of Unconventional Lifestyles. After a lot of deliberation, I narrowed it down to three finalists:
1. Blockhead vs. Lobster Boy
Grady Stiles Jr. was born with deformed hands that looked like claws, just like his father. His dad traveled the carnival sideshow circuit as the Lobster Man, so the son went by the name Lobster Boy. In the off-season Stiles lived among the other carnival folk in Gibsonton, a small community near Tampa that bills itself as "Showtown USA."
Stiles was a heavy drinker and abusive to his wife, Mary. She divorced him to marry a midget billed as "The World's Smallest Man," but somehow Stiles persuaded her to come back. She brought along her son, Harry Glenn Newman Jr. The son eventually got worked into Lobster Boy's act as the Human Blockhead, hammering nails up his nose. (How you discover you have a talent for such a thing is one of the mysteries of the sideshow.)
Stiles resumed abusing his wife. If she divorced him again, Stiles warned her, he'd kill the whole family. It was a potent threat—he'd once gunned down his daughter's boyfriend and got off with just probation.
One night in 1992, as Stiles sat alone watching TV in his underwear, someone shot him dead. The police didn't need much time to figure out what happened. Mary Stiles confessed that she had told her son, Harry, to recruit a hitman to take out Stiles. She and Harry named their triggerman: 17-year-old Christopher Wyant. They'd paid him $1,500 for the killing. All three were charged with first-degree murder.
Mary tried using a battered-woman defense, and it stymied the jury for 11 hours. Ultimately they acquitted her of murder but convicted her of manslaughter, which made no sense except as a compromise verdict. Wyant, convicted of second-degree murder and conspiracy, got 27 years. Newman, the last to be tried, was the only one convicted as charged and got life in prison. His verdict produced of the greatest headlines in newspaper history: "Human Blockhead Convicted in Slaying of Lobster Boy."
2. The roach-eater
Last fall, a business in Deerfield Beach called the Ben Siegel Reptile Store announced it would be holding a contest. The grand prize: an ivory ball python. The contest would be to see who could eat the most cockroaches in a given time period.
"They're all captive-bred bugs. They're bred in sterile conditions," Ben Siegel said. "They're not bugs we go catch. They're bred for exotic pet feed, and they're completely safe."
One contestant in particular seemed like "the life of the party," Siegel said later. That was Edward Archbold, 32, of West Palm Beach. He gobbled up dozens of roaches and worms and won the contest. Shortly afterward, he threw up, collapsed, and died.
No one could figure out what had gone wrong with Archbold. None of the other contestants reported feeling ill. An entomology professor told reporters that unless the roaches were contaminated with bacteria or Archbold had an odd allergy, what he ate shouldn't have killed him.
The answer arrived with the autopsy results. Archbold had choked to death. On insect parts.
3. The cop, the nympho, and the politician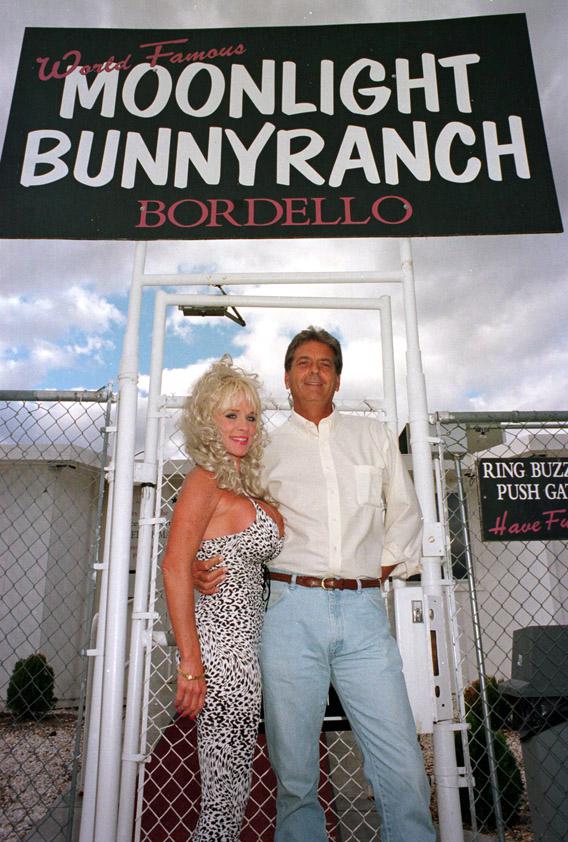 The ads were far from discreet. "FROSTED BLONDE. Great tan, hot body, very sexual, turquoise eyes, romantic & sensual, seeking generous, affluent executive male for day/evening interludes. Fun loving & hot. Enclose business card."
Plenty of men answered that 1991 ad—so many that the 33-year-old Tamarac woman who placed it, a former office manager for a stock brokerage, was raking in $2,000 a week. Then Kathy Willets' husband fouled things up.
Jeffrey Willets, 41, had previously persuaded his wife to quit her office job and become a stripper, and he had no problem with her turning to the oldest profession. When she was busy with clients in the couple's bedroom, he would hide in the closet and peer through the slats in the door, jotting notes on a legal pad about how much clients paid, how long they stayed, and what sort of sexual kinks they exhibited.
But then one client seemed to be getting a tad too close to Mrs. Willets emotionally, so her suddenly jealous husband left a threatening message on the man's answering machine. The client called the cops to complain, and that's how everything unraveled.
You see, Jeffrey Willets was himself a cop—a Broward County sheriff's deputy for 17 years. He'd fallen for Kathy while giving her a ticket and had left his first wife for her. Now, thanks to a vengeful john, he was arrested for making a living as a pimp, then fired. His wife was busted for prostitution.
That might have been the end of it, except for the list that Jeffrey had kept on a legal pad that detailed Kathy's clients, plus all the business cards in her Rolodex. The client list ran the gamut. One prosecutor told reporters, "You'd probably find almost every profession going, from advertising to zookeepers, with the possible exception of Buddhist monk."
Afraid the client list would be made public, several men—filing under the pseudonym John Doe—sued to keep it secret. Clever entrepreneurs peddled T-shirts saying, "I'm Not on The List." The question of making the list public went all the way to the Florida Supreme Court, which ruled that the men gave up their privacy by participating in a criminal act.
The biggest name on the list turned out to be that of Doug Danziger, Fort Lauderdale's vice mayor. Danziger had built his political reputation on trying to close down the city's nude bars and porn shops. Danziger denied knowing Kathy Willets but resigned his post citing "personal reasons." It didn't help that Jeffrey Willets had been videotaping everything.
The couple hired a flamboyant attorney named Ellis Rubin who knew how to play the media like a Stradivarius. Rubin contended Kathy Willets was driven to prostitution by nymphomania. And how had this suburban housewife become a nymphomaniac? It was, Rubin said, a side effect of taking the antidepressant Prozac—the same medication that then–Gov. Lawton Chiles was taking, too, apparently with no such symptoms. Rubin said that because of Kathy Willets' insatiable appetite, her husband frequently suffered from impotence, and thus their bordello operation was, in fact, couples therapy.
Rubin's laughable defense attracted international notice. Kathy Willets appeared on all the tabloid TV shows and became, as the South Florida Sun-Sentinel put it, "America's sweet tart." She even posed for Playboy. The "nympho defense" that made them famous was never aired in a trial, though. The couple wound up pleading guilty and serving time. When they got out, they cashed in on their notoriety by going into the porn business. Willets bills herself as "Fla's Naughty Nympho."
All three of these nominees are deeply weird Florida stories, but I lean toward No. 3 as the winner because of how it evolved. Just when you thought the story had gotten as weird as it could get, it got weirder. If there had been a python or an alligator involved, it would be the Ultimate Florida Story, but this one's about as close as we can get.