The Vault is Slate's history blog. Like us on Facebook, follow us on Twitter @slatevault, and find us on Tumblr. Find out more about what this space is all about here.
Last year, I spent a brief morning leafing through the archives of a KKK chapter from Uvalde, Texas, which are preserved in the Dolph Briscoe Center for American History at the University of Texas at Austin. Among the records, which date from 1921 to 1936, was a packet of meeting minutes. Here is one randomly selected sheet from that group.
The minutes for the Uvalde KKK "klonklaves" (or meetings) were taken on a preprinted form produced by the national organization of the KKK, in Atlanta, Ga. The form, identified as Form K-118, gives a sense of the level of standardization that the national organization asked of its local affiliates.
In 1915, former minister William Joseph Simmons reimagined the flagging KKK as a fraternal organization. These groups, wildly popular in the early 20th century, brought together members through ritual and service. Simmons' vision was that the KKK would be a fraternal order like the Freemasons or the Knights of Labor—with racial segregation and white supremacy as its mission.
Simmons wrote a book (a "kloran," or KKK Koran) of extensively detailed ceremonies and rituals that chapters should follow. This preprinted form reflects that new level of specificity in Klan procedures.
Secretaries, or "kligraphs," were supposed to fill in the name of the chapter and the date and were asked to be careful to keep their notes to a page in length. At the top of the page, the form provided blanks for the kligraph to fill in the name of the "exalted cyclops" (leader) who had chaired the meeting, along with the names of the "terrors" who were in attendance.
The titles of the "terrors" corresponded to specific roles within the organization. One kloran from the era (PDF) lists the meanings of the titles on Page 2. A "kladd" was a "conductor or ceremonial officer."  A "klexter" was "the outer guard, responsible for the guarding of the outside area of the klavern."  
After all of the pomp and circumstance of Simmons' vision, the Uvalde chapter's notes regarding the meeting are utterly banal. The "ladies" (probably the wives of the members) requested a meeting space, and two Klansmen were appointed to discuss the matter with them. And the group decided to draw up a "resolution of sympathy" for the family of a (presumably recently deceased) member.
The chapter's kligraph seems to have been less than diligent, as several fields are left empty.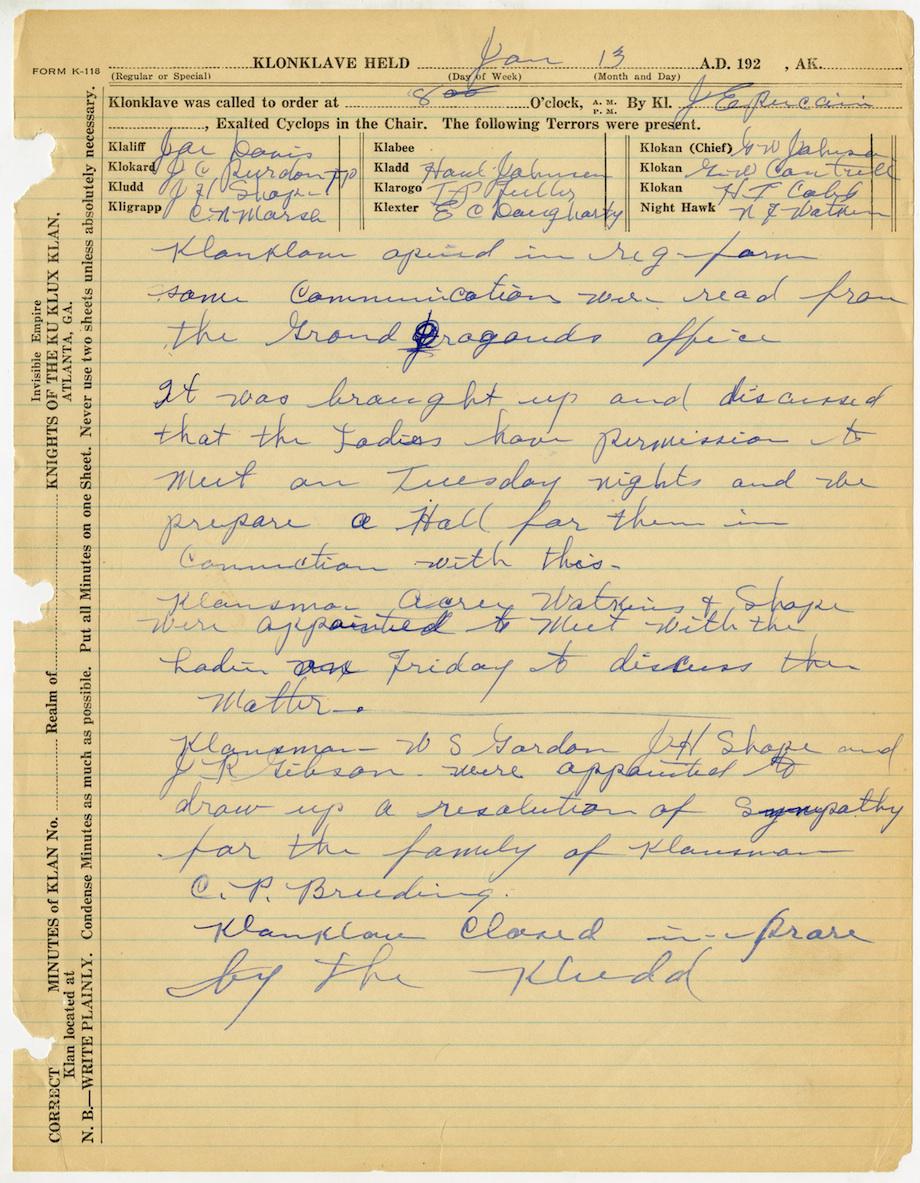 Correction, July 24, 2013: This post originally misidentified KKK "klonklaves" as "konklaves."