A decade ago, after my father had a stroke and was hospitalized a few blocks from me, my mother suggested that she might want to stay with me overnight. Since she lived all of half an hour away and we had been semi-estranged for years, I told her I thought that would not be a good idea. Dealing with each other, as well as our shared anxiety and grief, at close quarters seemed as though it would benefit neither of us.
Fortunately, my mother let the matter drop. She was merely testing my limits, probing to see whether she could use this family emergency to traverse the territory between us. I wasn't yet ready for that.
Families can fray over the years. But as age and illness overtake the parents of baby boomers (and, soon enough, the boomers themselves), caregiving issues loom. Under this pressure, past conflicts may reignite—between parent and child and among siblings, still fighting for scraps of parental love. In the luckiest cases, reminders of mortality also can help heal; it is, after all, now or never.
The complicated questions of debt, guilt, and recompense provoked by parents in decline have inspired an entire subgenre of intergenerational self-help literature, with titles such as Taking Care of Parents Who Didn't Take Care of You and Doing the Right Thing. The New York Times' New Old Age blog tackles these dilemmas periodically, prompting heart-wrenching comments from middle-aged daughters and sons reeling from both weighty childhood memories and current burdens. This particular niche of self-help is a sort of a first cousin once removed to a far more expansive genre: memoirs of family dysfunction. The unceasing onslaught of these books includes Mary Karr's The Liar's Club, Jeannette Walls'  The Glass Castle and, more recently, Jeanette Winterson's Why Be Happy When You Could Be Normal? and Domenica Ruta's With or Without You. 
Mother Daughter Me, Katie Hafner's fine new memoir of intergenerational conflict and reconciliation, stands at the intersection of these genres. With crystalline prose and impressive narrative control, Hafner candidly probes a host of issues: the lingering impact of alcoholism and parental abandonment on adult children, how dysfunction ripples through future generations, whether it is necessary to confront the past in order to redeem it.  
The inciting event of Hafner's book, her sixth, is her generous, if insufficiently considered, decision to invite her cantankerous, suddenly single 77-year-old mother, Helen, to live with her in San Francisco. Complicating this already dubious ménage is the presence of Hafner's teenage daughter, Zoë, a sensitive soul who has never had much of a relationship with her grandmother.
For more than three decades, Helen (a pseudonym to protect her privacy) had been living in a sprawling tract house in San Diego with her partner, Norm, and a succession of German shepherds.  The couple had never married, for what they said were tax reasons. "In their odd and insular world," Hafner writes, "my mother and Norm weren't merely glued at the proverbial hip. My mother micromanaged Norm's every move." With this quick sketch of her mother's controlling nature, Hafner foreshadows the trouble to come.
When Norm's growing dementia sends him to his daughter's care and then to assisted living, Helen, shell-shocked, alone and without any legal claim to Norm's estate, decides to move to San Francisco. There she and Hafner search for an affordable independent-living community or a well-priced apartment—not easy to find in so expensive a city. 
So blossoms the idea of what mother and daughter liken to an idyllic "year in Provence," after the Peter Mayle memoir. "This was finally my chance to have a real family home—with my mother in it—making up for many years of lost time," Hafner writes.
It is clear from the book's prologue, which elegantly introduces Hafner's perpetual childhood longing for her mother, that Mother Daughter Me will be no simple lament about the "sandwich generation" and its woes. Hafner's problems with her mother run far deeper, even if she is initially in denial:
"I was guided by a combination of love, protectiveness, and, as I would eventually come to see, magical thinking. I believed we were as close to the mother-daughter ideal as two women could be. We often spoke several times a day. I confided everything to her. I told myself I had long since put any lingering anger about my childhood behind me, that I had taken the ultimate high road. … With a transcendent eye, I can now see that it's far easier to imagine a future we can invent than to reckon honestly with a painful past."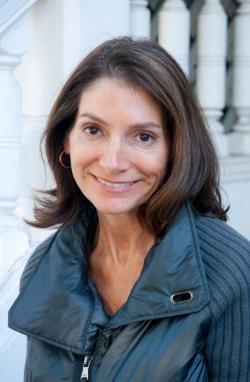 Gradually, the contours of that past emerge. Helen, damaged by her own mother's cruelty, is a recovering alcoholic, a former binge drinker who was often unable to care for Katie and her older sister. The daughter of a physicist and a biologist, she was also a woman of immense intelligence. She dropped out of Radcliffe College, where she was a physics major, to marry a Brooklyn-born physicist whom she met at Brookhaven National Laboratory in 1950. (By coincidence, my mother dropped out of graduate school in English at Radcliffe in the early 1950s to follow her Brooklyn-born husband, also a physicist, to a teaching job. My father, too, worked at Brookhaven at least one summer, and, for all I know, the two couples might have met.)
Hafner's parents split when she was young, and a judge, in a move unusual for the times, eventually awarded custody to Hafner's father. By then he was remarried to a woman with three children, and the blended family was not a success. Katie muddled through, but her sister fled for her boyfriend's fraternity, and family relationships remained stormy.      
Hafner would make her own mistakes, including a failed marriage to an unnamed New York Times reporter who did not want children. She would lose her staff job at the Times in a company-wide downsizing, a devastating career setback. After a long estrangement, she would be reunited with her childhood love; marry him; give birth to Zoë, and finally lose him, too, to a heart attack. Hafner's entrance into a new relationship with a doctor is one of the memoir's brighter threads.
There is much that is unexpected in Mother Daughter Me. Helen, though no longer binging, continues to drink very modestly—sips of wine that somehow don't send her into a downward spiral. Zoë, rather than being the vehicle of mother-daughter reconciliation, becomes a huge part of the problem. And the women's therapist, Lia, rather than providing closure, seems to keep ripping scabs off emotional wounds, leaving everyone feeling worse.  After one session, Helen tells Katie that she prefers "the unexamined life." 
Yet, after more conflict and some necessary boundary-drawing, Hafner achieves a measure of peace. Her mother, she writes, "can look her past mistakes square in the eye and express contrition in a way that also makes her daughter feel something approaching unburdened love, even pride."
My own mother and I never really confronted our past grievances, not directly. It was simply too hard. She wasn't inclined to be introspective about her hobbled professional life, nor to accept blame for her carping, critical behavior. Not surprisingly, my criticizing her for being critical led us nowhere. For more than two decades, while I saw her at family gatherings, I had rigorously avoided spending time alone with her. But after my father died, my heart cracked a little, and the grudges I had nursed for so long seemed to matter less than her loneliness and frailty.
Into her early 80s, she continued to live by herself in the six-bedroom Tudor-style house where my sister and I had grown up, though maintaining it was becoming too much for her. One Mother's Day, five years after my father's death, I finally invited her to my house and made her brunch. She couldn't eat much, which worried me. But we sat in my garden afterward and she told me stories about her family that I had never heard before.
Shortly after that, she was diagnosed with metastatic stomach cancer. With frequent doctor's visits, rotating health aides, and my mother's growing incapacity, the demands on both my sister and me increased. It was hard not to feel burdened, resentful, greedy for a reprieve.  
But those months were also precious, bittersweet. There were moments when the emotional divide between my mother and me shrank enough to seem passable, times when I cried about her impending death and she comforted me.
Near the end, when we were lying on her bed together, she told me that she had missed me. "This morning?" I asked, hoping that was what she meant. I explained that I'd been out shopping for food.  "No," she said, fighting to get out the words. "All this time." She repeated it, making sure I understood: "All this time."  It was only when she could barely speak that I was finally able to let myself hear her.   
—
Mother Daughter Me by Katie Hafner. Random House.