The Vault is Slate's history blog. Like us on Facebook, follow us on Twitter @slatevault, and find us on Tumblr. Find out more about what this space is all about here.
Eccentric would-be explorer John Cleves Symmes, Jr. addressed this circular to the city of Wilmington, Del., in 1818. In it, he solicited a fellowship of 100 like-minded "brave souls" to come with him on a polar journey, supplied by "Reindeer and slays," to discover the center of the Earth, which he declared was "hollow, and habitable within."
As geographer Duane Griffin writes (PDF), Symmes sent 500 copies of the message to distinguished individuals and groups, including scientists, cities, learned societies, and universities. He attached a certificate of his own sanity to each copy.
How did Symmes come to believe in this theory? Others had published versions of the same idea, including the astronomer Edmond Halley (better known for the comet whose orbit he computed), who hypothesized about a hollow Earth in 1691. But Symmes swore that his own belief came to him organically, from his extensive reading about natural history and geology in encyclopedias and explorers' accounts. He pointed to magnetic variations around the poles, the migrations of arctic animals, and the existence of the aurora borealis, among other "proofs," as evidence.
In this circular, Symmes tries to associate himself with prominent and respected scientists. He calls upon Humphry Davy, the British chemist and inventor; Alexander von Humboldt, the Prussian explorer and geographer; and S.L. Mitchell, the founder of the Lyceum of Natural History in New York, to support him. All of these attempts to solicit intellectual patronage were in vain, and "Symmes' Hole" (as it was called) became the laughingstock of the scientific community.
Undeterred, Symmes continued to travel and lecture about the idea until his death in 1829 (while his wife and 10 children, to whom he dedicated this circular, lived an impoverished existence in Kentucky). Although he never raised the money or the companions to visit the poles himself, Symmes did convert Jeremiah Reynolds, whose voyage to the South Pole in 1829 inspired Edgar Allan Poe's only novel, The Narrative of Arthur Gordon Pym of Nantucket.*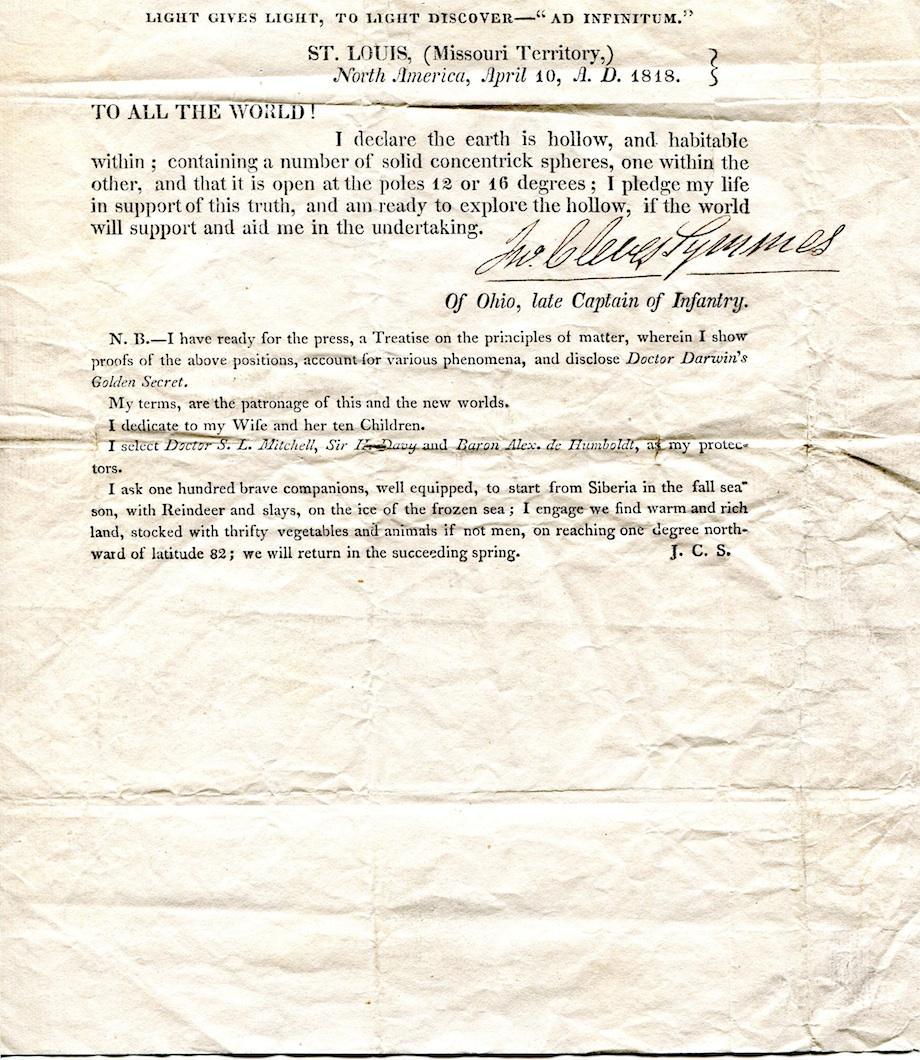 Correction, July 25, 2013: This post originally misspelled Edgar Allan Poe's middle name.