This question originally appeared on Quora.


Answer by Sheila Christine Lee:

The cronut is the half-croissant, half-doughnut phenomenon that has taken New York City by storm since May. Created by Dominique Ansel and sold at his eponymous bakery, only 300 cronuts are made daily and sell out to a crowd that lines up in front of the bakery far before opening. They sell for $5 a piece.

What's so special about the cronut? Croissant dough is actually very difficult to deep fry, as the delicate sheeted dough tends to separate instantly in hot oil. In a feat of pastry engineering, Ansel figured out how to successfully keep the flakey layers when frying croissants, developing a different dough recipe and specific frying conditions. To finish, the cronuts are injected with cream, rolled in sugar, and glazed. I'd previously been to Dominique Ansel pre-cronut, and was very satisfied with their pastries (Sheila Christine Lee's review of Dominique Ansel (NYC bakery)). I was definitely curious about this cronut, and I was determined to eat one when visiting NYC recently.

On a hot summer morning, my friend and I set our alarms at 5 a.m. to head over to the bakery. Arriving just before 6 a.m., we secured spots in line about 60 people back and in sight of the bakery, which was a great sign: We were definitely getting cronuts. The first people in line had gotten to the bakery at 4:50 a.m. There was quite the assortment of people waiting, and many had come prepared, bringing blankets and chairs and books. The line continued to snake down the block and around the corner, eventually farther than I could see, which was baffling to me: With only 300 cronuts made daily and each customer allowed to buy a maximum of 2, surely the line would just stop after 150-200 people. While waiting in line, I was interviewed by a Netherlands news channel and spotted Jane Lynch walking her dog.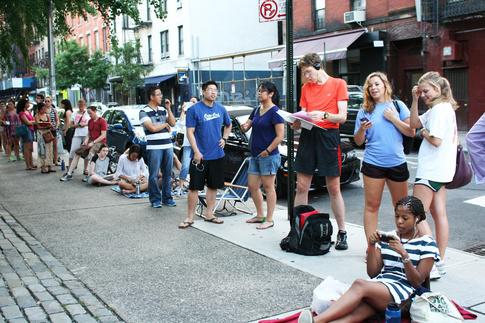 The bakery opened at 8 a.m., and shortly after, the line started moving. Staff came out periodically to give each customer a freshly baked madeleine, and Dominique himself would open the bakery's door to usher people in. The madeleines were just perfect: small, cute, soft, with the right hint of lemon:

We got into the bakery at about 8:45 a.m. Just before, a man approached the group of women in front of us and asked if they all wanted their two cronuts; if not, he'd be willing to buy one for $100. Two of them agreed, so they settled on two cronuts for $150. Complete craziness. Stepping inside, we finally saw the cronuts, along with many other beautiful pastries: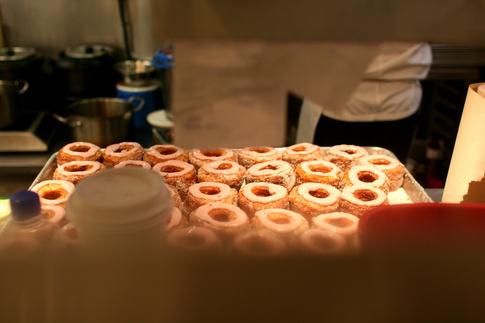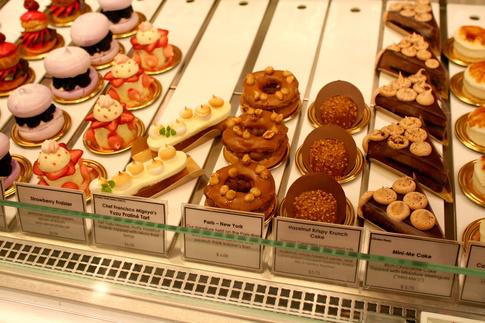 My friend and I each bought two blackberry cronuts (the flavor changes monthly, with May featuring vanilla rose cronuts and June lemon maple), and I additionally got a yuzu praline tart. Our treats got packed up in the signature gold foldup boxes, and we then headed out back to the garden to enjoy the goods.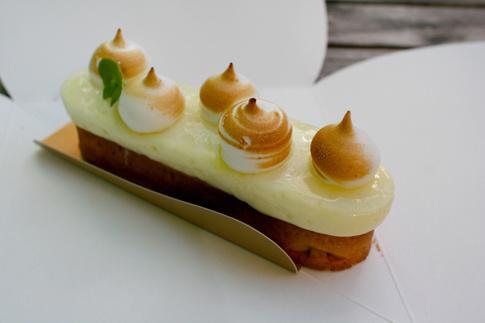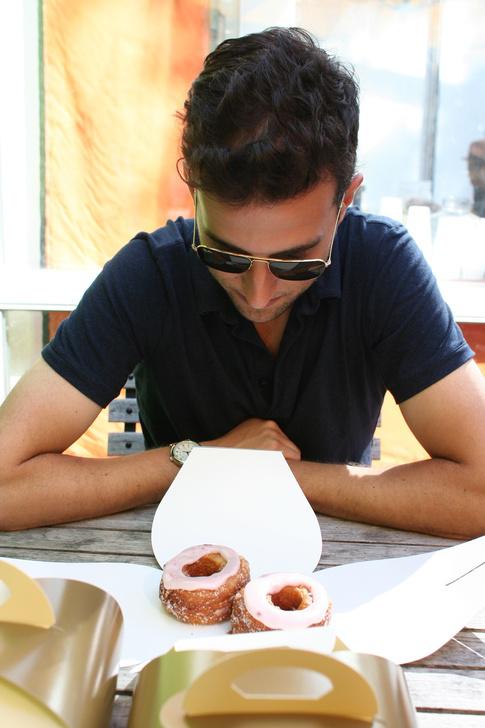 How was the cronut? Well, the pastry was really pretty wonderful, flaky with beautifully visible layers upon layers.
Biting into the cronut was very messy, with goopy cream oozing out of the pastry and falling anywhere and everywhere. Ultimately, I didn't like the goop, and would have preferred the cronut simply glazed. The previous two flavor iterations of the cronut may have worked better with the cream (less fruit and/or more acidity to help firm it up a bit), but I think the cream was just overkill. Also, it's hard to be satisfied with anything when you've been waiting for nearly three hours.

Takeaways? The best thing I had at Dominique Ansel that morning was the madeleine, then the yuzu praline tart, then the cronut. I don't mind having gone through the experience, but wouldn't suggest it if you didn't have the company of a close friend. Rather, I highly suggest visiting Dominique Ansel later in the day for a DKA (Dominique's Kouign Amann), and perhaps a box of madeleines to go. Or just wait until the lines stop. The madness has to die down someday … right?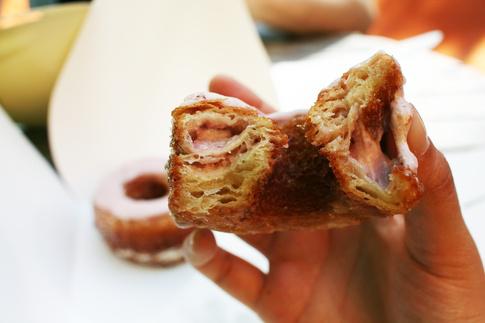 More questions on Desserts: