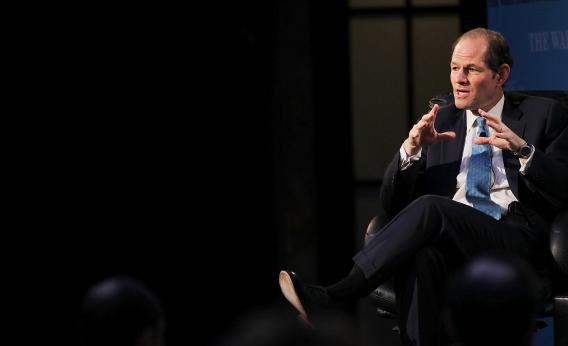 Eliot Spitzer is launching a bid to re-enter the political arena this week, five years after his generous contributions to a high-priced prostitution ring knocked him from his perch as governor of New York. As the New York Times notes, Spitzer's candidacy for New York city comptroller comes at a time when politicians "have shown that public disapproval, especially over sexual misconduct, can be fleeting, and that voters seem receptive to those who seek forgiveness and redemption."
Spitzer made his bid "after consulting with his family and taking the temperature of the city's ever-candid electorate." Anthony Weiner previewed his candidacy for New York City mayor this year via a sympathetic New York Times Magazine feature on his post-scandal home life with Huma Abedin, complete with domestic shots of Weiner, wife, and baby. Mark Sanford won a South Carolina congressional seat this spring, four years after he was censured for disappearing from his gubernatorial office to "hike the Appalachian trail" in 2009. And as Matthew Yglesias writes at Slate, some embattled politicians, like David Vitter and Bill Clinton, have proven capable of weathering sex scandals without surrendering their public power at all.
It appears that voters are as quick to forgive a politician as they are to condemn him (as long as he's not John Edwards). But redemption often comes at a serious cost for the other women caught up in the scandal. As Spitzer re-entered the news cycle this week, so did Ashley Dupré, the then-23-year-old escort who rose to infamy after Spitzer paid to shtup her in his midcalf black socks. The difference is that Spitzer is welcoming the publicity, while Dupré doesn't have a choice. And Spitzer will try to use the press to restore his public image, while coverage of Dupré is sure to revert her back to her status as the former call girl known as Kristen.
For a time, Dupré managed to parlay her post-scandal notoriety into a Playboy shoot, a gig as a sex columnist for the New York Post, and the owner of a New Jersey boutique selling swimwear and lingerie. But for women, erotic capital fades fast: Dupré admits she started losing interest engaging in sex talk after a few months of her Post column. Besides, many women aren't particularly capable or interested in capitalizing on their sexual infamy indefinitely just because they had sex with the wrong guy. After Monica Lewinsky earned the attention of President Clinton (and the world) in 1998, she abandoned her political ambitions, launched a short-lived handbag line, helmed a failed reality TV dating show, and hawked for Jenny Craig (an effort, she said, to pay off legal bills associated with the scandal). She's since exited the country in an effort to escape the publicity. And though the women on the receiving end of Anthony Weiner's sexual direct messages were guilty only of engaging with him on Twitter, the scandal continues to reverberate in their private lives. A Georgia woman named Traci Nobles says she lost her job at the Young Women's Christian Organization in Weinergate's fallout. And every time Weiner makes another bid for public recognition, the press dredges up their names yet again. "Every new headline and news story about him reminds reporters and bloggers that we exist, and the cycle starts all over," former Weiner pen pal Ginger Lee told the Times. "There will be a new flare-up of jokes, inaccurate statements and hurtful remarks."
Spitzer may have the social positioning and the personal wealth to earn his way back into public office (incidentally, that's how he acquired his prostitution problem to begin with). But the women left in the wake of these scandals often lack the resources and established public presence to rise above the scandal. It threatens to define them forever. (A notable exception is Sanford's onetime mistress—now his fiancée—who stands to benefit from the continuation of his public service.) Weiner attempted to resolve the problem in a one-sentence statement to the New York Times: "I am deeply sorry that my behavior caused so much upheaval in the lives of those who were unwittingly involved." And then he went back to getting as much positive attention for himself as possible.

---