The Gentleman Scholar inked this question in the margin of his commonplace book a couple months ago, scratching a note to self alongside a draft of a villanelle, a recipe for a Paloma variation, and a doodle of an octopod xylophonist. The sentence regards pants in the usual American sense of trousers, and it regards greens more vibrant than the drab olives and miliatry mosses with which the American male has more traditionally draped his legs. Going about my flaneuristic rounds in New York this spring, I witnessed an unprecedented number of dudes sporting a virid variety of pants and shorts. I espied much mint and seafoam, a lot of grass and Astroturf, some lime and spinach-leaf and haricot vert and Shamrock Shakes shades. And I enviously eyed bold bolts of emerald, which the forecasters of Pantone, issuing a prediction that has the force of a decree, have declared the 2013 color of the year.
I look at this all as vivid evidence of an intriguing development. Historically, men have tended to avoid wearing a lot of green unless obliged to do so for work—unless, for instance, they are employed by the U.S. Special Forces, or as a player-coach in Boston, an emergency-room doctor in Chicago, or a garbageman in Paris. In general, respectable men have subscribed to the position of an 1875 etiquette guide that lists "bright green" alongside red, yellow, and sky blue as a hue to be shunned: "Perhaps only a succesful Australian gold digger would think of choosing such colors for his coat, waistcoat, or trousers." Even so flashy a dresser as Benjamin Disraeli considered bold green to be beyond the pale, with a biographer noting that "one of the few occasions on which he troubled the newspapers was to refute the slander that he had, when young, appeared in green trousers."
The most notable exceptions to the rule that green pants are a no-go involve the arena of WASP leisurewear, where they rank as the opposite (across the color wheel) and equal (in their insouciance) of that staple of the trad wardrobe, Nantucket Reds. In his biography of Edward Bennett Williams, Evan Thomas observes that the white-shoe lawyer, a founding partner of Williams & Connolly, disdained "the green-pants set"—"the preppy men with lockjaw accents and Pucci-dressed wives who populated Nantucket and Martha's Vineyard in the summer."
But in recent years—and this is the crux for my theory explaining this season's sprouting of verdant slacks—preppy dress-sense has gone mainstream. The vines of the Ivy League Look have crept across the land and entwined themselves with the more general recent male tendency to preen and floss and peacock in ways unknown to recent generations. This summer, a record number of dudes are expressing them by strutting about on limbs clad in this most expressive color.
But how to wear it? Lightly snide and drily bitchy, Maggie Smith cracks relevant wisdom as Gosford Park's Countess of Trentham: "Difficult colour, green," and eminent amphibians agree. It is not necessarily easy to trust one's taste in the matter of how to wear green pants, and the clotheshorses of pro sports are not reliable guides. Endeavoring to explore the phenomenon, I hit the boulevard with photographer Christina Paige, and I think her portraits implicitly deliver some helpful hints on proper green-pants deployment. "They're manly, but they've got a soft side," one of our subjects observed, greenlighting the look as a fresh alternative to traditional summertime garb.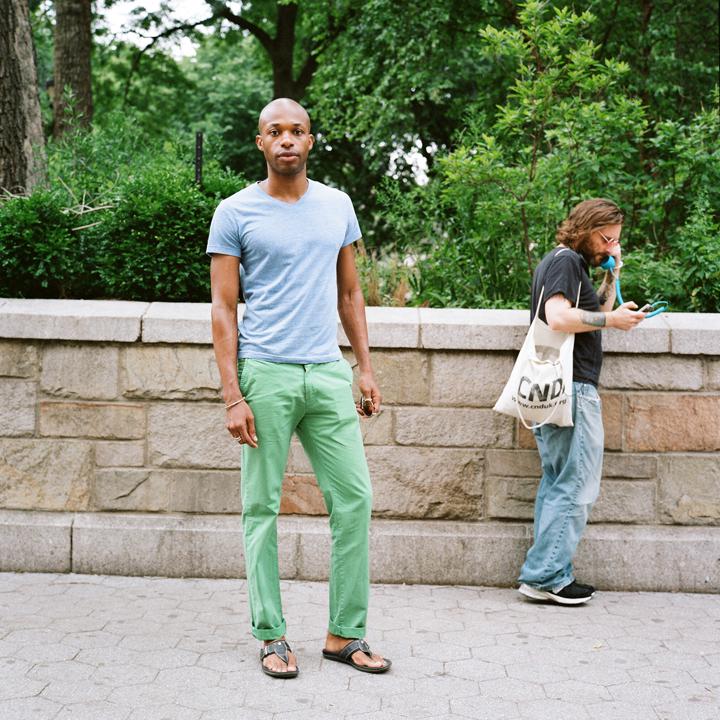 Ozzy Lewis, 35
"I'm a bartender."
Novice green-parts wearer.
Tell us about your pants.
"My friend was taking me up to Rhode Island for the weekend, and I needed something to wear, so I just went to H&M."
What do you like about them?
"They're good for summer. It looks more light and more relaxed than jeans or khakis."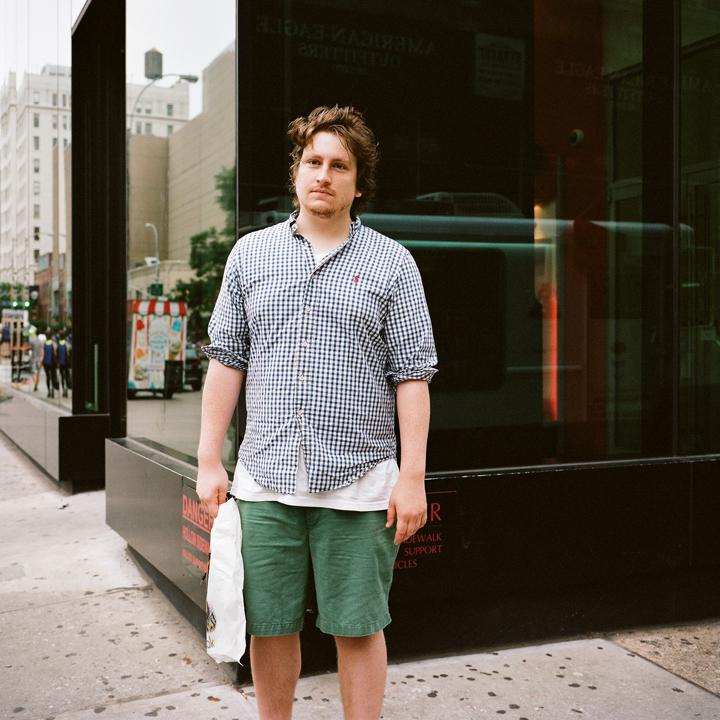 Max Ziskin, 25
"I'm in grad school."
Novice green-pants wearer.
Tell us about your shorts.
"They're actually my only pair of shorts. I just got 'em."
How are they going over?
"I got two comments on them today."
Like what?
" 'Nice shorts!' "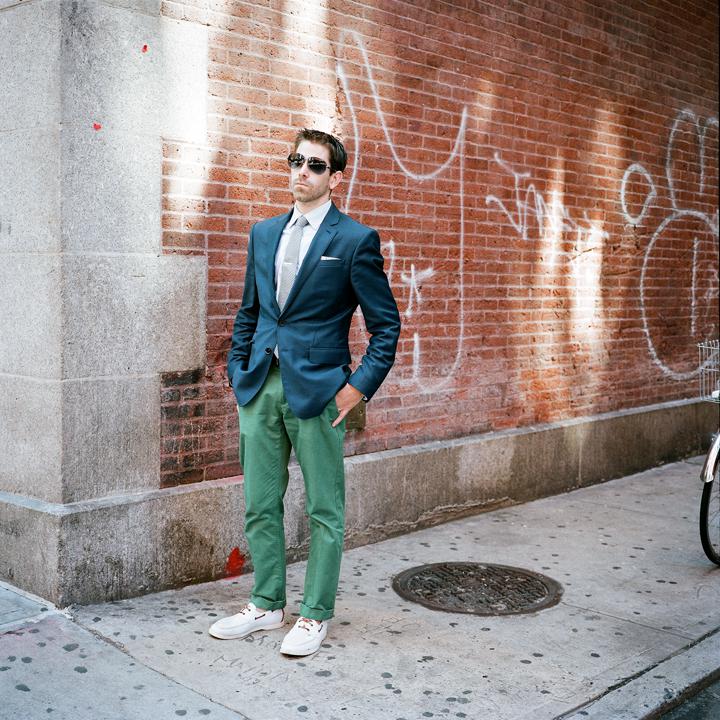 Justin Fitzsimmons, 32
"I'm a market analyst."
Veteran green-pants wearer.
Where'd you get those green pants?
"Banana Republic."
Tell us about 'em.
"I'm psyched that I can wear pants without socks to work."
Any thoughts on the trend?
"I'm a country-club kid, so I'm used to this. Don't quote me on that."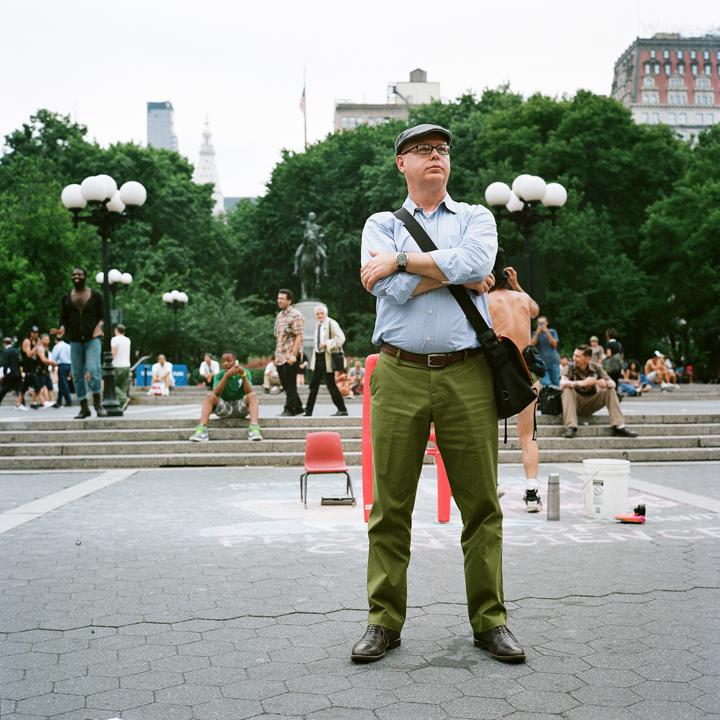 Troy Maier, 50
"I work in finance."
Novice green-pants wearer: "I'm just sick of chinos."
Tell us about your pants.
"Someone today called them Joker pants. They were the weirdest color I could get online."
What shade of green would you say they are?
"Pea-soup. It's like a Linda Blair green."
Are guys in your office wearing green pants?
"No. I'm definitely the oddball, but that's kind of my niche."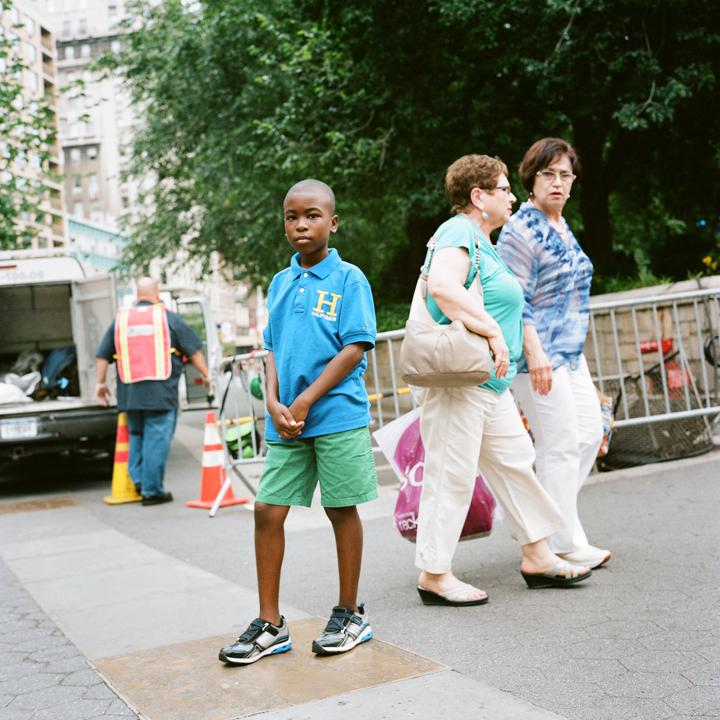 Kafele John, 10
"I'm in the fourth grade."
Veteran green-pants wearer: "I've had 'em for a while."
Tell us about your shorts.
"Green is my favorite color."
Do a lot of kids at your school wear green pants?
"Some of them do, but not a lot."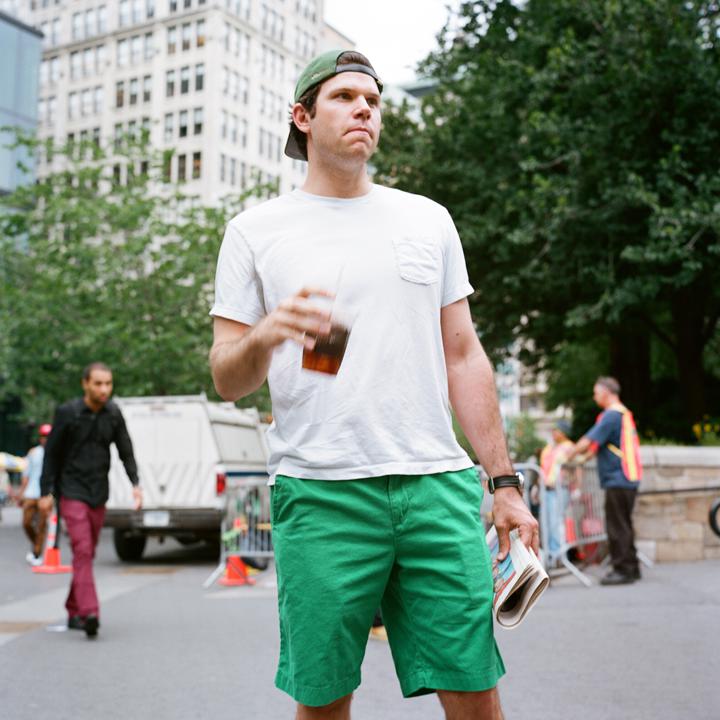 Stephen Cotter, 28
"I work in finance."
Veteran green-pants wearer: "They're in the rotation."
What shade of green would you say they are?
"Emerald."
They're almost the same shade as your Augusta National ballcap.
"Yeah, I guess it's similar to the Master's jacket."
Are any guys in your office wearing green pants to work? On casual Fridays, maybe?
"No."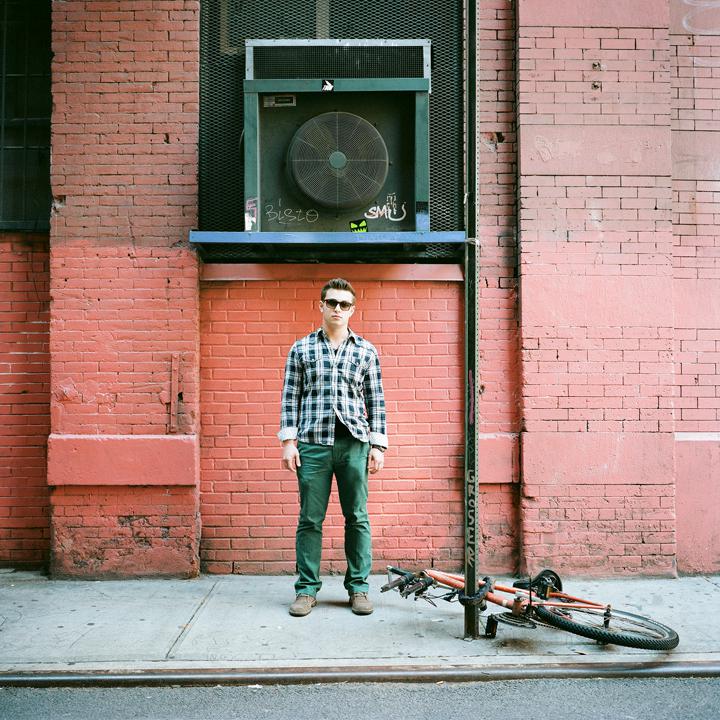 Jeremy Gardner, 19
"I'm an intern at a brand-marketing firm."
Novice green-pants wearer.
Where'd you get your pants?
"580 South in Livingston, New Jersey."
Tell us about them.
"I go to school at SUNY–Binghamton, and a lot of kids wear them—the preppier, more GQ–style kids."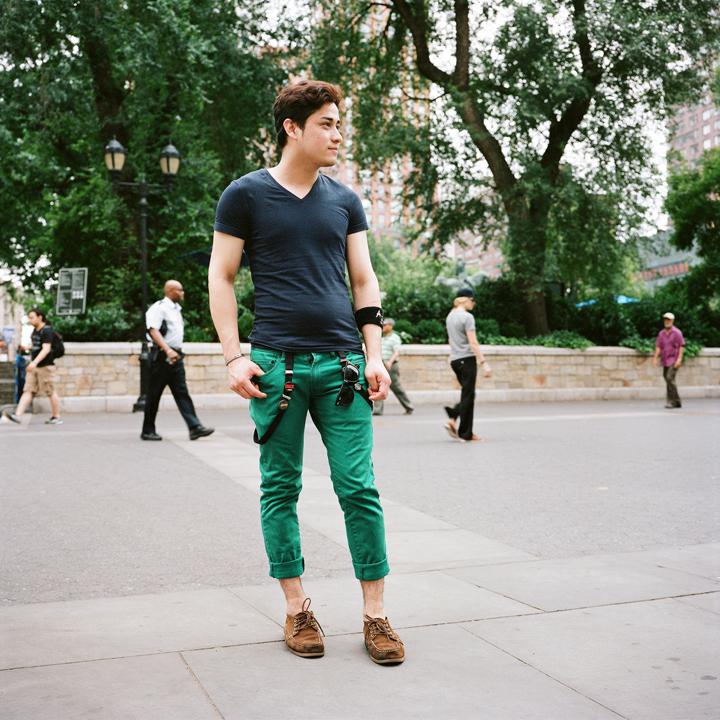 Gustavo Guerrero, 25
"Student," visiting from Jalisco, Mexico.
Veteran green-pants wearer.
Cuando los compraste?
"Hace tres semanas en Brooklyn."
Tienes otros pantalones verdes?
"Sí, dos, pero no son tan verdes."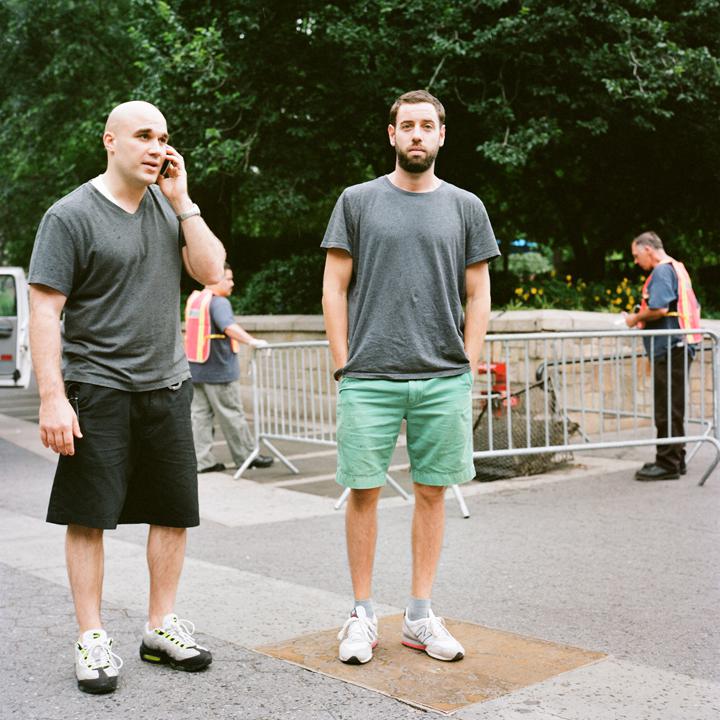 Chris, 30
"I'm a police officer."
Novice green-pants wearer: "First pair, first pair."
Tell us about your shorts.
"I bought 'em at J. Crew the other day. I like the pockets. They're good for when I'm working."
What shade of green would you say they are?
"Money."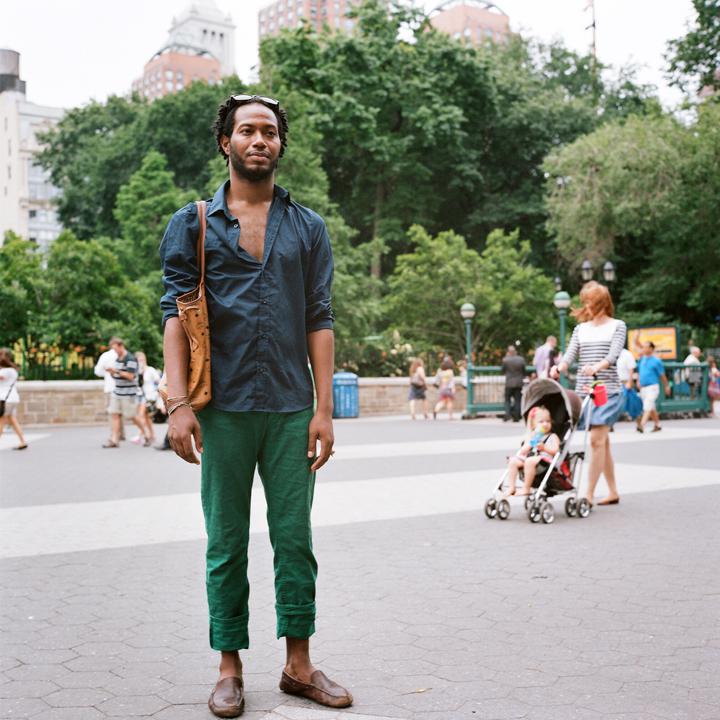 Rashad Taylor, 30
"I'm a fashion-and-celebrity makeup artist."
Veteran green-pants wearer: "I buy a new pair every two or three years."
Tell us about your pants.
"They're comfortable and bright, so they make me happy, but they're still really cool."
What shade of green would you say they are?
"Jade?"
Is there a green-pants trend?
"I don't think it's a trend. I hope not. I hate trends."