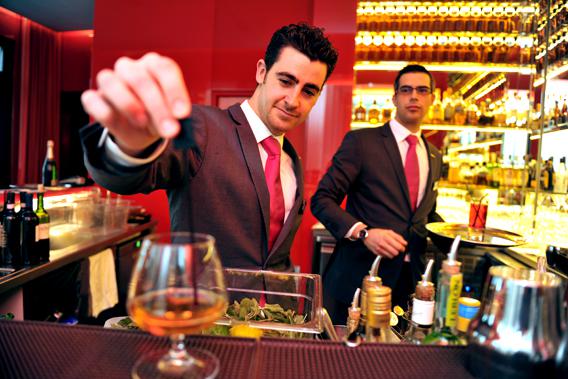 Hey Bartender is a documentary on the subject of finally being able to get a decent drink around here. In paying homage to the craft-cocktail scene—tracing its origins, cataloguing its attributes, charting the motions of its stars—director Douglas Tirola has created a recipe for a feature-length aperitif. Light and easy, abubble with fizzy celebration, the movie's group profile of tastemaking drink slingers whets the appetite for deeper study.
This sector of the service industry looks, through Tirola's lens, a bit like the field of entertainment. Not a few barmen (and -maids and -flies) in the film talk about the profession in terms derived from show business. They hail famous colleagues as rock stars, and describe the movements of two bartenders weaving around another, during a busy shift, as a dance. It is telling that Dale DeGroff—nicknamed King Cocktail and universally recognized as the obstetrician presiding over this bibulous rebirth—began his career in hospitality as an actor/waiter. He did not make it in Hollywood, but his arts training did not go to waste. "Who you are back there will define the space," he says of his trade in this documentary. "You have to be a bit of an actor."
The Bureau of Labor Statistics counts half a million bartenders in the U.S., and though the government doesn't categorize the profession under "Performing Arts, Spectator Sports, and Related Industries," it very plausibly might. The dive-bar geezer pouring shots with a surly flourish is offering a solo show, as is the nightclub barmaid popping open a Bud Light grasped between her thigh and calf. Hey Bartender very reasonably asserts that its subjects, with their advanced degrees in mixology, are artists, and it encourages viewers to understand that—independently of the practice of inventing compelling recipes but entwined with the craft of mixing a proper drink—they distinguish themselves in commanding the stage that is the bar.
I attended a screening of the film in the middle of May, not long after NBC had formally introduced Jimmy Fallon as the heir to The Tonight Show. The most iconic late-night program will soon be in the hands of a man who has broadcasted Rachel Maddow's classic rendition of an Old-Fashioned, Sandra Lee's ambitious desecration of a gin and tonic, and Questlove's boozy adventures in liquid nitrogen. It was also around the same time that the MIT Senseable City Lab unveiled Makr Shakr, a bartending robot whose stirring and shaking are modeled on the gestures of a principal dancer with the American Ballet Theater. The signs were auspicious. It was time, I decided, to take some notes toward a theory of the theater of bartending.
May 17: Went to the library. In a tuxedo. The four floors of the Main Branch of the New York Public Library were given over to the opening night party of the Manhattan Cocktail Classic, an event combining a professional's industry conference and an enthusiast's opulent bar crawl. The 3,000 guests had their pick of 87 cocktails, the most intriguing of which, for our purposes, was a Negroni served next to the south staircase in Astor Hall: the Finger-Stirred Negroni. The finger was attached to an eccentric cocktail eminence who published the essential Joy of Mixology as Gary Regan and sometime thereafter changed his nom d'alcool to Gaz Regan, which he stylizes as "gaz regan."
Mixing Negronis for the well groomed masses, Regan spun the sturdy ice cubes with authority while his eyes—one of them adorned with dramatic eyeliner—locked onto the supposed windows to each customer's soul. Serving an eternal classic and an ephemeral experience, he punctuated each preparation with a sideways flick of his mixing digit, improvising variations on the flourish to suit the seeming mood of each customer.
The Finger-Stirred Negroni would have been gross under any other circumstances. It was delightful. It should be noted that Regan has written that "tending bar is, to a large degree, performance art." I savored Regan's drink as the epitome of (and as a fond commentary on) the intimacy of the relationship between a cocktail bartender and his patron—which is indeed a relationship, even when the customer is one-and-done at a bar at an airport he'll never connect through again. The bartender is forever customizing an ongoing one-person show to meet the spiritual and spirituous needs of a select audience.
May 21: Went online to research Heywood Gould, who authored of one of the great bad movies of the Reagan Era—the Razzie-winning Cocktail, an anti-classic celebrating its 25th anniversary this summer.
Gould adapted the screenplay from his own semi-autobiographical novel, bastardizing a cult favorite in the process. The hero of the book is a sozzled 38-year-old misanthrope who describes the grand ruins of 1970s New York and his own life in a lushly scabrous voice. The hero of the movie is Tom Cruise-still-playing-Maverick, flinging bottles as if barrel-rolling a fighter jet. Gould explained how Cocktail's vodka-juggling, which doesn't feature in the book, came to be in a recent Chicago Tribune interview:
It was something that we did just to amuse ourselves. At this one bar, Spring Street Bar in SoHo, this guy I worked with, we used to juggle the cans and throw stuff to each other. We'd do it, and people would laugh, and we'd show off, because you are on stage; when you're behind the bar, people are looking at you. And after a while you start to play to that—you can't help it. Or I couldn't help it, anyway. …
When we were making the movie, I took Tom and Bryan Brown to my friend's bar and started showing them what we used to do, and they picked up on it and invented their own moves. They took it a lot further than we ever did.
That is, they took it further in scope, higher in altitude, lower in taste. As coached by John "JB" Bandy—the champion of TGI Friday's inaugural Bar Olympics—Cruise and Brown made flair bartending a thing, much to the consternation of Gould's former colleagues. When the movie came out, he went downtown and discovered a new set of expectations. "These drunken bartender friends of mine were not happy: 'On top of making the drink, now I gotta juggle these f— bottles and put on a show for them?' "
May 29: Went to a neighborhood bar. Does a bar in one's neighborhood still count as a "neighborhood bar" if it regularly lands on lists of the best bars in the world? I am not quite as impressed by Clover Club as the experts are, never having recovered from my first impression of its décor: Jazz Age theme park. But they do put out first-rate drinks, and because its proprietor, Julie Reiner, is one of Hey Bartender's subjects, I walked over at happy hour.
My bartender's name was Ivy Mix. I must stress that this was her real name. Like New York Times writer Louise Story and New Mexico urologist Alden Cockburn, she bears a professionally apt name. Mix is the kind of bartender whom other bartenders refer to as a "rock star." Two weeks before, she had overseen a round of Speed Rack, an all-female bartending competition benefiting breast-cancer charities; an audience of 500 had paid $30 a head to attend the U.S. finals. The week after, she would join 19 other bartenders to compete in the U.S. finals of Diageo World Class, a contest sponsored by the liquor conglomerates; she explained the event's "Ritual Theatre" challenge as a cousin to the Japanese tea ceremony: "It's really about presenting the bottle." Reviewing Diageo's event schedule, she saw that she was expected to be somewhere at seven o'clock on Monday morning. I ventured that people in her line of work should never have to be anywhere at that hour unless they're going on The Today Show. "I was just on The Today Show," she replied. Mix had made a Clover Club cocktail on air, thus helping to establish a new rite of passage for the top-flight female bartender: getting Kathie Lee and Hoda plastered before noon.
Turning to the question of behind-the-stick theatrics, she tacitly addressed the idiocy of Cruise's Cocktail stunt work: Form does not follow function. The actor's bottle juggling and acrobatics were pointless motions. In contrast, Mix's knack for stirring four drinks simultaneously is cool-looking and efficient, and her underhand grip on a bottleneck (which strikes a civilian as slightly flashy) is valuable because it puts the weight of the bottle on the crook of the hand without stressing the wrist. "You need to figure out something that's gonna keep you healthy if you're gonna do this four or five nights a week," she said. "My style really came from trying to avoid hurting myself."
May 31: Went to Webster Hall, the venerable Manhattan nightclub and concert venue. I am fairly certain that I most recently drank a cocktail in this building in 1991 and that it was a Long Island Iced Tea. But this evening promised a drinking experience both more nuanced and more sumptuous. The club's marquee advertised a display of "mixology" in its intimate basement room. I queued with a young yuppie crowd to await the stage debut of Cripple Creek, a "cocktail collective" starring two well-regarded bartenders, Damon Boelte and Aaron Polsky. In an interview with Serious Eats, Polsky had promised "a live multi-sensory cocktail experience." At the event, an allergy warning alerted us to the presence of nuts, cherries, and mushrooms in the nine or 10 very small, very stiff drinks that the guys would make on stage and distribute on trays borne by flapperly lasses.
Cripple Creek took the stage to the strains of Led Zeppelin's "Rock and Roll." Boelte, stage left, wore a T-shirt, a leather vest, and jeans that were not so much skinny as anorexic; Polsky, opposite, paired shredded jeans with a brass-buttoned white chef's coat of a piratical cut. Between them, a DJ kept the classic rock crunching on his laptop. The evening began slowly, but because the barmen's motions were beyond our understanding, our impatience took on the weight of suspense as Polsky hacked at an 8-inch by 8-inch by 50-inch block of ice.
With the fourth song, a remix of the Band classic about a drunkard's dream, Boelte took the mic—"I said, How's everybody doing tonight!"—and offered something of a mission statement: It is hard to rock out in a cocktail bar and harder yet to get a good cocktail in a rock club; Cripple Creek's flow of  fine booze was intended to bridge the divide.
The men on stage got into a groove, and the folks on the floor soon lost track of time, and the courses of this $40 tasting menu tumbled forth at a fantastic pace: itsy-bitsy beer cocktails, teeny-weeny martinis, and—in medicine bottles, with absinthe in the pipettes and instructions to stir clockwise—a round of Remember the Maines.
The show was my idea of a success. A few of Cripple Creek's grander visions were not realized, true; Boelte was disappointed that his plan to generate mint-flavored precipitation with the club's snow machine did not come to fruition. Still, the performers presented a spectacle, and the crowd joined a ritual, and at the finale, reversing the traditional bellow of last call, the well-served patrons begged for and received an encore.
June 6: Went to the Lower East Side for the Hey Bartender premiere party. Outside of the Experimental Cocktail Club, a narrow strip of red carpet accommodated the demands of PR. Inside, I felt glad to be ticking this bar off my to-visit list in this particular fashion. Carelessly skimming its press, I'd gotten the idea that its Parisian owners had launched a bona fide gastronomical laboratory. But one look at the space, with its low stools and its loveseats and its shrinelike corner DJ booth, made me reject that assumption. Clearly, the central function of this bar was to offer Eurotrash investment bankers a place to go out dancing with girls wearing tight pants, or no pants, while drinking something more interesting than vodka and Red Bull. It is what it is, and among the things it is, is a sure indication—even more so than the revelation that bars in Oklahoma are making falernum in house—of the mainstreaming of the serious cocktail.
The night's menu was limited to and dominated by recipes written by bartenders from the movie, using liquors produced by the premiere's corporate sponsors. I ordered Sasha Petraske's Caitlin Flanagan, a gin sour that must be the first alcoholic beverage named for an Atlantic writer (unless some Bavarian has concocted the William Langeweissbier). I sat there watching the two boys behind the bar, with their grey vests and faintly military bearing, move their four shakers in unison. I imagined that on a regular night they would like lieutenants taking orders in campaigns of seduction, and I thought upon an observation Petraske floats in the film: "You'll hear a lot of people talk about bartending as if the bar is a stage and the bartender is the star of the show. I want my bartenders to be to the supporting actors in the movie. The customer is the star."
---