The Vault is Slate's new history blog. Like us on Facebook; follow us on Twitter @slatevault; find us on Tumblr. Find out more about what this space is all about here.
This map is an affectionate representation of Greenwich Village printed in a 1925 issue of Quill magazine. Billed as "almost accurate," the map was sketched by the magazine's publisher, Robert Edwards.
Quill, founded in 1917, carried the tagline "A Magazine of Greenwich Village." During a time when the neighborhood represented the utmost in urban bohemia, the magazine covered the art, literature, and culture of its residents. Quill even addressed sex directly, publishing the work of the controversial Margaret Sanger.
Edwards' map showed the businesses that he thought were important to his community: bookshops, coffee shops, restaurants, theaters. Many of these landmarks are now gone. The website Greenwich Village History collects images of some of the vanished businesses' interiors and exteriors, including a photograph of the Washington Square Book Shop at 17 W. 8th St. (now a spa). Some spots, like the Provincetown Playhouse at 133 MacDougal, still persist, having made it through renovations and changes in ownership.
Besides showing the businesses that mattered to Edwards, the map gives a sense of the diversity of populations living in the Village. Washington Square North, Edwards wrote, was the property of the "Aristocrats" and the "Idle Rich." "Erin" (Irish immigrants) held down W. 10th St. between Waverly and Greenwich, and "Italia" and "Artists" populated several blocks on the south side of the map.
The corner of Cornelia and Bleecker carries a simple notation: "Tough Kids."

I first saw this map in a post on the Harry Ransom Center's blog, where it was featured in connection with their exhibit about Frank Shay's iconic Greenwich Village bookshop.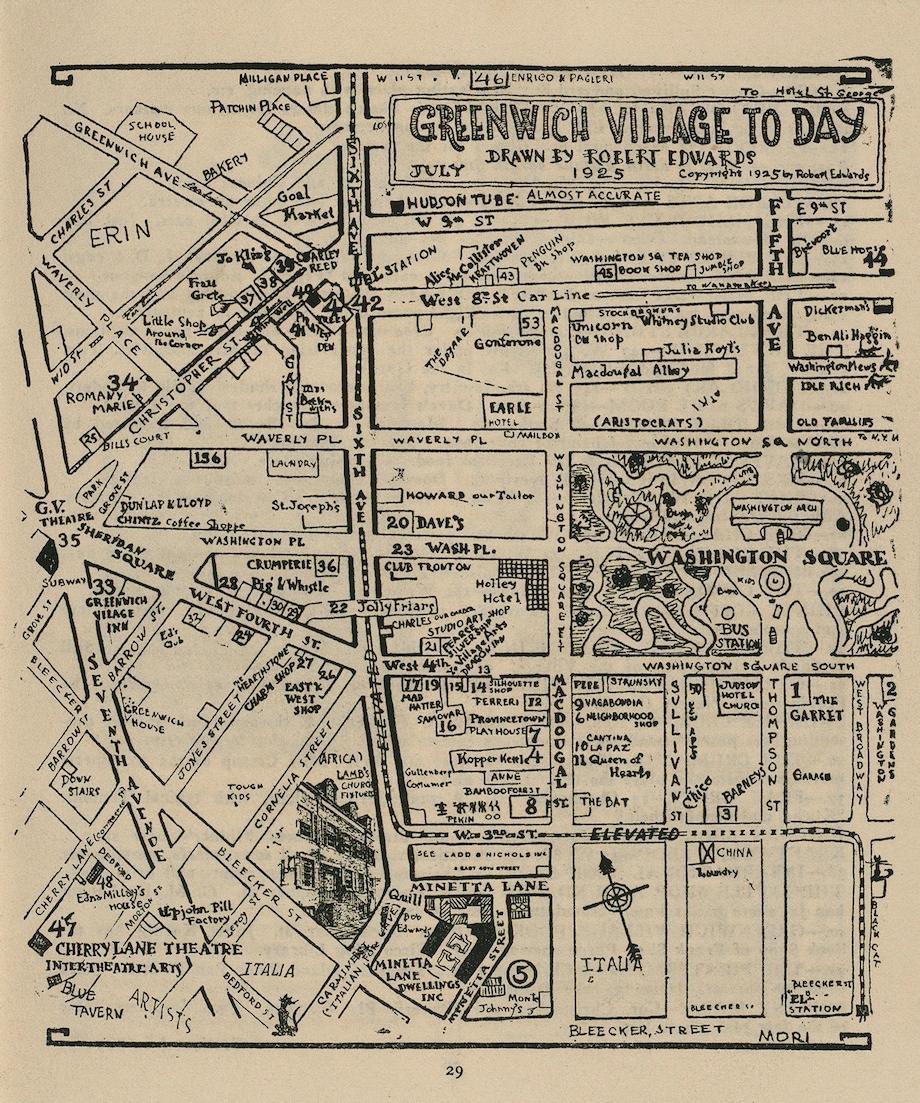 Previously on The Vault: Speakeasy cards used in Prohibition-era New York City.