The Vault is Slate's new history blog. Like us on Facebook, follow us on Twitter @slatevault, and find us on Tumblr. Find out more about what this space is all about here.
On these two pages of hotel notepaper, now in the collection of the Harry Ransom Center, screenwriter and producer Ernest Lehman recorded his notes from a 1964 meeting in Paris with Elizabeth Taylor and Richard Burton. The three were planning an adaptation of the Edward Albee play Who's Afraid of Virginia Woolf?
Studio head Jack Warner bought rights to the play, which had won several awards in the 1962–3 New York theater season, despite the story's terrifying, claustrophobic content. Many thought that the story, about two middle-aged married people engaging in ever-escalating verbal warfare, was too profane and intense for the screen. Taylor and Burton's commitment to the risky project was important for its eventual critical and commercial success.
These brief notes from the couple's initial meeting with Lehman cover matters of characterization and casting. Lehman records suggesting Robert Redford for the role of the husband in the younger couple who serve as unwilling foils for George and Martha. Burton and Taylor had never heard of him (fair enough; Redford was largely stuck on TV back then). That role eventually went to George Segal, while Sandy Dennis—not mentioned in this meeting—played the younger wife.
Burton and Taylor, who were then 39 and 32 and unquestionably charismatic, proposed ideas for deglamming their characters and making them look a bit older. Burton mentioned a few "ways to suggest 'weakness' through costume"—he thought his George should wear eyeglasses. Taylor wanted to play Martha slightly older—age 38—and was "thinking of a wig with relatively short hair—over-lacquered."
The attention to makeup and props paid off. As these photos show, the beautiful couple succeeded in pulling a cape of frowziness over themselves on camera. (The 22 pounds Taylor put on didn't hurt.)

Half of the first page of notes is focused on Burton's need for a cameraman who would minimize the appearance of his pockmarks. Those were apparently a sore point with the actor—a weakness that Taylor would use against him in their own epic fights.
A transcript follows the images.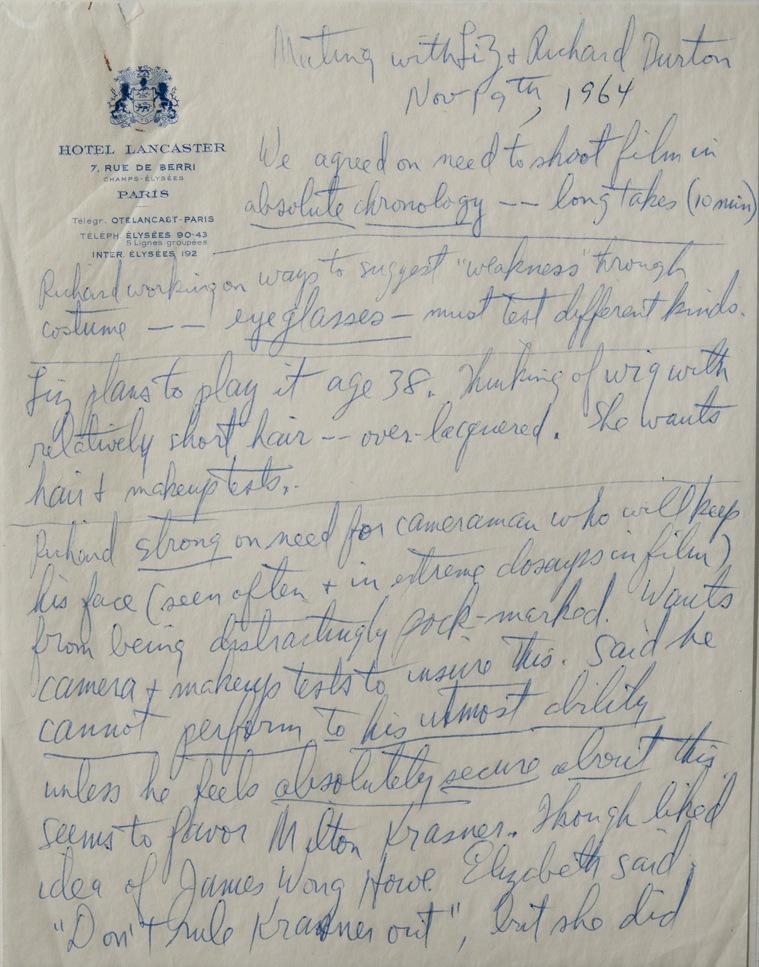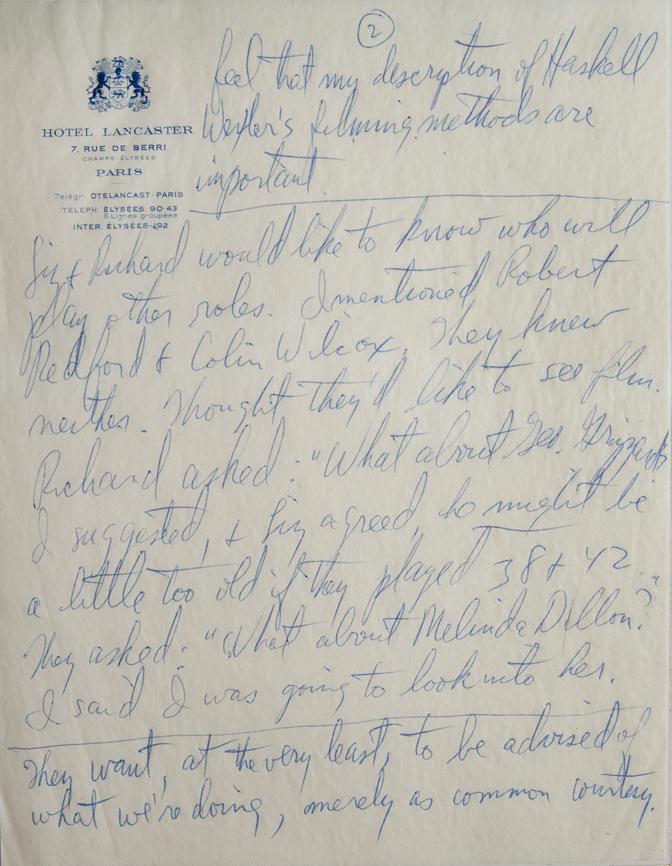 Transcript:
Meeting with Liz & Richard Burton, Nov 19th, 1964
We agreed on need to shoot film in absolute chronology – long takes (10 min)
Richard working on ways to suggest "weakness" through costume – eyeglasses – must test different kinds.
Liz plans to play it age 38. Thinking of wig with relatively short hair – over-lacquered. She wants hair + makeup tests.
Richard strong on need for cameraman who will keep his face (seen often + in extreme closeups in flim) from being distractingly pock-marked. Wants camera and makeup tests to insure this. Said he cannot perform to his utmost ability unless he feels absolutely secure about this. Seems to favor Milton Krasner. Though liked idea of James Wong Howe. Elizabeth said "Don't rule Krasner out," but she did feel that my description of Haskell Wexler's filming methods are important.
Liz & Richard would like to know who will play other roles. I mentioned Robert Redford & Colin Wilcox. They knew neither. Thought they'd like to see film. Richard asked: "What about Geo. Grizzard?" I suggested, + Liz agreed, he might be a little too old if they played 38 + 42.
They asked: "What about Melinda Dillon?" I said I was going to look into her.
They want, at the very least, to be advised of what we're doing, merely as common courtesy.
Correction, 5 pm: The original transcript misread George Grizzard's name as "Geo. Grippards."