The Vault is Slate's new history blog. Like us on Facebook; follow us on Twitter @slatevault; find us on Tumblr. Find out more about what this space is all about here.
In this letter, held by the Gilder Lehrman Institute of American History, President Theodore Roosevelt recounts some events of a state trip down the Mississippi for the amusement of his 10-year-old son Quentin, and includes some funny illustrations of incidents that took place along the way.
The fact that Roosevelt wrote separate letters to each of his children is fairly remarkable, especially since he had six of them. The letters that he wrote on this trip to the older children Archie, Kermit, and Ethel contain much more detail than Quentin's.
TR, who was interested in developing policy to improve the nation's ability to ship goods by inland waterways, made the trip as part of this initiative. Grand goals aside, the letters to his children show characteristic Roosevelt enthusiasm for the small matters of the trip: the history of trade on the river, the workings of the steamboats, and interactions with people along the way. (Here is a stereoview of his reception in Memphis, Tenn.)
TR took a lifelong pride in his ability to remain undisturbed by pesky circumstance. The self-portrait in Quentin's letter shows his grin in the face of the rain while making a stop in St. Louis. Recounting the incident to Kermit, he wrote: "The procession was in a drenching rain, in which I stood bareheaded, smiling affably and waving my drowned hat to those hardy members of the crowd who declined to go to shelter." (No Marines holding umbrellas for him!)
A transcript follows the image.
Previously on The Vault: Roosevelt's list of birds seen while in residence at the White House.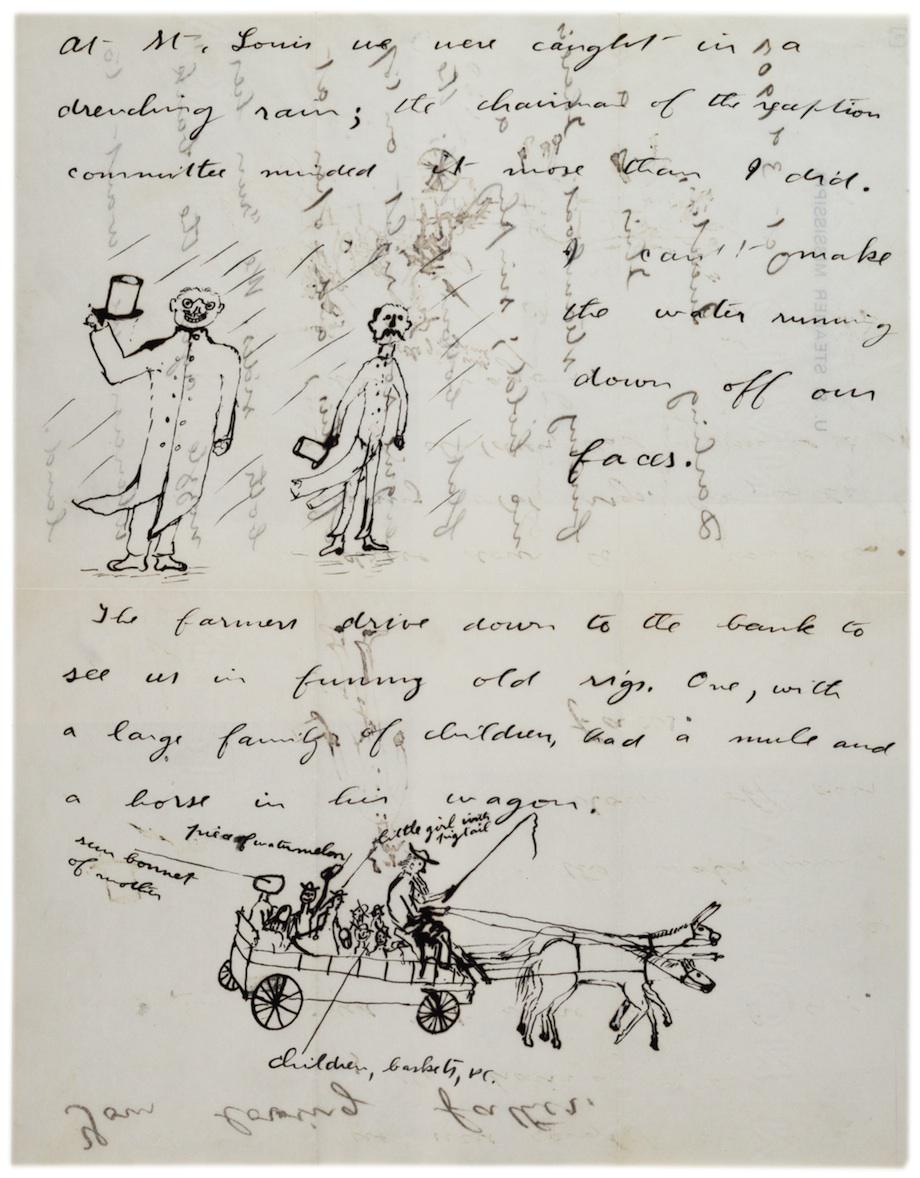 Transcript:
Oct 3d 1907, Darling Quentin,, This is a funny steamboat, There is no hold; simply a flat bottom, on deck; the , engine room right on top of this, and open at both sides. We "run her nozzle agin the , bank" [note: this line seems to come from John Hay's popular ballad "Jim Bledsoe of the Prairie Belle"] wherever we want to land. At St. Louis we were caught in a drenching rain; the, chairman of the reception committee minded it more than I did. , I, can't make the water running down off our faces. The farmers drive down to the bank to see , us in funny old rigs. One, with a large family of children, had a mule and a horse in his wagon. , Your loving father.