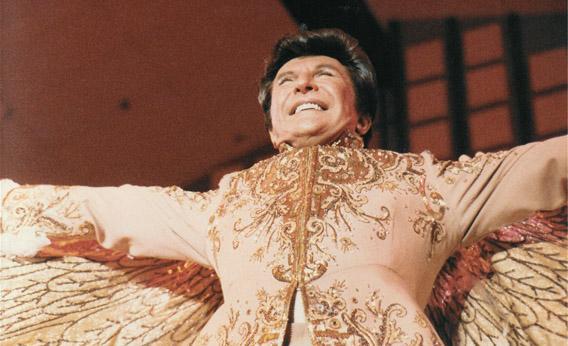 Liberace once took a poop in the lobby of the Four Seasons Hotel in Palm Beach, Fla., in full view of staff and guests. Quelle horreur! Naturally I made frantic excuses for him. After all, he was middle-aged at the time and starting to get a little confused. It was, nonetheless, an acutely embarrassing episode and not one that I would ever care to repeat.
When I say Liberace, I am referring, you will be enormously relieved to hear, to Liberace my ancient Norwich terrier, as opposed to the deceased be-sequined entertainer, the tawdry details of whose private life are about to be unfurled Sunday in the HBO biopic Behind the Candelabra.
This incredible movie—it's based on the tell-all by Liberace's former lover, the currently incarcerated Scott Thorson—is the don't-miss of the decade. It is Showgirls plus Casino times GAY. It is so über-gay that while watching it, I, the person who once topped Time Out's list of the gayest people in New York City, started to feel like Charles Bronson by comparison. This two-hour drama is jampacked with bejeweled Speedos, bristling toupees, antiques, mantiques, yapping poodles, houseboys, and twinkies.
Despite the ormolu gewgaws and the polyester Nik Nik shirts, Behind the Candelabra soars effortlessly above the perils of campy kitsch. Director Steven Soderbergh has pulled off a miracle: a touching and powerful movie that is nonetheless filled with sumptuous satin caftans, ostrich-feather-trimmed capes, and crystal-encrusted pianos.
Full credit for the emotional gravitas must be given to the male leads. Loath though I am to give compliments to actors—they already get plenty of hot air blasted up their dirndl skirts and trouser legs—in this instance I must. Michael Douglas and Matt Damon are magnifique. Despite their pancake maquillage, matching facelifts, and "budgie smuggler" bathing suits, they somehow manage to convey the pain and complexity of their freaky fur-clad cohabitation.
It's good to be reminded that Liberace was gay back when gay was a felony and a mental illness. As his fame grew, he was obliged to find ever more elaborate ways to elude detection. He sued people. He told them he was in love with ice skater Sonja Henie. By the time he met twinkie Scott, he was hiding his gayness in plain sight beneath an ocean of white fox and rhinestones. Opulence trumps everything. Why would you give two shits about my sexual orientation when I am obviously as rich as Croesus is the line of thinking. (Prior to coming out, Elton John deployed a similar strategy.)
While the blinding flashiness of his performances and his lifestyle distracted from probing questions about his private life, the threat of exposure was constant. This couple lived under gay house arrest. As a result, the relationship between Scott and Lee (his nickname) plays out in a world of bored poolside luxury, alleviated by occasional brunches with Charo, Dom DeLuise, and Jim Nabors. Douglas and Damon skillfully inhabit this fragile, tacky prison. Their full-hearted performances—I cried during the AIDS deathbed scene—are so convincing as to be Oscar-smelly.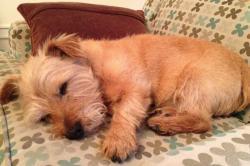 I had toyed with bringing my Liberace to the screening at HBO HQ—I envisioned snapping a haunting meta-portrait of him "watching himself" on-screen—but when I saw how full-on gay the movie was, I was glad I left him at home. Our Lib, I should explain, has always resisted comparisons with his eponym. A pugnacious, butch little critter, he refuses to wear capes or jeweled collars and has never shown the slightest interest in candelabras or his own sex. Our pet is a rampant, heterosexual Archie Bunker who regards any foppishness with a cold, judgmental eye. If he had accompanied me to the screening, I know he would have expressed his disdain, most likely on the marble floor of the HBO lobby.
So why, given his unremittingly anti-gay vibe, did we elect to name the little feller Liberace? Simple: My chauffeur and I—oops, I mean my husband and I—have a deep affection for Mr. Showmanship and have always felt an obligation to keep that flame alive. Unlike Elvis and Marilyn and other entertainment icons, Liberace's legacy needs all the help it can get. Sadly, the younger generation has no idea who he was or what he represented. Concerned that the magic of Liberace might disappear into the dry ice of time, Jonathan and I dutifully named our dog after the spangled pianist. This has been rewarding but also somewhat exhausting. When people ask the name of our pet, we are compelled to regurgitate chunks of Liberace's bio, to mention nothing of teaching the correct spelling and pronunciation of L-I-B-E-R-A-C-E.
Lack of awareness about Lib is understandable. There is, after all, a very limited Liberace movie canon. The best you can hope for is to catch The Loved One. Based on the novelette by Evelyn Waugh, this 1965 Tony Richardson movie satirizes the U.S. funeral industry and stars Roddy McDowall and Sir John Gielgud. Liberace sizzles in the role of Mr. Starker, the casket salesman of "Whispering Glades." (Christopher Isherwood co-wrote the screenplay, raising the question "How many homos can you squeeze into one movie?")

While you are YouTube-ing you may as well gobble up a few clips of Lib's live performances. Here is one in which we see Scott Thorson in his bedazzled chauffeur livery.

I feel fortunate to have caught this sassy Liberace extravaganza and many others like it, in person. OK, so he wasn't exactly Jimi Hendrix, but there was something mesmerizing and hilarious about his bravura, his enjoy-these-diamonds-and-minks-and-sables-because-you-paid-for-them shtick. The highlight for me was always the famous "dancing waters." These colorfully illuminated squirts of H2O would pulse and throb in time to Lib's ear-splitting renditions of Strauss waltzes. Gorgeous—but even better when they stopped. (Liberace never claimed to be a refined musician, and always referred to himself as a "saloon pianist.")
Lib's audience was just as entertaining as the show itself, in a Diane Arbus way. Most attendees were blue-haired church ladies accompanied by their shiny-faced flat-topped husbands. Occasionally you would spot a creepy Kathy Bates type, sitting alone, nursing a Shirley Temple. (Remember Ms. Bates' character's commitment to Liberace in Misery?)
As much as I enjoyed watching Liberace tickle the ivories, I always preferred spending time at his namesake museum. Located in a mall, a bus ride from the Las Vegas Strip, this now-shuttered tourist destination contained a delirious selection of costumes and memorabilia, including "The World's Largest Rhinestone." (Jeff Koons, eat your heart out.) After touring the palpitation-inducing exhibition, we fans would pop next door to the Tivoli Gardens, Liberace's very own low-rent restaurant, to enjoy some white bread sandwiches with the crusts cut off. And then there was the gift shop.
Back in the day I visited this retail establishment and happened upon a cache of Liberace charm bracelets, each festooned with candelabras, teensy pianos, and other Lib iconography. It was a eureka moment. I bought four bracelets and joined them together to make a Liberace memorial necklace, a stunning piece of man-jewelry, though I say it myself. If a Liberace charm bracelet appeals to you—it's a fitting way of keeping the memory of Liberace alive without burdening your dog with a puzzling name—then you are in luck. Every time a Liberace fan dies, one of these very same trinkets pops up on eBay. Snag one today and you might just receive it in time for Sunday's extravaganza. We must all do our bit!
---