This is an excerpt from Half-Life: Reflections from Jerusalem on a Broken Neck by Joshua Prager, out now as a Byliner.com original.
Through the faded blue metal frame of my open window, I watch the morning light approach. It crests the skinny cypress trees atop the hill just over the valley, rolls down the bone rooftops of Jabal Mukabbir, rises to ripen the red-yellow nectarines on my sill, three stories above Naomi Street. My floor, tiles of salmon and olive, brightens, and my glass tabletop reflects the worn copy of The Diving Bell and the Butterfly upon it.
The light reminds me that I have just come back to Jerusalem, and I smile at a thought: "I will walk before the Lord in the lands of the living." I appropriated the sentence long ago from the Psalmist, and I slide my left foot into my plastic brace, calf-high and erect in an empty brown shoe. I take hold of my wooden cane and walk to the staircase. There is no handrail on my right, so I descend the three flights slowly, right forearm pressed against the powdery concrete wall, left hand unable to grasp the banister available to it, left leg—hard to bend—preceding the right down each of 55 steps.
I turn right on Naomi Street, right again on Hebron. My left foot is closer to the street than my right. Sidewalks the world over slant down toward the gutter, and I am careful to give the extra smidgen of clearance the slope affords to the half of me that swings forward from the hip. I have now done so for half my life.
Before May 16, 1990, I had not noticed the slant underfoot. Nor, as I ran over rise and fall, had I contemplated much what made me me, or that unfairness has theological implications, or that life might end each and every day.
But right now, because my neck broke, I am carrying a question to a windmill, aware not only of the topography of the stone molars below but also, as every day, of these higher burdens.
***
Twenty-two years ago, at the base of the hill that rises to Jerusalem, a careless truck driver almost killed me as I sat in the back of a minibus. He would have, but for the machines and people and tubes that saw to it that my body breathed and fed and pissed. A medical jet flew me home to New York, where, at age 19, I quietly observed the goings-on; I could not speak or move or feel anything below my neck, save one well-placed prick of a needle.
Improbably, the swelling in my neck receded. I would walk in the lands of the living! But imbalanced. My right side moved freely. My left, restrained by spasticity, a neurological tightness of sorts, did not; it furled and shook. A doctor explained that I was further divided: I had Brown-Séquard syndrome, which roughly meant that one half of me could move better, the other half feel better.
I told myself to work now and think later. And so I pushed myself, learned to eat and dress and steady a suppository in spastic fingers, to sit and stand and walk. Walking, however gratifying, was at any real length an impractical exhaustion, and I used a wheelchair for four years until, back in Israel after college, I put in another year of exercise and rose from the chair for good. I returned to New York and became a journalist, walking through six continents with an ankle brace and a cane, typing articles and a book with one finger.
I tried to write of the crash but failed. Instead, for a decade, I wrote of secrets. There was the reclusive boy who inherited the royalties to the classic children's book Goodnight Moon. There was the hidden scheme that led to baseball's most famous moment, the Shot Heard Round the World. There was the only-ever anonymous recipient of a Pulitzer Prize, a photographer in Iran. There were the unknown suicides of the parents of the most famous missing person in World War II.
It took a friend to point out to me the obvious: all of these stories mirrored my own, each centering on a life that changed in an instant—owing, if not to a crash, then to an inheritance, a swing of a bat, a click of a shutter, an arrest. Each of us had a before and an after. I had been working through my lot after all.
A second friend helped me to see that I was, in effect, forcing my subjects—one solved secret at a time—to live with their altering moment just as I did: openly. Whereas a depressed person can choose to conceal her disability, to meet me is to see that I use a cane. And that openness works for me. (Best I can tell, openness has unburned those I have written of, too.) "I've always preferred directness," I wrote long ago in my journal. "It's liberating and dignified."
But as I continue now on my walk and turn left onto King David, I am less sure of what I, not others, see in me and my broken neck.
I have returned to Jerusalem to find this out, to become again whole where I was once divided.
I cross to the right side of the street so that my left leg is to the curb and I see the windmill ahead, amid cypress and carob and olive trees. It is beautiful, a narrowing white stone cylinder with an iron cap and wooden sail. A wealthy Brit named Moses Montefiore had it built in 1857 to encourage Jews to leave the safe but confined walled city just over the valley and support themselves milling flour. Though a community rooted about the mill, it was not used for long.
I turn into the park, step onto its stone path, and walk between puffs of rosemary toward the windmill. I have walked a mile, and my back is tight—all that swinging of a leg—and I put my right hand on my hip and lean back quickly at the waist. I hear the familiar crack deep in my back, my left leg stiffens and kicks forward, my left arm bends and shakes in spastic confusion. I balance flamingo-like a few seconds on my right leg, then sit.
I reach the windmill and look up. And then I, who once ran about it, ask my question: With no wind and no mill, are you still a windmill?
***
I have never seen so many happy signs. Set along the route from Tel Aviv to Jerusalem, they welcome home Gilad Shalit, the soldier returned to Israel this October morning, five years after his capture near Gaza.
I have returned this same day to Israel to think and write of the crash that broke my neck on this very road. And as my cousins now drive me south, there are more signs that only I see, reminders of my last uncompromised minutes—the town where I boarded the minibus, the yellow signs to downshift that went unheeded by a trucker, the hilltop I looked upon at the moment of impact. We speak of the returned soldier, whose life turned at the same age mine did, and I fear for him a future defined by something bad and not of his doing. Will he be who he was?
I recall who I had been before this road divided my life like the spine of an open book. As a boy, I had wondered to my mother—she who had lost a father young and been sick since I was born—how I could be a good parent like her if I had not suffered sad things.
I was sad that my mother was sick, angry that my father was stern. I did little homework, went out with few girls. I wished I wasn't short. I sold baseball cards and babysat and shoveled snow for money that I used to buy pine planks to build a hut in the back of our New Jersey backyard, careful to cut the door low so that my tall father could not pass through it. Off and on for a few years, I thought and slept in my rotting refuge.
I loved baseball, Cape Cod, and my cat, and the fact that an employee at a museum in Toronto said that of all my high school class, I alone had a perfect gait. I played my trumpet in the subway. I tried as a toddler to slip over a rowboat into a Chicago lake and jumped as a teen into wild Cape Cod Bay after a hurricane. I designed an orange peeler. I wrote my grandmother a rap, wrote Nixon a poem about his foreign policy, wrote the skater Ekaterina Gordeeva a love song.
At 18, I left home and went to Israel. I studied Talmud. I read a score of novels that had been assigned to me in high school. I decided to become a doctor—like my father. I played wide receiver on the Habira Insurance Redskins. I grew from 5 feet 8 inches in autumn to 6 feet in spring. I did tens of thousands of push-ups—on stairs, one-handed, clapping. My chest broadened. My clothes didn't fit. I went home in April, got on better with my dad, and dismantled my backyard shanty. I returned to Israel for a last month of yeshiva. And one night, as I grabbed a rebound playing basketball, I hit the rim and felt wondrous and invincible.
We approach the bend in the highway at the bottom of the hill in the valley of Motza. It was here, some thousand feet shy of Jerusalem, that the driver died in his bus, of "cardio-respiratory arrest," said the police report. Nineteen of his 20 passengers flew or fled or were lifted through the open shells of blown-out windows.
I wondered why I was not leaving this bus, this bloody red canvas seat where I leaned rightward in the back row. I looked at my limbs and concentrated. But I remained still.
I was unaware of how to move, get up, lift an arm. My body had just done these things. And then I knew: I was paralyzed.
It was this second blow—not my paralysis but my recognition of it—that transformed me from robust teen to quadriplegic, that divided my life in two.
My neck hurt. My legs were still and numb. I could flop my arms less and less. It was hard to breathe, to suck air into my lungs.
My mind drifted to a soldier shot in tall grass. He lay in the arms of his buddies. Then, airlifted, he died.
I remembered him. He had been shot on Hamburger Hill, in Vietnam. The film hadn't come to mind in the 30 months since I'd seen it, and it resurfaced now as a reproof: I had been certain in the dark of the theater, I now remembered, that that soldier would have lived had he really wanted to, had he been tough like me. But I had been wrong. I knew now that the desire to live is not enough. I would die if help did not come soon.
And so a lifelong sense of self was undone. I was vulnerable and would be always.
My mind left the bus again. I saw my father, mother, two sisters, and brother standing on ground that was grassy and undulating. They were at a cemetery. They were at my funeral. They were grief-stricken, and I had the thought that if I died, my brother would fall apart.
I struggled to breathe, and an image of a gray cloud covered my brain. I forced the cloud away and came to to find my neck braced and a paramedic asking me in a loud voice my name and where I was from, the same questions asked of the soldier in Vietnam. I answered in a small voice. Yoni, the paramedic, swaddled me as if in a papoose, with vinyl and Velcro and cloth wrappings I did not feel.
Minutes of paralysis had reduced my nine months of exercise to an inconvenience—I was a heavier slab to move—and two men helped Yoni slide me onto a board. They lifted me out the empty back window. White sunlight hit my eyes, and I closed them. I opened my mouth to shoo a photographer clicking my picture, but my yell emerged a whisper.
We sped away in an ambulance, Yoni giving me oxygen and saline and asking me in Hebrew those same two questions. I asked him two questions back: "Am I paralyzed? Am I going to die?"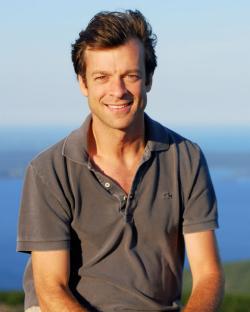 Yoni bent over me, said I was fine, to just keep breathing. But he was short of breath and his sweat dripped onto my face, and I remembered that my father had told me that a doctor will bend the truth to shield a patient. And so, quiet and still, I didn't believe him.
On this fall day, a half-life later, we whisk past the metal railing that hems the asphalt shoulder at Motza. And here, where my minibus came to a horrible stop, is a sign welcoming home a soldier.
This ancient city is a palimpsest, its narratives written and rewritten on white stone. And as we crest the hill into Jerusalem, I take comfort that here, where 3,300 years ago Israelites gathered willows, and 22 years ago a carefree driver took from me my carefreeness, the identity of a country, its compact with its people, is affirmed.
This is an excerpt from Half-Life by Joshua Prager. You can purchase it in its entirety for $3.99 at the Kindle Store at Amazon, as a Quick Read at Apple's iBookstore, a Nook Snap at BarnesAndNoble.com, and a Short Read at Kobo.