A century ago, an Orwellian plot to subjugate all American children to federal authority was set in motion. Government bureaucrats systemically undermined the influence and the sanctity of the family: They told parents the right way to raise their children. Children no longer belonged exclusively to their parents. Uncle Sam was moving in.
Or at least, that's how it would be described today. At the time, they called this dystopian nightmare the U.S. Children's Bureau, founded in 1912. And it was wildly popular.
In an era of high child mortality and chronically poor health, as well as rapidly changing norms for childrearing, the bureau was seen as a salvation. As if they'd been waiting for the bureau to be founded, parents across the country immediately inundated the Children's Bureau with letters—at its high point, the bureau received 400,000 missives a year—and got personal responses back. Many of the letters, from mothers desperate for guidance and struggling to survive, are heartrending to read. "Some of the letters are handwritten, semi-literate, pencil letters from rural, black communities in Alabama—and then some are from Fifth Avenue," says Janet Golden, a historian at Rutgers–Camden. "Sometimes you have wealthy people who write and say, 'I took my baby to five different doctors but I want to know what the government thinks.' "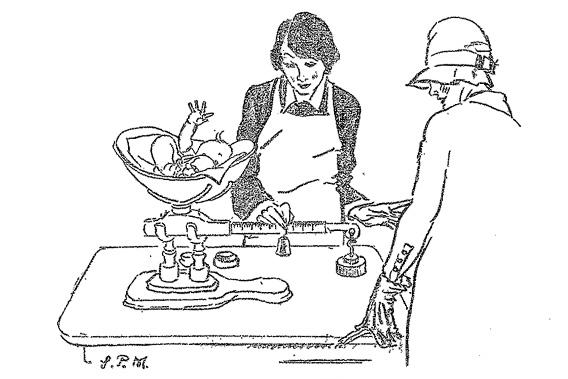 The new scientific-minded childrearing wisdom of the era—the new right way to raise your child—was disseminated through the Bureau's wildly popular pamphlet, Infant Care. Tens of millions of copies were distributed—but that actually underestimates its reach. Early baby books, where parents kept a record of their infants, were also filled with its official advice; the publishers simply cut and pasted parts of Infant Care into their books.
No one objected to all this federal oversight. On the contrary, in the 1910s and 20s, even before the modern welfare state, people not just felt invested in government programs—they thought the job of the government was to give advice. It's a communal connection unimaginable today. "Now we have a very privatized world," Golden says. "We don't have a collective interest in our babies. It's my baby."
And how: Just recently, MSNBC's Melissa Harris Perry ignited a firestorm by saying that Americans need to have a more collective notion of our children. Perry was making what she thought was an anodyne comment. And it once would have been. But it isn't anymore.
"Today a lot of people have a 'don't tell me how to live my life' attitude toward the federal government," Golden says. "And here we have an era where people are saying, 'Please tell me how to raise my child.' "
This may be the most fundamental difference between the world for which the Children's Bureau was founded and our own. Parents then and now are still obsessed with the same things: eating, sleeping, what to buy, how to survive this madness. The advice of the authorities about these things has changed—but then again, the advice was, and is, always changing. The far bigger change is where we look for that authority.
***
Nicholas Day's book on the science and history of infancy, Baby Meets World, was just published. His website is nicholasday.net. He is @nicksday on Twitter.