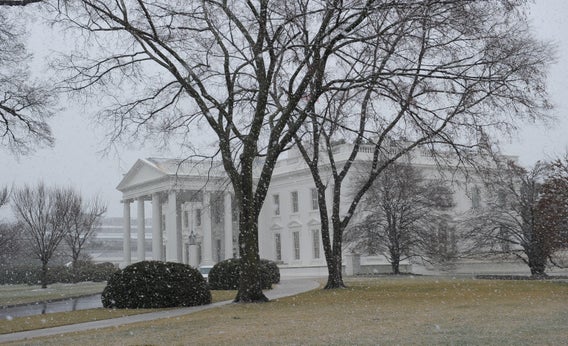 Kudos to Yahoo News political reporter Rachel Rose Hartman for writing one of the great ledes in the annals of maternity coverage: "When I imagined my journalism career, I never pictured myself standing shirtless in a unisex bathroom in the White House." That's the beginning to a piece about Hartman's frustratingly long quest to find a suitable place to use a breast pump while covering the Obama administration. While her situation is certainly unique in some respects—Hartman describes the White House as "surprisingly small," and the security issues mean that journalists can't just jump over to separate buildings—her piece is a great illustration of the shortcomings of the laws that are meant to protect pregnant women.
According to Obama's Fair Labor Standards Act, employers are required to provide "reasonable break time" and a private location—aside from a bathroom—where women can pump milk. As Hartman points out, the onus is on her employer, Yahoo, to provide the space, not the White House. This sends her down a primrose path of attempted accommodations, until she finally gets a makeshift room (which is actually a booth shared by the Christian Broadcasting Network and the CBC).
It does seem like the White House made a good faith effort to help Hartman, which they technically did not have to do (though it would have been both hypocritical and a major optics issue for them if they ignored her). And Washington, D.C. does have additional rules protecting breast-feeders, which allow women to breast-feed anywhere a woman has a right to be with her child.  But it took two full months for Hartman to get what she needed to pump properly, and as she notes, any workplace with fewer than 50 employees does not have to adhere to the FLSA. When more than 40 percent of American workers aren't covered, that's a huge problem.
Last week, former XX Factor blogger KJ Dell'Antonia wrote a post for the New York Times parenting blog, Motherlode, called "Americans Support Breast-Feeding, as Long as It's 'Free'. " Though that post focuses more on the need for paid maternity leave, it seems relevant here as well. Everyone loves talking about how they support women breast-feeding for the American Association of Pediatrics-approved six to 12 months, but very few workplaces actually want to spend money or sweat equity to help women do so. As long as we leave so many loopholes for companies to deny new moms any sort of help, situations like Hartman's will continue to be the norm. 
---