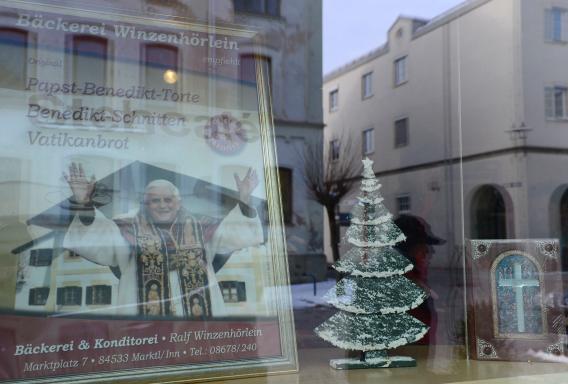 With the recent announcement of his impending retirement from Pope Benedict XVI, excitable discussion and speculation about potential new directions for the Catholic Church were pretty much inevitable. There's a script we follow when the reins of power are handed over—whether it's a shift in who sits in the Oval Office, the throne or the TARDIS—that includes hopeful speculation that the next person will finally, finally enact changes the speculator has long awaited. But I beg of people to give up when it comes to the Pope. The kind of guy sitting under the fancy hat will no more change significantly than the fancy hat will change. This should be obvious, but sadly the internet is littered with articles like this one by Katie McDonough at Salon, where she interviewed a bunch of progressive Catholics about what they hope the change in what old dude sitting in the pope throne could bring to the church. Some samples: 
I would return to the fold if my church pardoned third-world debt, allowed women to take birth control and if the Vatican sold its riches to feed and clothe the hungry, their flock….
My hope is that the next pope decides to put less emphasis on Paul and more on Jesus. Allow priests to marry, allow women in the priesthood….
The church needs to stop teaching shame. There is such a deep-seated belief that people are inherently bad that is taught from such a young age, the idea of original sin itself, that instills a sense of guilt and wrongness essentially from birth….
I feel bad that anyone wasted their time answering this question about what they hoped for in the next Pope, because that's two minutes that could have been better spent on more productive activities like staring at walls or scratching their ears. Spoiler alert: The next Pope is going to be an authoritarian old celibate picked by other mean old men for the purpose of telling the world that God has it out for gays and women. There will also be incense, to make it more convincing.
In the past few decades, the authorities in the Catholic Church have made it absolutely clear that they are doubling down on the sexism and obsession with punishing all non-procreative sex. For instance, your modern Catholic Church sainted a woman who died rather than abort. In the U.S., Catholic authorities have grown aggressive in recent years on the subject of contraception, moving beyond simply denouncing it to supporting legal strategies to prevent women from using their own insurance plans to buy contraception. This is the church that thought it wise to excommunicate a mother and a doctor who helped save a 9-year-old from being forced to give birth to a rapist's baby, but didn't bother to excommunicate the rapist, because abortion is a "more serious" sin than repeatedly raping a pre-teen entrusted to your care. The anger towards uppity women has even spilled into viciousness to nuns, who the Vatican expressly said should silence their opinions and accept that the male leadership "are the church's authentic teachers of faith and morals." 
 Greg Mysko put the realistic view of the future best: 
It would be refreshing for the Catholic Church to take a realistic view on contraception and abortion. But I don't see that happening no matter who is chosen to be the next pope. There are many valid spiritual paths one can choose. Catholics have a choice.
It's important to understand the difference between hope and delusion. Shuffling around who the top mean old man is in a group of mean old men isn't going to change a thing. Even discussing the possibility of real change gives the church hierarchy more authority than they deserve. For this go-round of speculation about who the next Pope will be, the best response is simply, "Who cares?"
---