Is it fashion? No. Is it a parade of conventional prom dresses? Yes, I am rather afraid it is.
Don't blame me. For years I have been cautioning the red-carpet critics against nitpicking and inhibiting any displays of creativity, spontaneity, or originality on the red carpet. "Listen girls," I would shriek, "if you keep hating on the unconventional chicks—those gals who dare to bring a bit of stylish eccentricity to the red carpet—you will ruin it for the rest of us. You will annihilate any creative fashion content and turn the whole thing into a turgid country-club ball."
Nobody listened to my warnings. As a result, the celebs—terrified of ending up on a what-was-she-thinking list—wilted under the pressure and became gun-shy and risk-averse. What little daring there was has slowly evaporated. No more electric blue body stockings (Raquel Welch) or hippie caftans (Angela Lansbury). No more delirious showgirl freak-outs (Cher) or dead swans (Bjork) or homemade one-sleeve frocks (Kim Basinger). No more men in Versace chiffon (Trey Parker) or chicks in American Express Card disco dresses (Lizzy Gardiner), and no more Gap Ts (Sharon Stone). In short: no more fashionable freaky fun. No more surprises.
The frocks on Sunday night's 85th Academy Awards red carpet were so stunningly conventional that it is virtually impossible to think of anything to say about them … and yet somehow I have managed. Want to hear the top trends? I thought you would. Here goes …
Trend No. 1: Being named Jennifer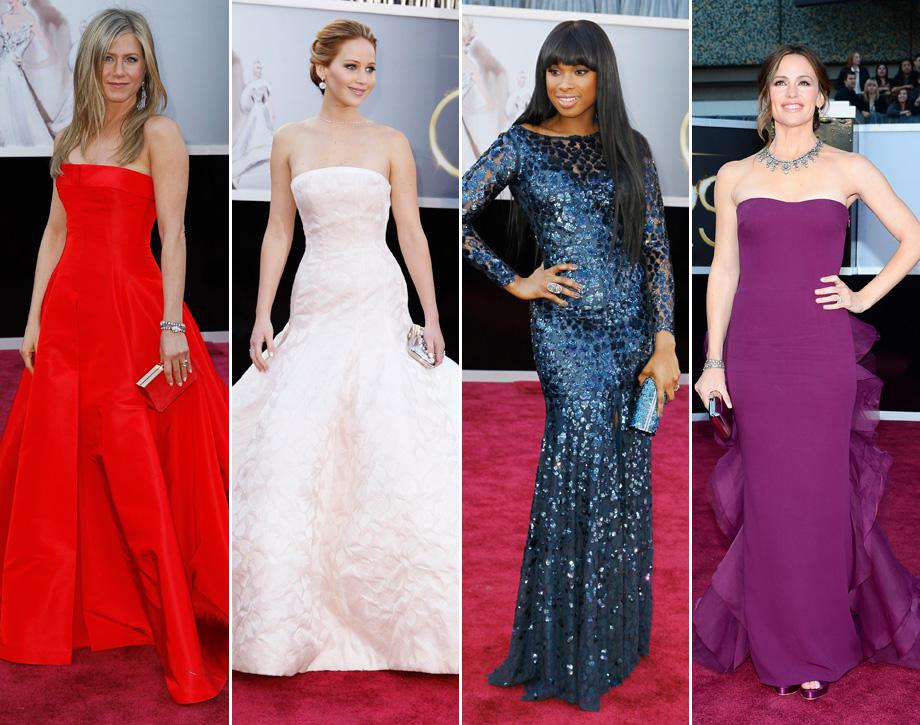 Jennifer was the mot de la nuit: I'm talking about presenter Jennifer Aniston in her red Valentino, nominee Jennifer Lawrence in her white Dior haute couture, Jennifer Hudson in her kicky Cavalli, and Jennifer Garner in her plummy purple Gucci strapless number. Which brings us to the second trend of the evening …
Trend No. 2: Wearing bustier dresses that cause shockwaves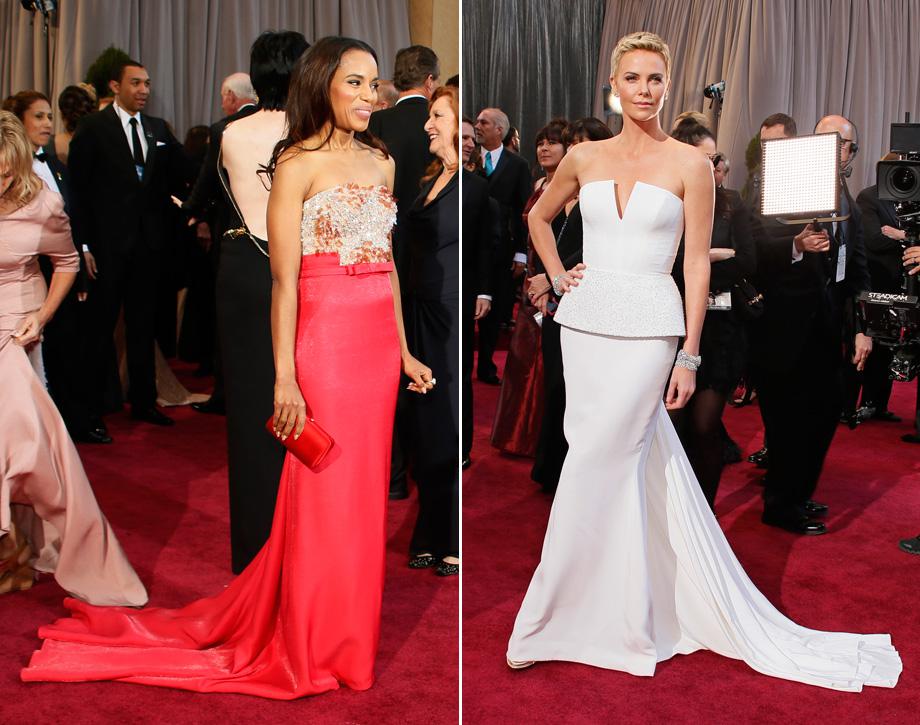 Stop the presses: Strapless gowns were all over le tapis rouge. Many girls did not quite have the requisite rack to hold them up, which precipitated another trend: yanking your borrowed schmatta in a vertical direction. Kerry Washington (Miu Miu) and Charlize Theron (Dior Couture), I'm talking to you!
Trend No. 3: Designers deploying sequins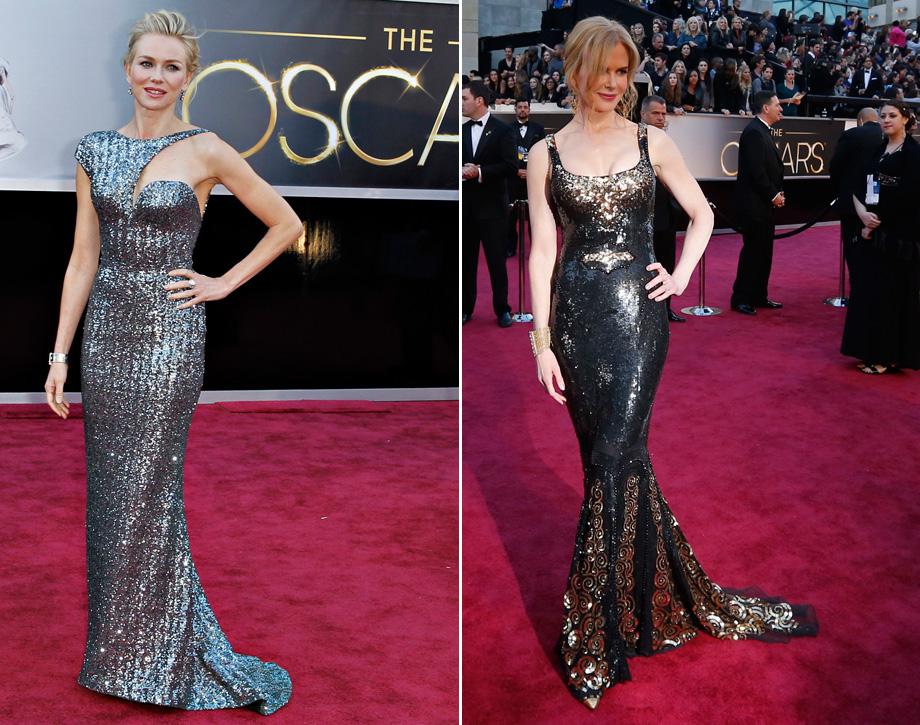 Fashion designers blew the minds of global spectators by plonking such notables as Naomi Watts (Armani Prive) and Nicole Kidman (L'Wren Scott) in sequined gowns. How come it's taken so long for designers to recognize the reflective, dramatic qualities of sequins? What's next? Bugle beads? Satin?
Trend No. 4: Celebrities visiting hairdressers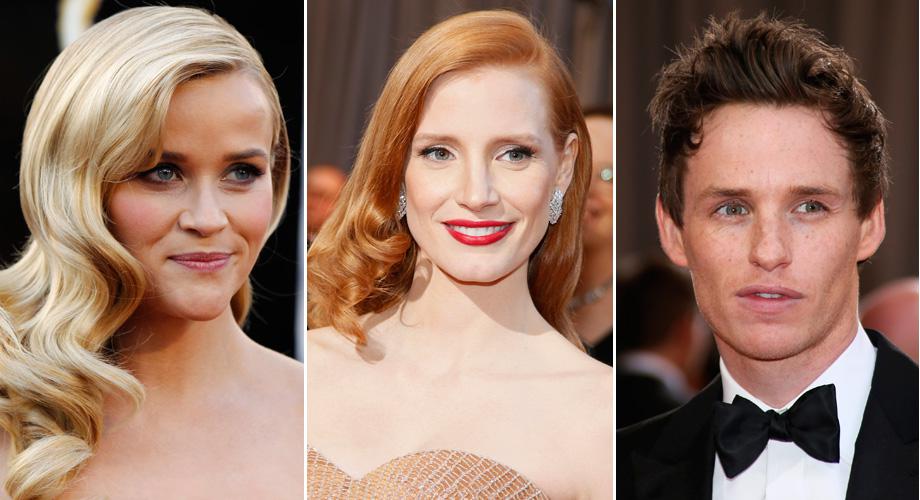 Tonight's Oscar ceremony saw a revolution in hair: People had their hair done. While Chastain and Witherspoon opted for the Veronica Lake peekaboo—that's the same hairdo that was banned in munitions factories during World War II because gals kept getting their locks snarled up in whirring machinery—Eddie Redmayne's do was professionally foofed into an early 19th century Mr. Darcy swirling tornado.  
Trend No. 5: Actors accessorizing their outfits with heartwarming relatives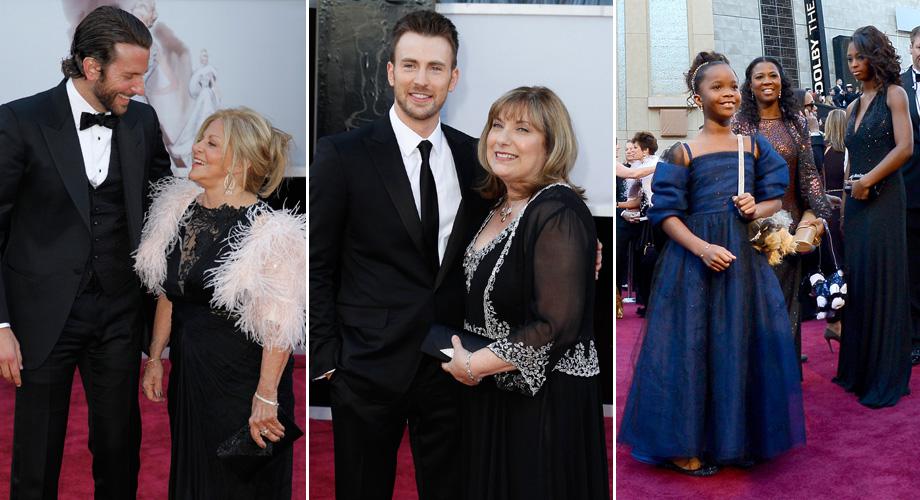 Gloria Cooper accompanied Bradley, Chris Evans hand-bagged Evans mère, and Jessica Chastain rocked Granny while wearing Michael Kors. The award for the most abundant relative accessorization goes to Quvenzhané Wallis, who had an entourage of three sequined family members with her at all times. The lovely Miss Wallis also reaffirmed the old adage that's it's OK to wear a puppy purse AND a tiara.
Trend No. 6: Not being anorexic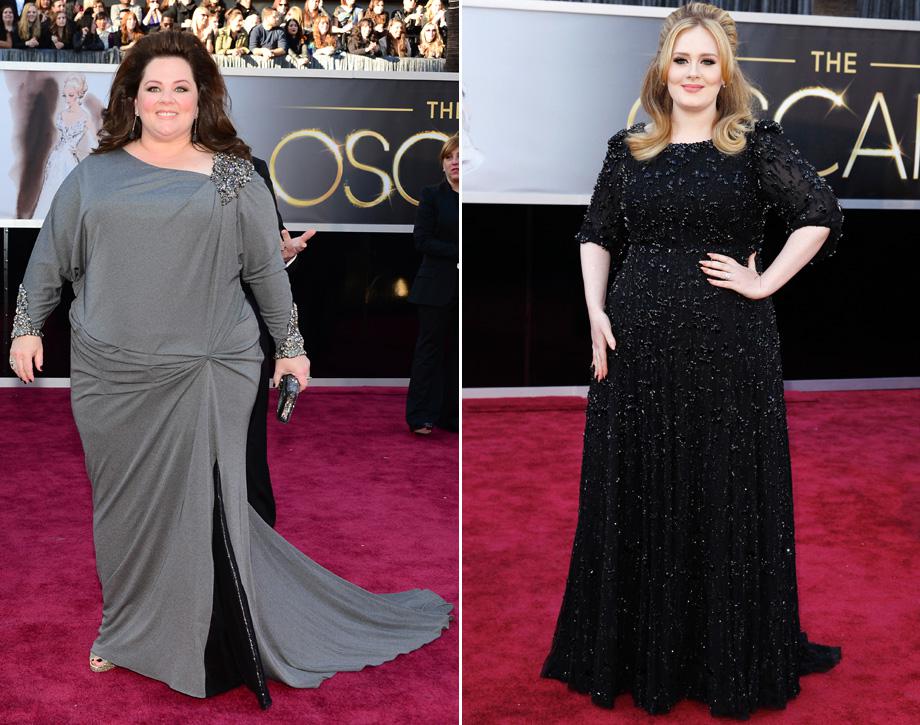 By being the same size as many of the black-clad PR flacks who shepherd the celebs— I'm talking about those larger ladies who buzz around wearing clipboards and headsets and appear to shop at Eileen Fisher—Melissa McCarthy and Adele proved that chicks who like to eat can also wear sequins and win awards. Bravo, girls!
Trend No. 7: Not being overly concerned about the possibility of a nipplegate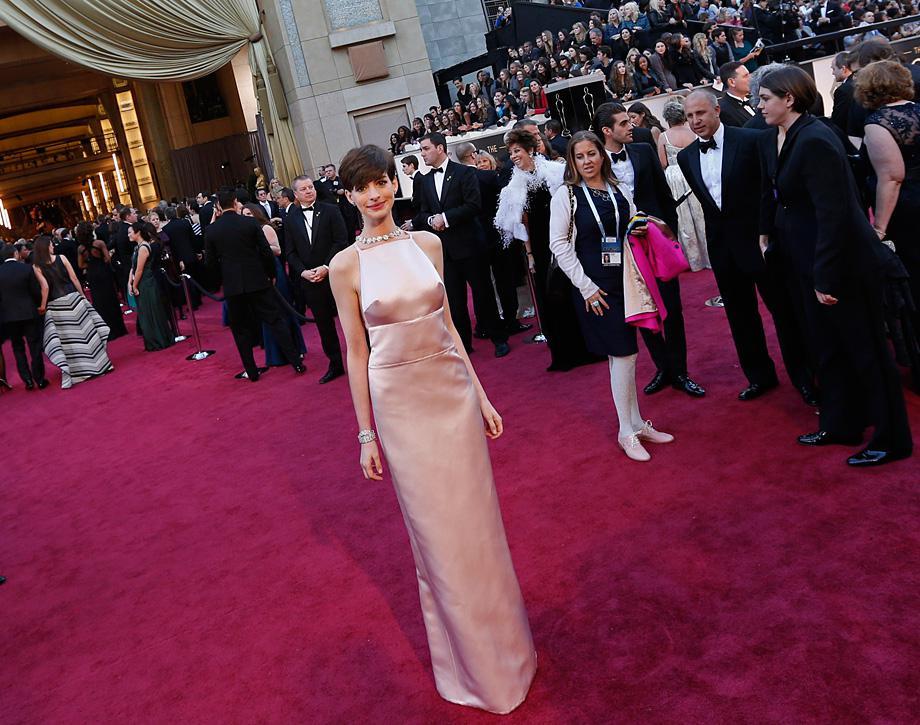 Previous proponents of this trend include Jennifer Lopez and Jennifer Lopez. Tonight's nipple-oblivious siren? Anne Hathaway in her adorable pink Prada.
More shocking news has just come in: Apparently the celebs will be attending after-parties where they will ingest large amounts of booze.
Brace yourselves for next year!
*Correction, Feb. 25, 2013: A photo caption originally reversed the positions of Reese Witherspoon and Jessica Chastain.