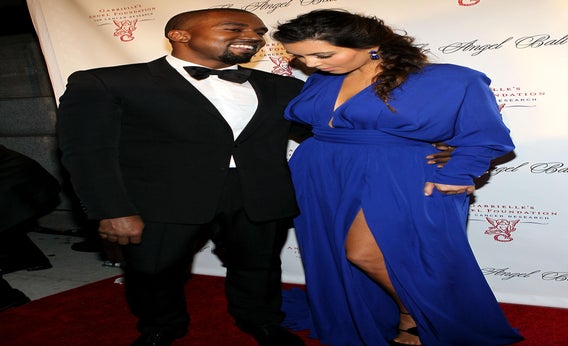 Kim Kardashian and Kanye West are having a child, and like a lot of expecting parents, they have gone ahead and found out the gender. Also, like some couples do, they're keeping that information private rather than renting out the Beverly Hilton to hold a news conference. But because West and Kardashian have lived so much of their lives in public, reasoning goes, they don't deserve to keep this information private.

Or at least, that's the argument on the Huffington Post, where Liat Kornowski declares of the decision that, "We think that's fishy." Her logic?
After all, [Kardashian] started out by having a sex tape make the rounds early on in her career. The tape shows her and ex-boyfriend Ray J. doing the deed and might have even been leaked by Kim herself, as suggested by another one of her exes, Nick Cannon. She also showcased her famous buttocks to the world via X-ray to prove she doesn't have implants.

I missed the part of Kardashian's history where she signed a waiver that guaranteed the American public access to every detail of every event in her life, in perpetuity. Increasingly, it seems like women who live in the public eye are given a choice: If you reveal nothing except the basic facts of your life, as has been the case with Kate Middleton's engagement and pregnancy, then you're allowed to demand privacy on the minor details. (And when you don't get it, like with those recent Middleton bikini pictures shot with extremely long lenses, there's public outrage.) But reveal some things, or a lot of things, particularly if they're sexual, and even more so if they've benefited you're career, and you're doomed to be a consumer product until the end of time.
But each of Kardashian's revelations about her life is a discrete event, and she has the right to keep making decisions about how much of herself she wants to reveal on a case-by-case basis. And in this case, her decision, one would hope, involves the wishes and preferences of someone else—West, who is the father of her child. Having told all, or even some, once doesn't mean Kardashian is obligated to tell again. I have a feeling we'll still get our exclusive People cover, and the inevitable Kimye bedazzled onesie line, but it's really not up to us when.

---