If you're going to watch one football game a year, it's probably going to be the Super Bowl. And if you watch one car race, it's going to be the Indy 500. The Super Bowl is better on TV than in person: You can't see the field well from the stands, and you miss all the commercials. The Indy 500 is better in person. It's loud—so loud that vibrations from the speeding cars shake you in the stands. It's constantly thrilling: Even under a yellow flag (which means a hazard on the track), competitors are still driving and strategizing rather than standing around scratching themselves. And its opening ceremony is more stirring than Alicia Keys on piano, as grown men drinking Coors Lights before noon sniffle after Jim Nabors belts out "Back Home Again in Indiana." (Congrats to Jim and new lawfully wedded husband, Stan.) The race has more history than the Super Bowl does (103 years vs. 46); a  greater concentration of all-star families (the Bettenhausens, Unsers, Andrettis, Mears, etc.); and its characters are every bit as colorful as football's: I'll take A.J. Foyt, the crabbiest person in pro sports, drunk Al Unser Jr., and wall-climber Helio Castroneves over Ray Lewis any day.
But the very best thing about auto racing is that it's the only major sport in which women compete directly against men. Danica Patrick is the most visible right now, but dozens of women have raced at the highest levels, including some in the 1940s for NASCAR. (No disrespect to marathons, but they have a top women's time and a top men's time. Mixed doubles is nice, and Billie Jean King kicked Bobby Riggs' ass. Basketball player Nancy Lieberman was tough and funny. And, sure, a few women have competed against men in golf and horse racing. But so far no other major sporting event has women and men routinely competing as equals.)
Janet Guthrie was the first woman to compete in the Indy 500 in 1977. It was a big damn deal. Auto racing was a ridiculously manly sport, and Indianapolis was a very gender-normative kind of city. Racing requires all kinds of skills that people (unfortunately still) think of as masculine: speed, agility, aggression, spatial reasoning, fast reaction times. You have to have endurance—500 miles is the distance from Indianapolis to Toronto—and  you have to understand engines and other supposedly macho shit. 
And don't forget courage. Auto racing is the most dangerous sport. If something goes wrong in football, a player gets a concussion. If something goes wrong in racing, a driver gets decapitated.
Guthrie was the best role model a kid (me) could ask for. In addition to having courage, speed, etc., she was smart, cool, and determined. She was a physics major, aeronautics engineer, pilot, and flight instructor. She applied to be an astronaut. (To NASA's everlasting shame, it clung to its sexism longer than auto racing did.) Guthrie had mechanical trouble her rookie year at Indy and dropped out before the finish, but the next year she came in ninth, well ahead of Mario Andretti and Johnny Rutherford.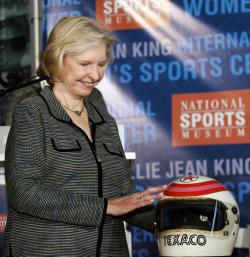 Since Guthrie retired from racing in 1980, 10 other women have competed in the Indy 500. In both 2010 and 2011, four women were among the 33 qualifiers to start the race. Lyn St. James founded a program to train girls to race. Sarah Fisher runs her own racing team.
Danica Patrick is by far the most famous of these women race car drivers. She was the first to lead the Indy 500, in 2005, her rookie year. She was out front for 19 laps, and they were the most thrilling laps in the past few decades of racing. Everybody in the stands was jumping up and down. (I wasn't there that year, dammit, but my dad and brother were.) People were screaming. People were crying. She finished fourth that year and third the next, and she won an Indy car race in Japan in 2008. She became the most popular driver on the circuit. (The guy who came in first in 2005 knew he couldn't compete with her for attention. He wore a T-shirt that read, "I Actually Won the Indy 500.") After years of losing audience and drivers, Indy car racing was suddenly exciting again. So what did Patrick do with this newfound and well-deserved renown?
After Janet Guthrie became famous, she starred in an ad for Havoline Oil. After Danica Patrick became famous, she starred in a series of stupid, sexist ads for a Web-hosting company. The fastest woman in the history of Indy car racing—again, an absurdly dangerous sport requiring rapid reflexes and superior strategizing—became a (shudder) "Go Daddy Girl."
Last night's Super Bowl ad was a spectacularly offensive example of the genre. It dominated the highly competitive most-offensive-Super-Bowl-commercial contest. It features a model, representing beauty, making out with a guy who is supposed to look freakish in TV world and so represents brains. In the real world, he's not the least bit hideous or even odd. On any given physical dimension (height, body mass index, hours per week spent on personal grooming), many more audience members would fall on his end of the spectrum than hers. Their kiss is noisy, prolonged, and lippy. Patrick narrates the ad and explains that the company has a "sexy side" and a "smart side" and that "together, they're perfect."
Offensive commercials are everywhere, and there's only so much outrage to go around. But people are right to be pissed at Danica Patrick. She squandered the good will of a multitude of fans who wanted to see a woman win at what used to be a man's game. Guthrie and the other woman drivers pushed one of the most sexist subcultures to respect women or get the hell out of the way while they pass you on the backstretch, and Patrick undermines it all. She's become a harmless, hair-flipping mascot for another subculture, technology services, that still suffers from rampant sexism.
Patrick recently left Indy car racing to compete in NASCAR. Good luck and good riddance. In the meantime, tune in to the Indy 500 on the Sunday before Memorial Day to cheer for Simona De Silvestro, Ana Beatriz, Pippa Mann, Katherine Legge, or any other woman who is smart, fast, brave, and self-respecting.