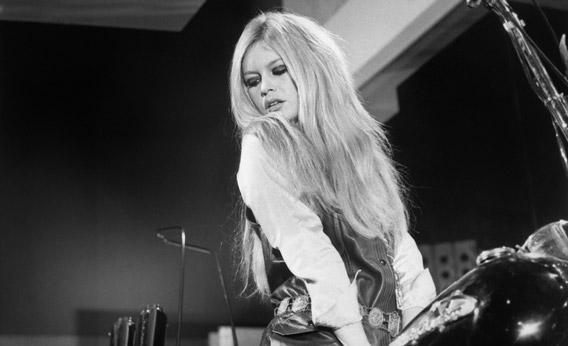 French people have—let's face it—always been rather annoying. Is there a person alive who, at one time or another, has not been on the receiving end of that legendary Gallic snottiness? But in the past it was always easy to tolerate the disdain and the aggressive sense of French superiority. Why? Because, back in the day, they were superior, in every way.
From Jean-Paul Sartre to Jean Paul Gaultier, the French were dans le driver's seat in most aspects of la culture. And now they aren't. Small wonder Gerard Depardieu has barreled off to Mother Russia.
Let's start with la musique. Edith Piaf j'adore! Vanessa Paradis j'adore aussi. Throughout the last century France has produced a creative and diverse stream of groovy hit-makers: Juliette Gréco, Dalida, Jacques Brel,  Brigitte Fontaine, Sylvie Vartan, Johnny Hallyday, Sacha Distel … the list is très long. And the frogs, I must emphasize, were exporting all this pop around le monde, as exemplified by the fact that my sister and I, across the channel in rain-lashed Britain had a 45 of "Je t'aime" by Jane Birkin and Serge Gainsbourg.
In 1969 this louche anthem to eroticism was banned by the BBC. We bought a copy and memorized the entire thing, including, much to the horror of the upstairs lodgers, the orgasmic finale.
Ok. J'admit that French pop is not exactly heavy, man. We are not talking Led Zep here, but, nonetheless, those French hits had their own unique yé yé essence. With their dark circles under their eyes and their Gitanes-stained teeth, singers like Jacques Dutronc and Barbara exuded poetic sexiness with a whiff of Jean Genet. The pop-iest pop songs are tinged with Left Bank bohemianism and a certain tristesse.
Even the naff '80s stuff retains this maybe-I-didn't-bathe-today-so-what? eccentricity. Remember "Voyage, voyage" by Desireless and "C'est la ouate" by Caroline Loeb?
Hygiene aside, the French always knew a good tune when they heard it. My all time faves, for their sheer earworm catchiness are as follows: Françoise Hardy, at the height of her beauty, singing "Comment te dire adieu" with a massive orchestra
and Jean Schultheis, at the height of his afro, belting out "Confidence pour confidence":
While le pop français was majeur, it was nothing compared to le cinema, which, if I am not mistaken, is a French word, like discotheque. (See, I told you French culture was magnifique.) In the last century it was possible to live on this planet and only go to French films, such was the variety and fabulosity of the output.  The most creative directors in the world—Godard, Truffaut, Demy, Varda, Tati—produced a torrent of masterpieces and mistresspieces. And today?
Oui, I know that last year a French film, The Artist, won the American Oscar for Best Picture. But while I enjoyed it immensely, I have yet to meet another living soul, French or otherwise, who actually saw it. And yes, I know that Amour is nominated for Best Film and Best Director. (FYI director Michael Haneke is Austrian). But have you seen it? Touching and melancholy, this film is the best possible illustration of my thesis. Starring Emmanuelle Riva and Jean-Louis Trintignant—two ancient towering cinematic icons from the last century—it is literally about their demise. Amour is the last gasp of the lost world about which I am kvelling, a requiem to a temps perdu.
And Marion Cotillard? I admit je suis un fan. La Cotillard can smolder like Jeanne Moreau or Simone Signoret. She can wig out like Isabelle Adjani. She can be ardent like Fanny Ardant. However, there is only one of her. Where are les autres? For decades, we have counted on France to provide a steady stream of cool, remote, enigmatic, and fascinating actresses. Where are the Anouk Aimées  and the Catherine Deneuves? And where, s'il vous plaît, is the Brigitte Bardot of today? Consolez-vous with le sexiest trailer of all time, for Godard's Le Mépris.
And while we are on the subject of le sex, let's not forget les hommes. Olivier Martinez Schmartinez! I am talking about Jean-Paul Belmondo, Alain Delon, Yves Montand and Charles Aznavour. (The latter was known in England as Charles 'As-no-voice on account of his gravelly deliver.) Who cares if their breath stank of garlic and Gauloises! These men had a haunted romantic quality—yes, they were un peu sleazy—which was missing from the squeaky clean Yanks and jolly Brits of the day. Every week these handsome dissipated mecs were splashed all over Paris Match, where they were seen by tout le monde because tout le monde read it. Paris Match was de rigeur for anyone who wished to stay branché, a great French word meaning, literally, plugged in. Who reads Paris Match now? Why would you need to? Any available vedettes have been vanquished by Brangelina and Kimye.
It would not be fair to leave the subject of French movies without mentioning Les Miserables, or The Glums, as I prefer to call it. As a measure of the extent to which the French culture wattage has dimmed, it should be noted that very little of the blah blah surrounding Les Mis ever mentions poor old Victor Hugo, the first French pop celebrity. (Hundreds of thousands of unpaid mourners thronged the streets for his funeral. Suck on that, Kim Jong Il.) So rare are any mentions of the author of the originating material that I am sure most people think it was penned by Charles Dickens or Andrew Lloyd Weber or maybe even Barbara Cartland.
Now we get to the saddest and most shocking part: la mode. I consider myself lucky to have known, or at least danced the frug in the same disco as, the greats of French fashion. Je parle de Hubert de Givenchy, Yves Saint Laurent, Madame Grès, Thierry Mugler, Christian Lacroix, et cetera, et cetera. I woke up one morning recently and realized that the majority of the big French houses are now helmed by non-Frenchies. Lanvin? Alber Elbaz is a Moroccan-born Israeli. Dior? Raf Simons is from Belgium. Louis Vuitton? Marc Jacobs is from NYC. Also American? Alexander Wang, the new designer for Balenciaga. Quel shock!
What has caused this situation? Maybe les frogs just got tired of being blank, remote, poetic, cool, enigmatic, and unwashed. You cannot really blame them. I'm sure it would get to you after a while.
So what's to be done? Should the French dial back their superiority and develop a kinder, humbler essence, more in keeping with their diminished international profile? Non! As a longstanding Francophile, I would prefer it if they would simply get their creative mojo working again. They can keep their hauteur, just channel Zizi Jeanmaire and get Zazie back dans le metro. Time is of the essence: If the French don't start exporting gorgeous glamorous oeuvres and personalities again, there is a real possibility that they will only be remembered by future generations as the nation which brought us Dominique Strauss-Kahn and Ladurée macarons. I can handle the crunchy bits on the outside. But that mysterious goo in the middle? It's a bit trop, non?
Egalitay! Fraternitay! Saint-Tropay!
---