On Smitten Kitchen, her 5-year-old food blog, Deb Perelman often writes about cooking recipes from cookbooks and other blogs. Even when she adjusts ingredients or methods, Perelman is punctilious about crediting her sources—recipe titles on the blog are often followed by lines like "Adapted from several places, but my favorite version is Alton Brown's," "Inspired by the Tasting Table Test Kitchens," and "Recipe adapted from Ottolenghi's stunning new dream of a book." (That would be London-based chef Yotam Ottolenghi's Jerusalem: A Cookbook.)
When she set out to write her own cookbook, though, Perelman decided borrowing wouldn't fly. "I wanted it to be mine and mine alone," she says of The Smitten Kitchen Cookbook, which has spent nine weeks on the New York Times best-seller list since its release at the end of October.
So how does a food blogger who has an enormous following but "who never trained as a chef or even worked in a restaurant" (as the Times Dining section tsk-tsked last month) set about creating an original recipe? Food writing, and particularly recipe writing, can feel like proof positive of the axiom that there's nothing new under the sun. But Perelman's enthusiasm for trying new things is matched only by her perfectionist nature. (She makes frequent self-deprecating jokes about her obsessive tendencies on her blog.) Here's how she invented the plum poppy seed muffins that ended up gracing Pages 12 and 13 of The Smitten Kitchen Cookbook.
First came an overarching muffin philosophy: Muffins are not cake. "I have a lot of opinions about breakfast baked goods. And I feel like although muffins are pretty much cake that we pretend is okay to eat for breakfast, I insist that this good is on the breakfast side of the line, I feel like it should have breakfast ingredients in it and it should be lower in sugar and … it shouldn't be as buttery as a cake."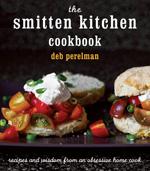 Based on this philosophy, and years of baking experience, Perelman already had a vague muffin formula. "I've been making muffins since I was like in high school," she said. (I count 10 muffin recipes on Smitten Kitchen, plus several other quick breads.) "There's only so many ways to make muffins." She began rattling off the basic formula off the top of her head: For a dozen muffins, you'll need 1¼ to 1½ cups flour, ⅓ to ¾ cup sugar, ⅔ to 1 cup milk or yogurt, 5 to 8 tablespoons of oil or butter, and an egg, plus baking powder and/or baking soda, depending on how acidic that dairy is. Then Perelman began extemporizing: You can replace some of the oil and sugar with mashed banana, and the milk or yogurt with fruit juice. "You might want a sturdier muffin or a richer muffin, you might add another egg or an extra egg yolk. You might want to have a fluffier muffin and you'll do two egg whites and whip it up," she mentioned. "You can change everything. But I feel like those are the numbers that I come back to more and more."
Despite knowing how to make basic muffins in her sleep, and how to achieve variations with subtle tweaks to her formula, Perelman wanted her muffin recipe in The Smitten Kitchen Cookbook to be new and exciting. "Let's not just make blueberry muffins," she said, "unless I'm doing something with blueberry muffins that nobody in the history of mankind has ever done before, and the likelihood of that in this day and age is not very good."
Her first idea—in keeping with the muffins-are-breakfast theme—was a yogurt and granola muffin. "I thought, what a great idea, these are your breakfast cornerstones," she recalls. For the first version she tested, she stirred leftover homemade granola and diced pears into the batter, which contained yogurt instead of milk. "I tried it a few different ways. I think I had honey in there as a sweetener, because you know yogurt and honey is so nice together, and it just was not …" She trailed off. Despite multiple testing efforts—including one with the granola sprinkled on top of the muffins like streusel—granola muffins got the axe. The granola always got chewy, reaching a texture she called "weirdly unpleasant." She also realized granola muffins were too complicated for her purposes. "You'd have to start with already-made granola, and so you either would have to buy it or you would have to have already made it, and that's ridiculous. … I really like to work from whole ingredients."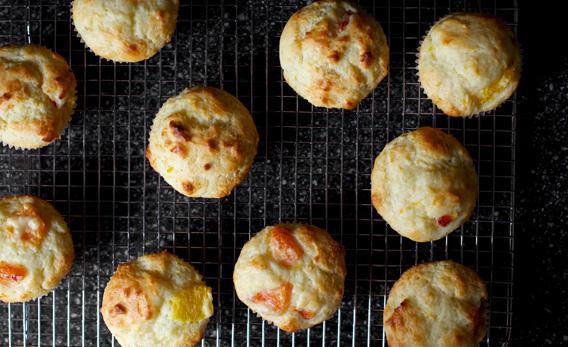 By the time granola muffins had been declared dead, pear season had given way to orange season. "All these beautiful oranges appear in grocery stores in December and January. You've got pink ones and orange and yellowish, so I used segments from a bunch of rainbow-colored oranges and I tried to make an orange and yogurt muffin," Perelman recalled. She segmented each orange, cut them into 1-inch pieces, and folded them into her basic batter. The results looked stunning. "It was like the most beautiful thing in the entire world," Perelman sighed. The taste? Not so good. The oranges reacted strangely with the leavener, resulting in a weird flavor, and they lost their juiciness in the baking process, too. Perelman kept the pictures but ditched the recipe.
After the gorgeous orange muffins, Perelman's memory gets hazy. She knows there were seven rounds of testing total; she knows they were all breakfast-appropriate and didn't call for any hard-to-find ingredients. (Perelman likes shopping at farmers' markets, but she knows not all her readers have access to one.) But the open-endedness of the task at hand wasn't helping. "I was losing my focus as I was working on the muffin, because I just knew I wanted a great muffin but I didn't have any more rules," she said.
It was already late summer when Perelman had a breakthrough moment. "I ended up just being in your average coffee shop/deli-type place one morning getting my coffee, and I saw this basket of lemon poppy seed muffins. And I was like, 'Why are we always putting lemon and poppy seed together?' … It just seemed random to me that they're always tied together and people never think of poppy seeds without lemons." She had recently been enjoying New York's annual bounty of plums—particularly the oblong variety known as prune plums. "I associate them with Central and Eastern European cookery a little bit, as I do poppy seeds." She added those two ingredients to a batter containing browned butter and a little cinnamon and nutmeg. "And I ended up loving it," she said, adding, "I know, it's the longest story ever."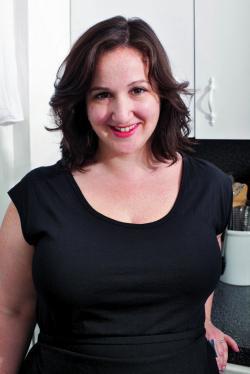 All that remained was writing the recipe in Perelman's typically detailed, chatty style. Perelman thinks recipes should tell you absolutely everything you might wonder about while in the kitchen. A good recipe, per Perelman, is one that an absolute novice can cook in the same way the person who wrote it did. "Anything else is making it unnecessarily difficult for new cooks. Why would you want to alienate a potential half of your audience?" she asked. "Also, I can't tell you how often I'm making a recipe and I'm like, 'Is the batter supposed to be this runny; is it supposed to be this thick?' I tend to make really thick muffin batters." (It prevents fruit from sinking to the bottom of the pan.) "So I like to tell people, 'This batter's going to be really thick, almost like cookie dough.' I.e. 'If this is what yours looks like, don't freak out, you did it correctly.' "
As someone who cooks frequently and writes recipes, I was heartened to learn that Perelman's approach jibes pretty well with my own. There are few dishes that can't be varied—and eventually morph into something new—using the same approach Perelman took to find her muffin recipe: Find a basic formula or technique that works, then start playing around with the specifics. Once you realize you can substitute plums for blueberries in muffins—or for that matter, shrimp for chicken in a stir-fry, or sweet potatoes for  butternut squash in soup—developing original recipes doesn't seem so daunting. When the results disappoint, they're usually at least still edible. And when they don't, you get bragging rights.
Herewith, the muffin recipe that took several months to nail down, as it appears in The Smitten Kitchen Cookbook: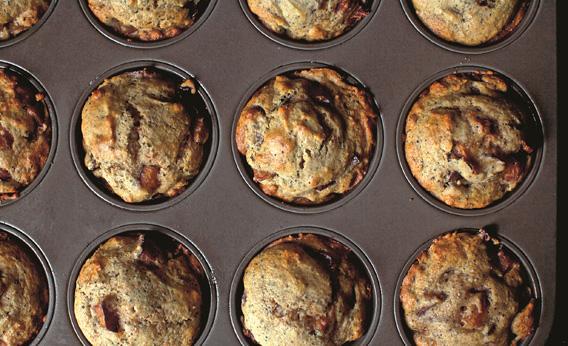 Plum Poppy Seed Muffins
Yield: 12 standard muffins
6 tablespoons (3 ounces or 85 grams) unsalted butter, melted and browned and cooled, plus butter for muffin cups
1 large egg, lightly beaten
¼ cup (50 grams) granulated sugar
¼ cup (50 grams) packed dark or light brown sugar
¾ cup (180 grams) sour cream or a rich, full-fat plain yogurt
½ cup (60 grams) whole-wheat flour
1 cup (125 grams) all-purpose flour
¾ teaspoon baking powder
¾ teaspoon baking soda
¼ teaspoon table salt
Pinch of ground cinnamon
Pinch of freshly grated nutmeg
2 tablespoons (20 grams) poppy seeds
2 cups pitted and diced plums, from about ¾ pound (340 grams) Italian prune plums (though any plum variety will do)
Preheat your oven to 375 degrees. Butter 12 muffin cups.
Whisk the egg with both sugars in the bottom of a large bowl. Stir in the melted butter, then the sour cream. In a separate bowl, mix together the flours, baking powder, baking soda, salt, cinnamon, nutmeg, and poppy seeds, and then stir them into the sour-cream mixture until it is just combined and still a bit lumpy. Fold in the plums.
Divide batter among prepared muffin cups. Bake for 15 to 18 minutes, until the tops are golden and a tester inserted into the center of a muffin comes out clean. Rest muffins in the pan on a cooling rack for 2 minutes, then remove them from the tin to cool them completely.
Cooking Note
You don't create seven muffin recipes in a year without learning a few things.
I found that you could dial back the sugar in most recipes quite a bit and not miss much (though, if you find that you do, a dusting of powdered sugar or a powdered-sugar– lemon- juice glaze works well here); that a little whole-wheat flour went a long way to keep muffins squarely in the breakfast department; that you can almost always replace sour cream with buttermilk or yogurt, but I like sour cream best. Thick batters—batters almost like cookie dough—keep fruit from sinking, and the best muffins have more fruit inside than seems, well, seemly. And, finally, in almost any muffin recipe, olive oil can replace butter, but people like you more when you use butter— and if you brown that butter first, you might have trouble getting them to leave.