The humble carrot. What can you do with a carrot?
Well, if you're Dave Beran, executive chef of Next, an avant-garde restaurant in Chicago, you instruct farmers around the Midwest to pluck 600 pounds of carrots out of the ground upon the first frost in October. You have the farmers bury these carrots in mounds of sawdust, knowing the vegetables will dry out slightly and sweeten. Months later, you roast 120 dried out, woody carrots each day until they are soft and very sweet, their colors jewellike, their flavor bold and bright. You serve them to diners nearly unadorned on a handmade plate during an elaborate theater-like night of dining called "The Hunt," and finally show what a carrot can be.
Next was conceived by chef Grant Achatz and his business partner Nick Kokonas, the brains behind Alinea, another high-end Chicago restaurant that earned three Michelin stars and was been named best restaurant in the U.S. by Gourmet magazine in 2006. Next opened in 2011, earning praise as well. After attending the restaurant's opening menu, "Paris 1906," Sam Sifton, the New York Times' restaurant critic at the time, wrote, "My notes from the evening concluded in block letters, hastily written before sleep, a testament to the power of the menu and its spectacular execution: 'TIME TRAVEL.' "
You may be asking: Sifton attended a restaurant's "opening menu"? What does that even mean? Located in the industrial meatpacking district just west of Chicago's downtown, Next is not a restaurant in a traditional sense. It is theater. Diners are required to purchase tickets—on a recent Saturday, a ticket to Next went for $125, with another $58 to $108 for drink pairings. Like ballet companies, operas, and symphonies, Next sells season tickets for its productions, and the dining room itself resembles a stage—a dark blank slate with a girder-like track running through its center into the kitchen. A trailer, just like a movie trailer, is shot for each menu, which radically changes every four months.* As does the dining room's music and even the plates. So far, themes have included the aforementioned Sifton-approved "Paris 1906," "Childhood," and "Thailand."
"Someone has the idea, sometimes it's obviously great, sometimes we scrap the ideas almost immediately," Kokonas told me of the team's theme brainstorming process. "It's really just a conversation between me and Grant, then Dave and Grant, then Dave and me—round and round."
This third of the year, the menu, with those carrots, is called "The Hunt." Dreamed up by Beran, "The Hunt" revolves around wild game, blood, organs, nature, hunting life. Its somewhat macabre trailer closes with a hand holding a bright-red beating heart.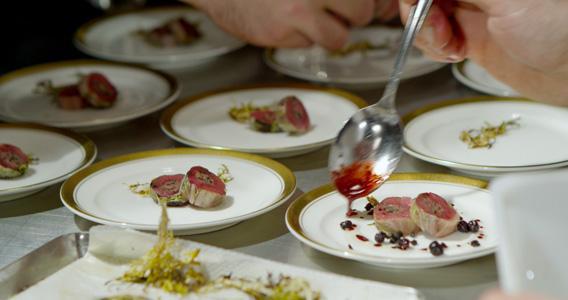 "The Hunt" is essentially the opposite of Next's previous production, "Kyoto," a Japan-inspired, seafood-focused menu. The Baronial Old World hunting music and deer pelt table settings of today's Next would not have made much sense just a month ago.
"You never want a menu to be similar to the previous one," Beran said as he spooned little balls of squab offal mixed with watercress and lemon onto circles of pastry before pinching them into packets. "I wanted to do something a lot darker."
Research for "The Hunt" began last year with a lot of reading and testing of dishes, a process that takes eight to 10 weeks and sometimes involves travel. For "Kyoto," various members of the restaurant team, including Beran, flew to Japan. As they come up with dishes, Beran, Achatz, and the team also attend to minute details that help "tell the story." For "The Hunt," they enlisted 15 artists to make flat, rustic plates. They sourced birch bark that would be used to serve dishes, and learned how to clean and reuse it each night. They wrote the menu as a narrative, beginning in the woods, with mushrooms in glass terrarium-like boxes and smoked trout served on wood. Midway through the meal, servers bring lit candelabras out and begin serving elegant and rich food (think sturgeon served with its own caviar) on gold-rimmed plates. The idea, Beran said, is to invoke baroque hunting lodges: "We were thinking of old guys sitting with cognac, talking about the big hunt."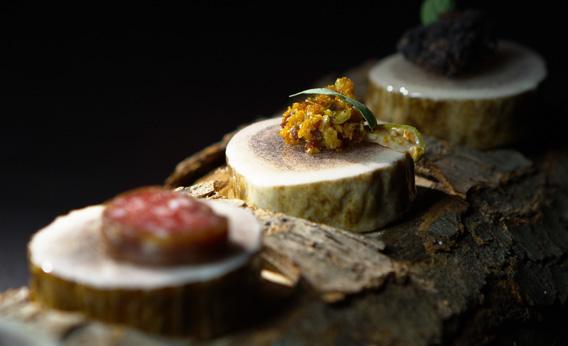 This sort of production has its risks. Go too showy and the restaurant will seem gimmicky, like an upscale Rainforest Cafe. Get too conceptual and the whole thing's just pretentious.
"It could be totally gimmicky, but it's not," said Chicago Tribune writer Chris Borrelli, who has profiled Achatz and written about Alinea and Next. "It could be too clever by half, but it never really feels like that. It's always interesting ideas."
The other big risk is financial.
"If we did all of this and lost money, then we're not very good on that side of the equation, are we?" is how Kokonas put it to me. "I suspect that there are restaurants out there that do better than we do, but I have no interest in not also having a truly innovative and great restaurant."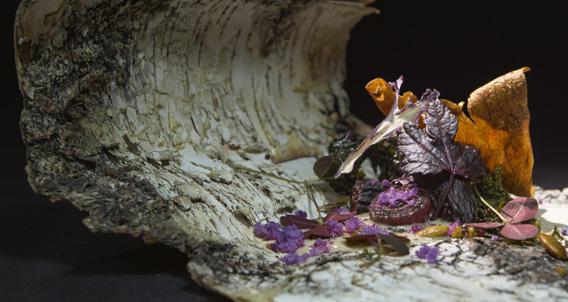 To some degree, Achatz, Kokonas, and Beran have been able to pull off Next thanks to their already enthusiastic fan base from Alinea. (Let this be a lesson to One Direction—go for the avant-garde album of your dreams, boys!) When Kokonas posted on the restaurant's Facebook page that they were seeking ideas for future menus, fans swamped them with ideas. "The strangest ones are the ones that say something like: Spaceship 2300," Kokonas says. "I mean, that's not really a culinary exploration."
So a futuristic space theme is not in the cards at the moment. What's next at Next? As if committed to making their lives as fragmented and chaotic as possible, Kokonas, Beran, and Achatz say their next production after the game-heavy "Hunt" will be … all vegan.
Correction, Jan. 24, 2013: This article originally stated that Next changes its menu, décor, and music every three months. It actually makes these changes every four months. (Return.)