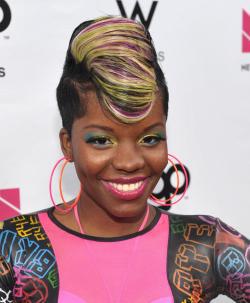 I have a lot to be thankful for in 2012, some of which I discussed with my family over dinner yesterday. But as someone who consumes a lot of pop culture, be it fantastic, horrendous, or hideous, I'm also thankful for the people who push movies, television, and music forward, who surprise and amaze me when I feel like I can never be surprised again. Here are 10 of the many women who made me feel that way in 2012.
1. Meredith Stiehm: The creator of Cold Case, Stiehm's moved on to write some of the best, most moving episodes of Showtime's critically-acclaimed war-on-terror drama, Homeland. Next up? She's adapting the Scandinavian drama The Bridge, about a murder victim discovered on the border between two nations, requiring two police forces to cooperate on the investigation, for FX. By moving the show to the U.S.-Mexico border and casting Oscar-nominated Demian Bichir in his first major American television role, Stiehm's already created a show I can't wait for FX to get on the air.
2. Issa Rae: Rae's flagship Web series, The Misadventures of Awkward Black Girl, can be a little hit-or-miss. But her chronicle of a slacker working at a weight-loss company, dating a guy she refers to as White J, and trying to figure out what to do with her life is still a refreshing break from almost every kind of sitcom norm. And thanks to support from Grey's Anatomy creator Shonda Rhimes, she's now taking a crack at a comedy based on another Web series, I Hate L.A. Dudes, for ABC. I'm glad to see Rhimes lend her clout to something more challenging than her mistress-of-the-week dramas. And I'm thrilled to see Rae get a shot at the big time.
3. Lena Dunham: Speaking of the big time. Dunham's Girls prompted a storm of conversation and controversy over everything from race behind the camera, race in front of it, Dunham's body, and nepotism, to name just a few topics of interest swirling around the HBO show. Even though she's not to blame, and needn't answer for the state of television, Dunham handled this firestorm with grace, and has taken steps to make the next season of the show, which returns in January, more diverse. Of course, lost in all of this is that Girls is hilarious and deeply felt—I've never had so many moments of screaming at the television and saying: "This! This is my life!"
4. Nahnatchka Khan: A graduate of Seth MacFarlane's animation factory, Khan is making Don't Trust The B—- In Apt. 23 one of the funniest shows on television, one that's knocking at Community's door with its smart dissections of pop culture aimed at women. In the world of Khan's show, women are allowed to be manipulative, compelling psychopaths, former television stars are allowed to be insecure weirdos, and Viking funerals take place in Central Park. So, thanks.
5. Martha Plimpton: On TV, she's uproarious as Virginia Chance, a housekeeper and young grandmother on Fox's Raising Hope. And the rest of the time, Plimpton's a model for what invigorated Hollywood feminism could look like. Whether she's wearing a scarlet letter on her red carpet ensembles to call attention to her work with A Is For, or writing and speaking about the war on women, Plimpton's a force in real life, making her performance that much more gratifying to love.
6. Melina Matsoukas: A director of gorgeous, girly music videos for Christina Aguilera and Solange Knowles, among others, Matsoukas has a distinctive, color-soaked palette and a great sense of fun. I'll be really thankful if she can follow in the footsteps of directors like David Fincher who began in music videos and graduated to features.
7. Jane Espenson: Espenson established herself as a writer on shows like Buffy the Vampire Slayer and Battlestar Galactica—and she currently writes for ABC's hit Once Upon a Time. But now she's expanding: Espenson and her collaborator Brad Bell are the forces behind the successful Web series Husbands, a comedy about a gay couple who get drunkenly married in Vegas and stay together, both for the politics and because they might actually love each other. A great example of how to power past the system even when you are already firmly entrenched in it, Espenson is smart for embracing new ideas, formats, and financing.
8. Rye Rye: This may have been the year of Azealia Banks and Nicki Minaj in hip-hop. But for me, it was the continuation of my love affair with Rye Rye. An unexpected pregnancy didn't derail the 21-year-old Baltimore rapper in 2009. And this year, she continued to release tracks like the infectious "Boom Boom." Rye Rye just needs a breakout hit.
9. Callie Khouri: If only for writing Thelma and Louise, Khouri should already be in some hall of fame. But this year, she gave us Nashville, the best new drama on television. Pitting middle-aged country legend Rayna James (Connie Britton) against rising, Taylor Swift-esque star Juliette Barnes (Hayden Panettiere), Khouri's created a sophisticated adult drama about creativity, Southern politics, and sex, all without a single catfight. Plus the music puts Glee and Smash to shame. Want to make sophisticated dramas for women? This is what they look like.
10. Quvenzhané Wallis: Forget Batman and The Avengers. As Hushpuppy, a little girl living beyond the levees in the remarkable Beasts of the Southern Wild, Wallis was my favorite superhero this year. Her incredible performance as a child who believes her anger at her father is responsible for an environmental collapse is a reminder that kids run much deeper than so much of the crap on TV directed at them suggests. And that you don't have to wear tights and be a dude to star in a thrilling movie, or help viewers reach moral epiphanies through your awesomeness.
---