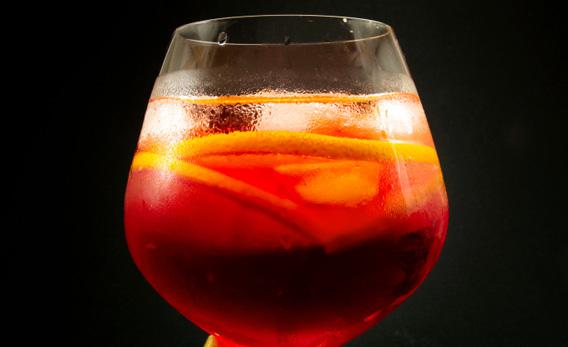 A long fortnight ago—10 business days and 40 nights ago—at the edge of the 5 o'clock Friday cocktail hour, this magazine posted an invitation to "Boss Troy Patterson Around." Your correspondent promised to research a cocktail of his readers' choosing while celebrating his birthday out on the town in beloved New York. A widget listed a menu of six classic drinks, and as voting opened—push my button, tip my cup—I idly rooted for the Gibson to win, lusting after a quest for cocktail onions.
On Sunday, I sipped a hurricane in my Brooklyn apartment, a long fraction of a mile inland from the Upper Bay. On Monday, 100 miles south, a storm of unprecedented dimensions made landfall in New Jersey. On Tuesday, neighborhoods in my city were blacked-out and burning and flooded and smashed and sobbing. On Wednesday, bars and restaurants in unscathed parts of the borough began totally going off all day long, in a snow-day beer blitz that gathered mass and velocity as it collected cabin-feverish locals, stranded tourists, and couch-crashing displaced persons. The week's bender rolled along with off-duty do-gooders clocking out of volunteer shifts in Red Hook or the Rockaways and solidifying new friendships at saloons advertising "Thirst Responders" specials.
On Thursday, I turned a year older, though I did not feel so until Friday, when I felt several years older, arduous years, as if instead of going out for drinks I had served a sentence of hard labor as a dull pickaxe. Or if you want to get arty about it: I woke on Friday to discover a hammer whacking a three-nail picture-hanger to my dura mater from the inside, sloppily installing a special exhibition of Edward Ruscha's OOF, oil on canvas stretched across wood, 71½ by 67 inches.
On Saturday, I pulled together myself and my notes to detail the first North Brooklyn Negroni Crawl.
Negroni Basics
On Thursday night, I cabbed it to my goddaughter's house in Fort Greene. I got there around 9, and she was already in bed reading about magic figs and radiant pigs—either of which, coincidentally, would have paired well with the cocktails I fixed up for her dad and me:
Two No-Frills Negronis
We crammed two short tumblers with crescents of ice. Freepouring and eyeballing—jigger what?—I crashed across the rocks gin, sweet vermouth, and Campari in equal parts. (Getting fancy with the gin in a Negroni is a waste of money and aromatics. Here I used Gordon's London Dry, which is far more respectable than its plastic bottle lets on. The vermouth was Cinzano, which also is venerable and versatile, reliably unassertive and gentle on the expense account. The Campari was the one and only potable bitters, popular in Italy since the 1860s, a liqueur as bewitching as an A-list glamour calendar counting the months at a Mediterranean tempo.)
I stirred. (I should have given the drinks at least the dignity of a thorough swizzling, but as we shall see I was in a hurry and I permitted a perfunctory table-spoon swipe to suffice.)
I regretted having forgotten to bring an orange to fashion a garnish. (I was slightly less chagrined that I could not take advantage of my sobriety by playing with matches and flaming an orange twist like a caramelizing showman.)
But I still had a thing here, simple to make and complex to taste, a bittersweet singularity. The Negroni is a forgiving drink, better than decent even when slopped together by an amateur bartender rushing to get on with the inaugural North Brooklyn Negroni Crawl.
Methodology
I presented to my friend—let's call him Kyle—and his wife a document listing 20 notable Negroni-serving establishments to be found three miles or so to the northeast, in Williamsburg, Brooklyn, which is perhaps the best cocktail neighborhood in the city even when competing neighborhoods are not underwater.
Before leaving home, I had shared this document with my wife, declaring my goal of tasting as many Negronis as feasible. She reacted with shock and horror: "Honey, you'll lose your palate!" Kyle's wife was likewise skeptical: "Can you really sustain that much Negroni? Like, two Negronis on an empty stomach before dinner are incredible, but a whole night of them?" These good women lacked an appropriate sense of adventure—or perhaps a proper cognizance of our dwindling supply of big nights.
I was content to hit on this outing three or four quality spots. Though sentimentally drawn to The Shanty—a bar attached to a distillery that produces a boutique gin named for Dorothy Parker—I thought it best to begin at the south end of the neighborhood, near the anchorage of the Williamsburg Bridge; there the hooch-houses, densely concentrated, included Peter Luger Steak House (established 1887), Dram (the Best New Cocktail Bar of 2011 according to Time Out New York, the Village Voice, and others), and Duff's (from the people who brought you Bellevue Bar, a defunct Hell's Kitchen dive with the atmosphere of a heavy-metal bus-station urinal).  
Williamsburg has been an aggressively fashionable place—a "hip neighborhood," as it were—for no fewer than 20 years, and Kyle lifted a fragment of fret that in his work clothes he was not dressed cool enough to go there. Should he change? His wife observed that the jeans he was wearing were not the coolest jeans he owned. He said, "What? Are you saying there something wrong with my jeans?" She smirked at his jeans and said, "No."
The Best Negroni in the Borough of Brooklyn
Kyle and I caught a cab to Peter Luger, and we Tom-Friedmaned the driver about gasoline scarcity during a quiet 10-minute ride to the shadow of the Williamsburg Bridge, which, with electricity out across southern Manhattan, was half-lighted and half-blighted.
The cab had not yet come to rest when Luger's doorman was rapping at the side window. He gruffed that the kitchen was closed and proved remarkably resistant to my eyelash-batting—I was blinking but-it's-my-birthday in Morse code—so we bounced to Dram, which was packed but relaxed, bustling with well-scrubbed youngsters wearing the school uniforms of top-ranked liberal-arts colleges (stripes and knit caps: Where's Waldo in earth tones). Opposite the bar, a projection TV scrolled the cursive closing credits of a muted movie, and Kyle said, "I guess Moonrise Kingdom is out on DVD."
The menu listed the Negroni as a "classic cocktail suggestion." Ours arrived in double old-fashioned glasses, each clinking one single extra-large ice cube. The bartender had used fancy Carpano Antica for the vermouth, and he'd cut a broad unblemished strip of orange peel to twist above the glass and rub against its lip. Our Negronis were damn fine. Orange is the essence of the water of life we mortals call the Negroni; a balanced ratio of gin:vermouth:Campari is a potion that always rhymes with orange so that a properly finished Negroni blossoms on the tongue alchemically—a sublime triangle.
We're calling my friend Kyle because in the 20th century, when we were pups, we bandied about the idea of co-writing a pseudonymous bar guide detailing the adventures of our alter egos, Kyle and Dean. We've been at this for a while, but I did not believe that we had discussed how he and the Negroni discovered each other. At Dram, he told me of a Roman holiday in 2005 and a morning walk with his wife and brother-in-law. On a narrow street, they ran into an Italian man Kyle knew from work, who in one effusive hug, one extended gesture of salutation, gave them a native's tour of the city, showing them everything and doing nothing for seven hours, and then at 3:30 said, "And now we drink Negronis," and led them to an enchanted piazza where they did so, and it was good.
Kyle asked me about the origins of the beverage. I explained that in the 19th century, the Milanese would mix Campari with Cinzano and soda water to make a light café drink that became famous across the peninsula as the Americano. Then along came Count Camillo Luigi Manfredo Maria Negroni (1868-1934), whose interests included swordsmanship, rodeo-riding, and hanging out drinking Americanos all day long. One afternoon in Florence, in 1919 or 1920, Negroni told his barman to take it up a notch—to fortify [irrobustire] his usual with gin—and here we were now, enjoying Italy's great contribution to cocktail culture.
Know Your Ingredients
We have described to you what we hold to be the best of all possible drinks, beautiful even in the clarity of its historical origins. However, we live in the best of all possible worlds, where according to the dictates of whimsy or the contents of your larder, you may whip up rewarding adaptations of the original. Instead of gin, try another base liquor; the "Kingston Negroni," for instance, uses rum. Instead of sweet vermouth, try another fortified wine—dry vermouth or Lillet Blanc, for example. Instead of Campari, you may dabble with another amaro (both Aperol and Gran Classico have their partisans) or use a second sweet vermouth. (Note to self: Begin tinkering with a drink to be called the Séverine Serizy, based on the Buñueloni. In his memoirs, Luis Buñuel wrote that his "takeoff on the Negroni"—gin, Cinzano, Carpano—"has excellent effects on the imagination.")
But you can bend the Negroni only so far before you break a categorical boundary. I bounced into our next stop, Diner, expecting its "Charles Ryder"—named for the narrator of Brideshead Revisited—to be a Negroni variation. Gin? Check. White vermouth? Very fine. Bonal? Well, I had supposed this to be an amaro I'd never heard of, but it turned out to be more like an aperitif wine I'd never heard of, so what we had here were perfect martinis—not stiffer than the Negroni but sterner and lacking the fun-and-games sunniness we sought. I once again told Kyle that he needed to own Kingsley Amis' Everyday Drinking, which affords the Negroni a rare compliment: "It has the power, rare with drink and indeed with anything else, of cheering you up."
Next door at Marlow & Sons, we ordered two variations on the Negroni and one meat plate. We drank only a tenth of our "Negra Oscura," just enough to determine that its compound of tequila, Carpano, and Aperol tasted like top-shelf cough syrup. We sucked restorative fizziness from our "Arkadin." Gin, red vermouth, and Cocchi Americano topped with soda water, the drink easily surpasses the quality of the Orson Welles joint from which it takes its name. Surveying the meat plate, Kyle said humbly, "By the way, that's a fuckload of meat. That's exactly what I need right now."
Notes on Campari: Cultural Criticism Made Easy! By Susan Sontag-a-roni
We bobbed closer to the waterfront and got to Donna, which had been reviewed that morning in the Styles section of the New York Times. We ordered one Negroni to split, and after our wanderings, it was like a return to tonic. I suspect the bartender poured the gin with a generous hand, knowing that you can easily increase by 50 percent the quantity suggested in the standard recipe if your heart is pure and your stirring is thorough.
Styles had promised "jabbering 30-somethings … unwinding at the bar." We instead discovered small litters of twentysomethings learning how to hold themselves (these kids!). The boys were jittery, which was to be expected, given their tenderness of their years, the toughness of the city, and the recent rigors of the climate.
The last time things were really, really bad here, some of the jitters resolved themselves in "terror sex"—in unsettled people furiously pairing off for animal comfort. Among my rationales for visiting Williamsburg, I was saying to Kyle, as we ventured out in search of further Negroni action, was to monitor the vital signs of social life in a week of death. I was elaborating a theory that after a disaster, a certain kind of information—superficial but not strictly trivial—bubbles up as soft news, in Styles and other "women's sections." I was asking God to bless our friends at New York magazine, the fashion blog of which had that day heroically posted about a lady in a "full-on Superwoman costume" hailing a cab on blacked-out Avenue A:
If you see such a sight in lower Manhattan involving the poor souls whose Halloween one-night stands are unlucky enough to live in the powerless dead zone, kindly divert your eyes. For you will be witnessing the World's Worst Walks of Shame, so harrowing as to be, in some ways, glorious.
I was holding that the disapproving comments on the post—"you should be ashamed"—were proof of its value as a document of carrying on in the imperial city. I was hopeful of stumbling across news about human behavior. I was in any case pleased, three days after the storm, to be walking the industrial blocks of an unfamiliar neighborhood. Nothing felt wrong because I'd no idea what right looked like. My one good friend in Williamsburg left in 2000 because it had gotten "so hip it hurts," and she moved to Queens, where tonight her power was out and her bile was up, and I asked God to bless her too.
We lurched into The Levee, which fills the space that half a generation ago housed Kokie's. (Apropos of which: Luxardo Bitter is almost exactly like Campari but with an alkaline undertaste like post-class-A nasal drip.) There was jukebox speed metal and microbrew on tap. We ordered one Negroni and oh maybe a beer. Yes we had no orange, but still the jewel did shine. Kyle mused on the cocktail's color dynamics—on Campari's vermilion brilliancy, on the trap of the false cognate of this very nonblack drink.
We weaved out without hope of tasting too many more sensational Negroni variations. I realized that if you want to do the North Brooklyn Negroni crawl properly, you've got to start at a noon brunch—maybe with a "Breakfast Negroni" or a "Negroni Sbagliato"—and then gaily slog through a 15-hour day involving two further sit-down meals, at least one assault on a food truck, and either a showroom-floor siesta in an Eames Lounge or a disco nap in a burgled hotel room.
Endgame Technique
We crept into a bar called the Soft Spot because I have one for it. Explained to the barkeep that we wanted a Negroni and "something like a Negroni," and satisfying the latter demand, he spicily fixed a rye-based old pal on the rocks. This was very clearly the right note to end on. Seemed almost a bit pat, in fact, so we took a stab at The Ides, which, being on the sixth floor of an expensive hotel, promised views of Manhattan in the distance and of Balenciaga douchebags in the foreground. The bar was closed, so we circled around to a place called the Gibson, because the bartender at the Soft Spot had said we could count on it to be open late.
Kyle grabbed a Guinness, and a water please, yes, urgently an extra water. I ordered a Gibson with Dorothy Parker Gin. In the glass I caught a glimmer of a Mrs. Parker couplet: "Time doth flit./ Oh shit!" Being at the Gibson as 3 a.m. approached was like being at any random bar in Murray Hill 15 years earlier. The guppy-yuppie clientele, vague in their identities to the point of blurriness, scattered themselves around tall pub tables, passive but alert, ticking but inert like melted pocket watches. I knew it was probably the case that something was happening here and I didn't know what it was, but also I know nothing was happening here. My fellow patrons didn't seem that keen on being out, and they demonstrably didn't want to be home; they were just being and nothingness. Kyle and I abandoned our half-empty glasses, and an orange pumpkin turned into a yellow cab catching plump green lights south through to the second stop at a brownstone stoop. We gently left the North Brooklyn Negroni Crawl right there like unfinished business.