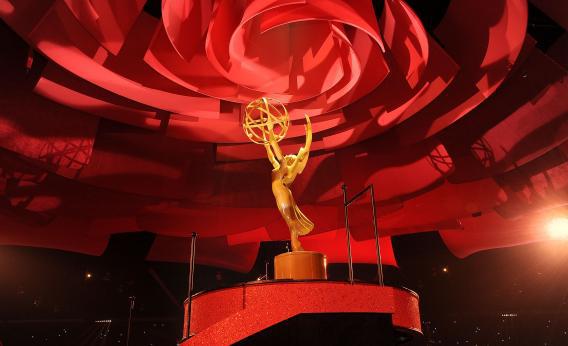 The Emmys are Sunday night, and this year they will spotlight a number of different trends in the television industry: cable's continued critical dominance of the networks,'Modern Familys continued popularity, Showtime's arrival as a major and credible competitor to HBO, and the rise of the untraditional female character, along with the rise in opportunities for the actresses who play them.
It's striking how many of the women up for acting awards this year garnered their nominations for playing characters who are nerdy, or twitchy, or outright mentally ill. Tina Fey, nominated for best actress in a comedy for her performance as Liz Lemon headed into the final year of 30 Rock, leads the nerd pack. While Liz is awkward, poorly-dressed and food obsessed, she's positively at home among the nominees. Amy Poehler is up against her pal Fey for her work as Leslie Knope, a small-town bureaucracy-obsessed legislation freak in Parks and Recreation. Mayim Bialik is heavily-favored in the supporting comedy actress category for playing a neurobiologist in an unconventional relationship with an asexual man on The Big Bang Theory. No longer is it enough to slap a pair of glasses on an attractive woman and pretend that makes her weird and undatable: These Emmy-nominated nerds have deeply-developed, textured interests and love lives.
And the nerds aren't even the most challenging female characters up for awards. As Jackie Peyton on Nurse Jackie, Edie Falco is a recovering addict, the rare female character who gets to be manipulative and selfish in a way that's previously been reserved for guys on prestige cable shows. And Claire Danes' fierce, fevered performance as bipolar CIA agent Carrie Mathison in Homeland is the standout of this year's best drama actress nominees. It's been particularly exciting to watch Danes put her vanity aside to play a character whose mental illness is indistinguishable from her brilliance. A television environment in which ferocious commitment will get an actress further than the conventional good looks Danes also possesses is a blessing for all of us watching at home.
These Emmys will also show off a strong new generation of young actresses. Zooey Deschanel scored her nod as a lead actress for her performance as a flibbertigibbet school teacher in New Girl, a show that doesn't just star a young woman, but was created by one, Liz Meriwether. Lena Dunham created Girls, which was nominated for best comedy in its first season, and is also in contention for best comedy actress for her performance as Hannah Horvath, an anxious slacker/aspiring writer who does not look like women usually do on TV.
The Emmy nominations do highlight one area in which television's still lagging: great roles for actresses of color. Modern Family's Sofia Vergara is nominated for best supporting comedy actress for a performance in which she's embraced and humanized stereotypes, but that's resonated more with white viewers than Latino ones, who tune into the show in disproportionately low numbers. South Asian actors and actresses have landed an increasing number of roles in recent years, but The Good Wife's Archie Panjabi is the only one to consistently earn critical accolades and major awards recognition. The nominations for best comedy actress and best drama actress went entirely to white women.
Still, if the roles open to women are this fascinating now, even with men dominating television writers' rooms and creating vastly more shows than women, it's incredibly exciting to think what the landscape might look like if women get more opportunities to invent parts for each other.
---