It has now been almost 16 years since some friends and I found the discarded report cards from the Manhattan Trade School for Girls while attending a party in New York City. (You can get all the particulars on that story here.) Several details from that night have become fuzzy with time, but one thing I remember clearly is that three of us left the party around midnight and headed down to Chinatown in search of an after-hours meal.
We found a restaurant that was still open, ordered some food, and then took out the report cards that we'd stuffed into our jackets. This was our first opportunity to examine our haul, and we were fascinated. There was lots of chatter—"This one was scolded for talking too much" and "There's a doctor's note included with this one" and "My God, look at this incredible handwriting!" The more we looked, the more we realized we'd stumbled upon something special.
I found myself particularly interested in the occupations of the students' parents, which were listed on the front of each card. It was like a history lesson in New York's vanished trades: cigar roller, ship polisher, ice deliverer, rope maker.
Then I came upon the card for a student named Caroline Cataudella, who'd attended the school in the late 1920s. The occupation for her father, George, was listed as "macaroni laborer."

It took me a second to process this, and then it hit me—of course, George had worked at a pasta factory. That wasn't particularly unusual, but there was something evocative about the term "macaroni laborer." It prompted visions of burly men engaged in sweaty toil to stretch out the pasta to prodigious lengths. Even the way it was written on the report card—"macaroni labor," with the "er" added afterward— seemed amusing. "What kind of work does your father do?" "Oh, you know, he does macaroni labor."
Soon our food arrived, so we put the report cards away. But I was already hooked. The next day I looked through all my cards to see if any of the parents' occupations could top "macaroni laborer." Nope. Caroline's card remained one of my favorites for many years. Whenever I showed the cards to friends, I always reached for hers.
I never meant to poke fun of Caroline's father or his job. On the contrary, the more I thought about it, the more I wondered where the pasta factory had been, what role it played in New York's Italian-American community, and what kind of work George had done there.
I recently learned the answers to those questions. Along the way I discovered that the most compelling storyline emerging from a given report card sometimes has nothing to do with the student. Sometimes it has to do with a neighborhood, a family, or even an address.
***
As it turns out, Caroline Cataudella's father was not named George. His name was Giorgio, but it was apparently Americanized on Caroline's report card. He and his wife, Angelina, married in Sicily and had two daughters there before coming to America in 1906. They settled at 239 East 108th St. in Manhattan—the same address shown on Caroline's report card—where they had a son and six more daughters, including Caroline, who was born in 1912.
The large family provided a convenient source of free labor for the operation that Giorgio had set up on the premises: the Harlem Macaroni Co.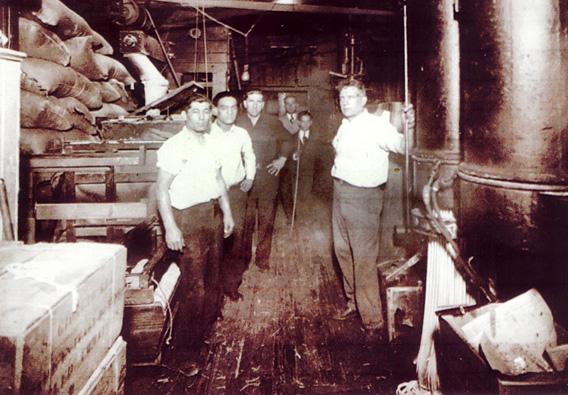 "It was retail and wholesale," explained Caroline's niece (and Giorgio's granddaughter) Gina Marchese, who I recently interviewed at her home in northern New Jersey. "The retail shop was on the ground floor, the factory was on the second and third floors, and the family lived above the factory."
So Giorgio wasn't some random factory laborer—he ran his own company! And according to Gina, it was quite an operation:
In those days, macaroni was sold by the pound from large bins, not boxed. I lived in the building until I was 8 years old [Gina's mother was Giorgio's eldest daughter], so I was down at the store every day. And I loved watching the pasta come down from the machinery with all the different shapes. It was fascinating.
When people came to shop, it was also a social visit for many of them. A lot of the people on the block came from the same area of Sicily, so people were very close. And everyone knew my grandfather—he was very well respected in the neighborhood. When they found out whose granddaughter I was, it was a big deal.
But the building housed more than just a business. At one point there were 17 people living in the two railroad flats upstairs: Giorgio and Angelina; all nine of their children (including Caroline); and their eldest daughter's husband and five children, including Gina. Most of the family was involved in the macaroni operation in some capacity, making 239 East 108th St. an intense integration of family, work, and pasta.
Gina, who's now 84, keeps photos from this period on display in her home. One shows the interior of the retail shop; another shows Giorgio and some of his workers at the factory; and another shows Giorgio's handsome delivery truck, with the retail shop in the background.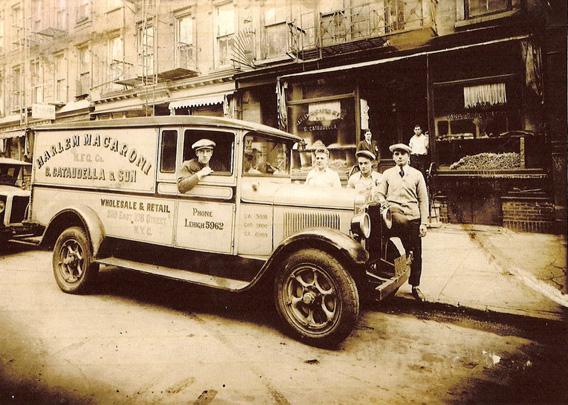 Trouble came one morning around 1934, when the family dog began barking hysterically down in the basement, where Giorgio had gone to start up the machinery. "Somebody went down there and found that my grandfather's right arm was caught in the machine, and he couldn't get it out," Gina said. "His arm was partially paralyzed after that." Giorgio persevered for a few more years, but working with only one functional arm eventually became too much for him, so he sold the factory and moved to the Bronx.
Gina and her family had already relocated to the Bronx in 1936 to be closer to her father's barber shop. But she still had strong feelings for the old neighborhood—and still does today, as she made clear while sobbing her way through an emotional, tear-filled story:
My older sister and I used to go back to the neighborhood to visit another pair of sisters who we were still close to. One time, when I was about 13, I went to visit these friends and the building—our building—was gone. I'm sorry, I'm crying now, but you don't know what it did to me! I was literally born in that house, and now it was just an empty lot.
So I walked on the lot and picked up a pebble, because that was the only remembrance I could have of that solid building where I spent those years. I saved it until I got married, and then I cleaned out my little treasure box that had my diary and other things in it, including the pebble. Which was silly—I wish I had saved it all!
Gina soon regained her composure, and we moved on to other topics. I was curious about what was eventually built on that lot, but I didn't have the heart to ask her about it.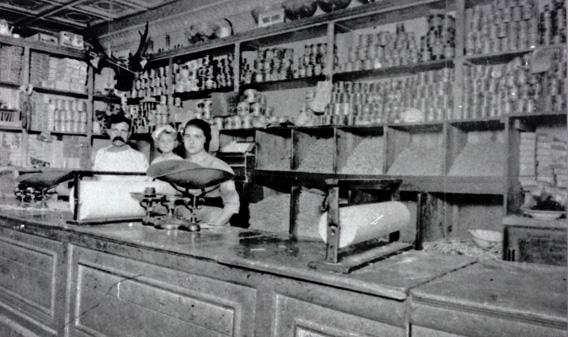 As for Caroline (remember Caroline, whose report card got us started on all of this?), she appears to have lived a fairly happy, conventional life. After finishing her vocational training at the Manhattan Trade School, she worked at a series of garment jobs before marrying a neighborhood fellow named Tony Molica in 1936. She never worked outside the home again, while Tony worked as a barber and then as a tool and die maker. They eventually retired to Florida, where Tony died in 1992; Caroline passed away in 2007 at the age of 95.
Caroline and Tony had one child, a daughter, who they adopted in the 1950s. Gina put me in touch with her, but she never responded to my inquiries. That happens sometimes with Permanent Record—not everyone wants to talk about the past. But thanks to Gina, I felt like I'd already found the essential storyline from Caroline's report card.
***
I still wanted to know what had been built on the vacant lot at 239 East 108th St. I could have just looked it up on Google Maps, but that felt like cheating, so one afternoon I took the subway from my home in Brooklyn and went up to East Harlem to take a look. I knew the area was no longer an Italian stronghold, so it was a safe bet that I wouldn't find another macaroni operation. Would it be a Chinese restaurant? A liquor shop? An apartment house?
But there was one possibility I hadn't considered: 239 East 108th Street no longer exists.
In fact, the entire block of 108th Street between Third and Second avenues no longer exists. It's now part of a large playground adjacent to an immense public housing complex. I was confused, so I consulted my iPhone and found the playground's Web page, where I learned that the city had acquired the land for the housing complex in 1956, and the playground had opened in 1960. In other words, 239 East 108th St. hasn't existed in over half a century.
I spent some time watching the neighborhood kids—all black and Hispanic, no Italians—playing basketball, stickball, and handball in the playground. At one point I stood roughly where I figured 239 had been and tried to envision the days of the macaroni factory, Giorgio's clan, Gina's childhood, and the close-knit Italian neighborhood.
Was Gina aware of what had been built on her old block? The next day I called and asked her. "No, I have no idea what's there," she said. "I never went back after that time when I found the vacant lot."
I told her about my trip to East Harlem and about the block having been reconfigured out of existence. She initially sounded stunned but then seemed to accept it. And she brightened up when I told her how much fun the kids were having on the playground.
"Oh, I'm so glad to hear that," she said. "They don't know it, but they're playing on hallowed ground."
After we hung up, I reached into my pocket. Inside were a few pebbles I'd picked up from the playground. I fished around in a drawer and found a little box to put them in. Then I sat down to write a cover note so I could mail the box to Gina.