At first blush, recent discussions about women "having it all" seem to be uniquely American and of this time: the product of our overachieving society, capitalism, and the constant pressure to succeed. But it's also a product of the mass media and its particular, visual pressures upon women. This, then, is not a new phenomenon. It actually originated more than 100 years ago in France, where both photography and film were invented, and arguably celebrity culture as well (think Sarah Bernhardt).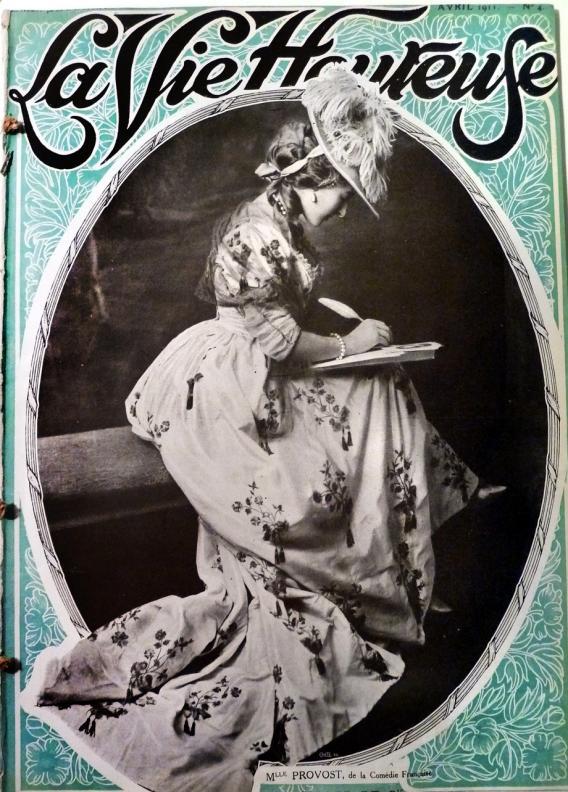 Around the time that photographs of famous people were first starting to circulate in French magazines, these magazines were also reimagining how to present the modern French woman.  In the early 1900s, rival publications Femina and La Vie Heureuse (literally, The Happy Life) introduced the femme moderne, a much more pleasing spectacle than her predecessors, who had for years been the bicycle-riding, pants-wearing, cigarette-smoking, husband-chastising "New Woman" (quite the media construction herself). The femme moderne was a beautiful creature who could perfectly—and joyfully—balance femininity and feminism, without so much as breaking a sweat. All of a sudden, women's progress was not about making demands but about performance and possibility, evidenced by an array of photographs that repeatedly demonstrated the elegant and graceful ways that women were embracing modern roles. This offered women a pleasing, affirming, and celebratory new way to see themselves— both a great feminist strategy and a fabulous way to sell more magazines.
Corsets were already on their way out in 1911 when this ad appeared in La Vie Heureuse, coyly affirming the link between feminism and femininity at the core of the femme moderne identity. This manufacturer advertised a gentler, healthier corset—the product of the latest medical research—which would avoid "suffering or wounds to internal organs" while offering perfect alignment.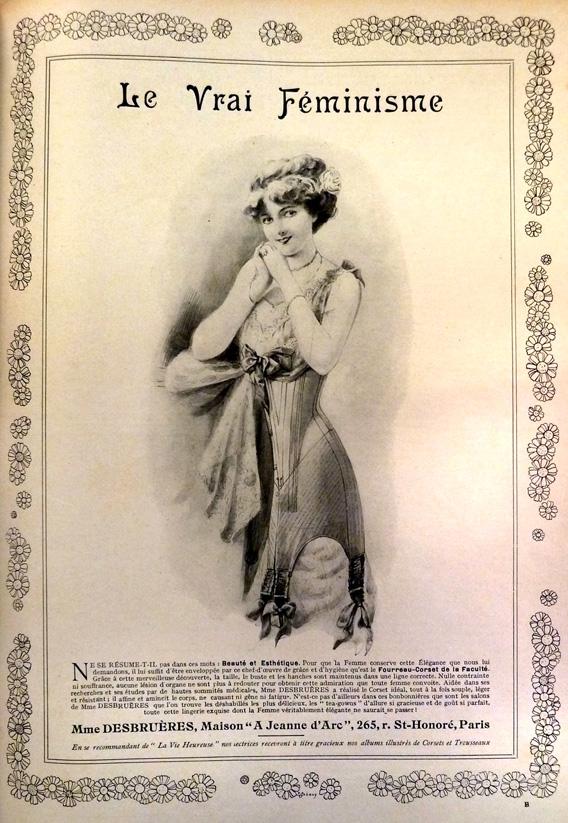 With rapidly evolving photographic technology, Femina was able to feature images that represented impressive feats while suggesting metaphorical possibilities. While this woman was actually climbing a mountain, women readers were subtly urged to reach new heights themselves.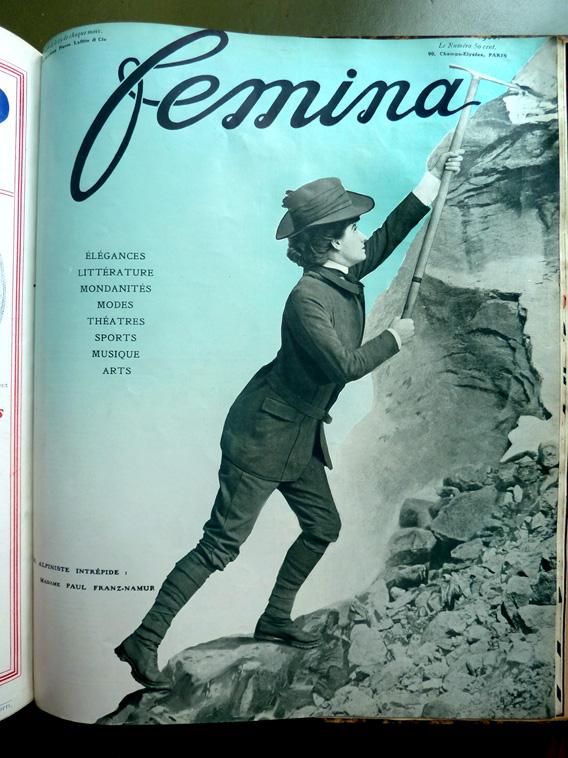 Who says women are subject to vertigo? asks the caption. Here's evidence to the contrary! Like the mountain climber, this woman literalizes the message of female achievement at the highest level and seems miraculously unhindered by her flowing skirts.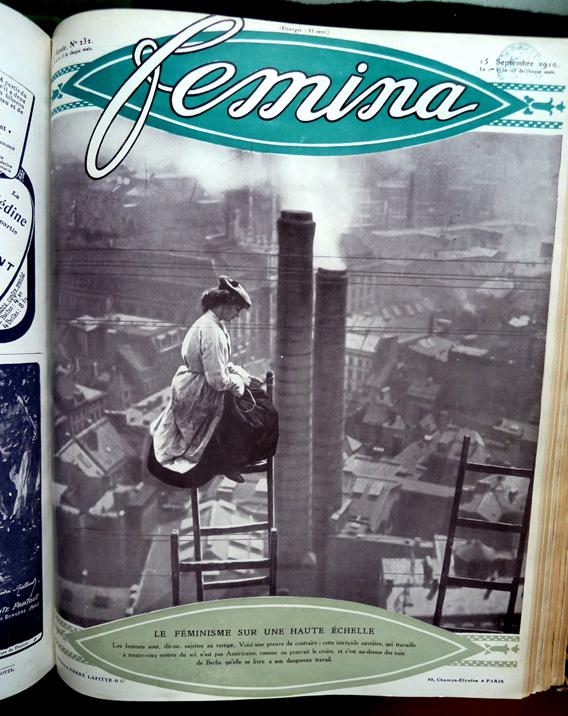 Sports journalism was all the rage in the 1900s, thanks to portable, wide-angle cameras that could capture action shots. For the first time, you didn't have to attend an event to catch its highlights. Femina and La Vie Heureuse frequently featured women athletes, appropriately dressed. This tennis player looks happy, celebratory, and strong without losing her femininity in the process.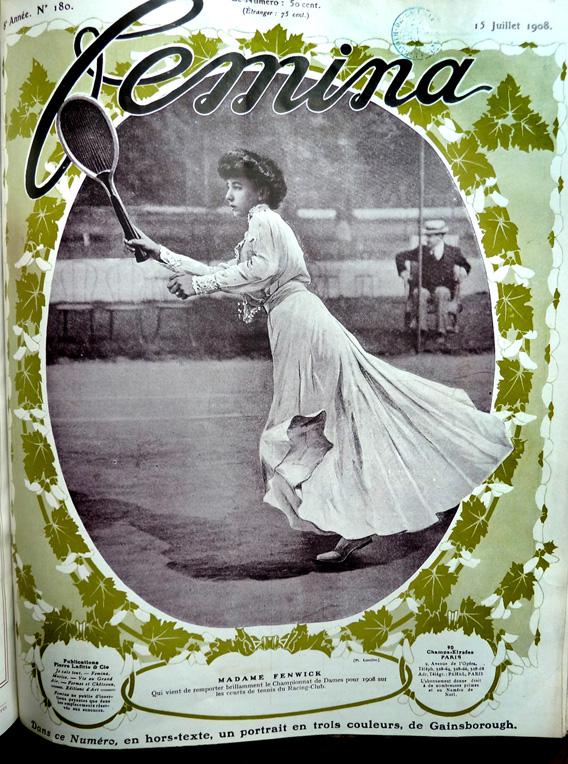 Roller skating was the hottest new sport for women in 1911. The expression on the face of this rinkeuse—a former dancer—as well as her graceful pose captures it all: She's skating straight into a freer, more joyful future.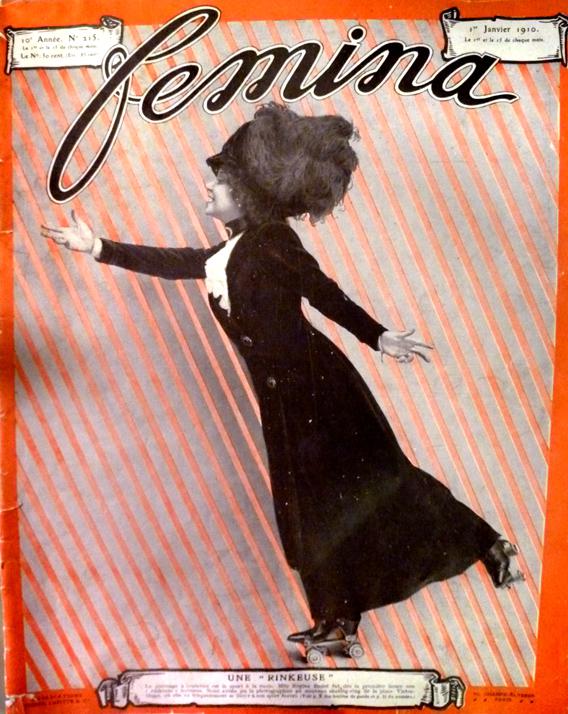 Educational reforms in the late 1880s meant that more women were entering professions than ever before, but there were still only a handful of female doctors and lawyers. A later Femina article zeroed in on one of these young women, who chose her profession, bien sur, in order to help other women and children. They described her as "tall and thin, confident, and wearing a lovely red dress that fit simply under her robe."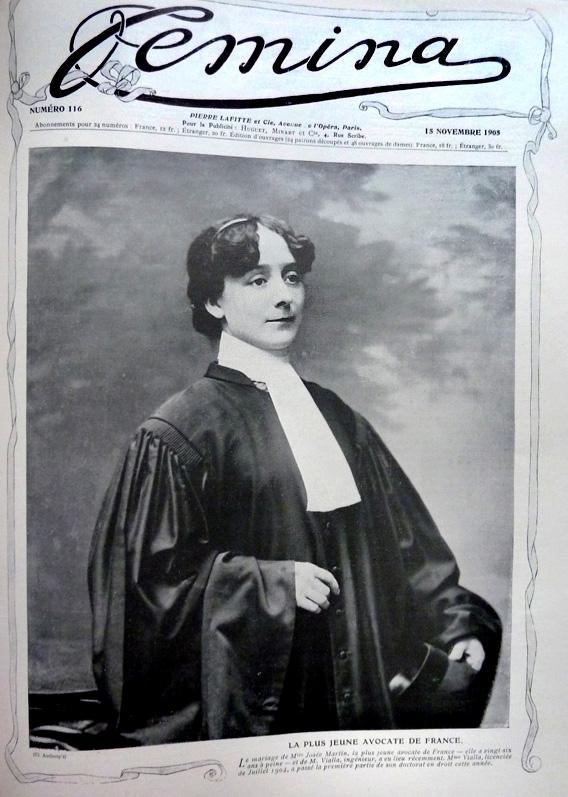 Driving was described in the magazine both as a sporty, modern activity and a way to expand women's domain beyond the homefront. And while the independent, family-unfriendly New Woman was associated with the bicycle—a vehicle rumored to cause both self-pleasuring and infertility—the car had room for kids in the back.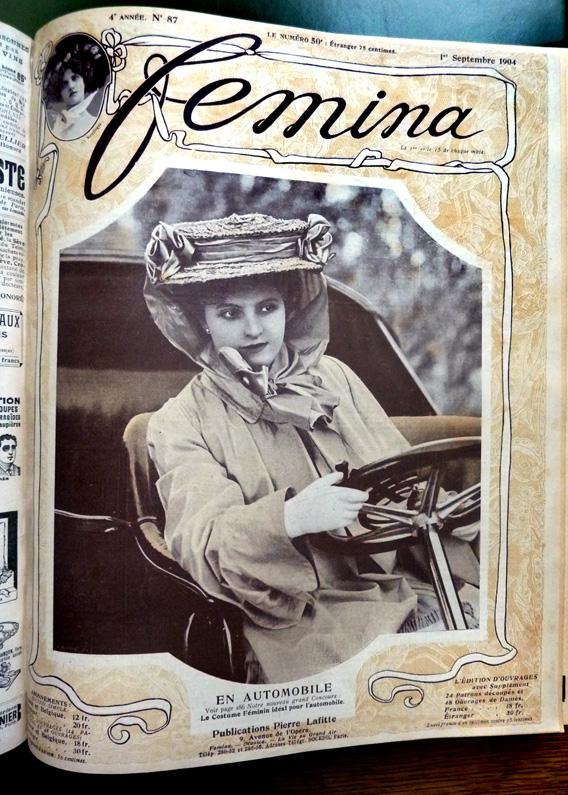 Royals were among the first celebrities. Readers loved to admire their exquisite furniture and fashions but also to see that, as women, they were "just like us."  Babies were the perfect equalizer—and really, is there anything more compelling than the image of a queen giving her son a piggy-back ride?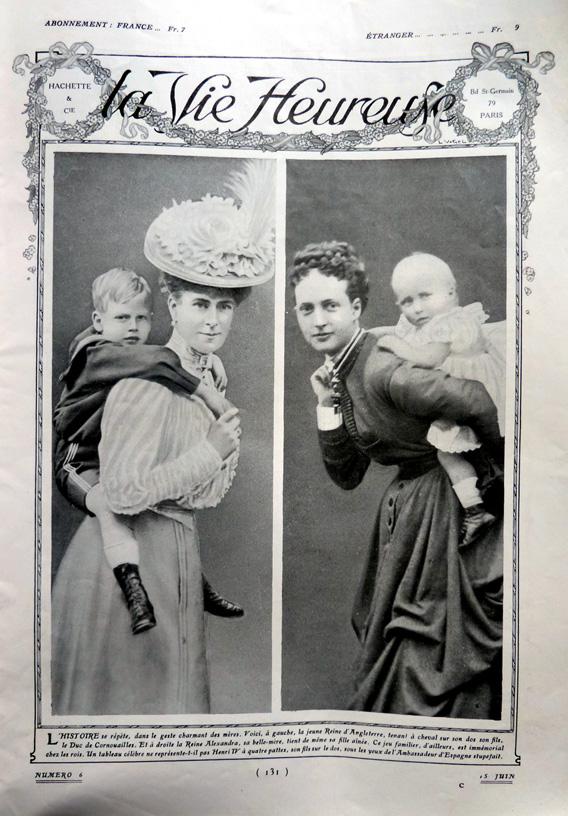 On the other hand, it wasn't enough to just be royalty anymore. Even queens had to do more to impress a new generation of achieving women. When the queen of Romania published a poetry collection in French, she became a literary sensation. This issue of the magazine announced the first of a series of writing contests that would lead to the Prix Femina, distinguished by its all-female jury, and to this day is one of the most coveted literary awards in France.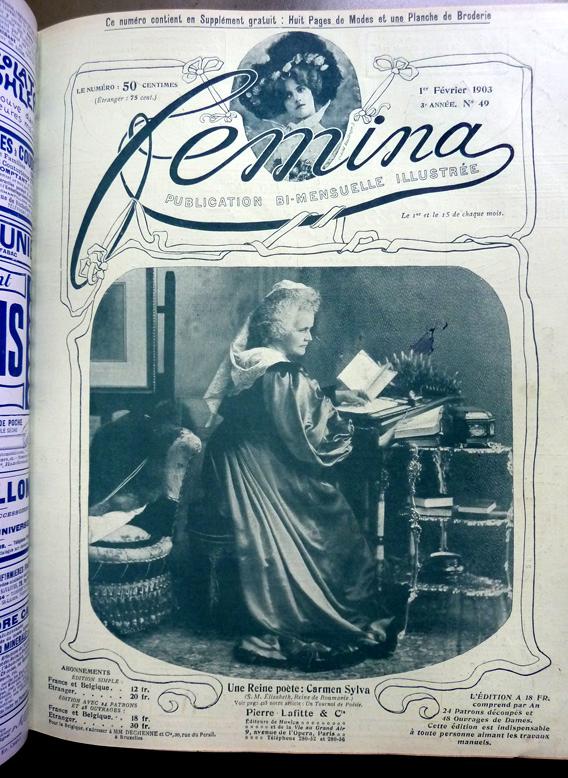 Female writers were among the magazine's most beloved celebrities. Media darling Lucie Delarue-Mardrus became famous because her husband (a famous writer himself) had the good sense to send in photos of her in exotic costumes while they were traveling in Tunisia—a natural hit for a French public infatuated with the Orient. When she returned to Paris a few months later with a new poetry collection, Delarue-Mardrus was already in high demand.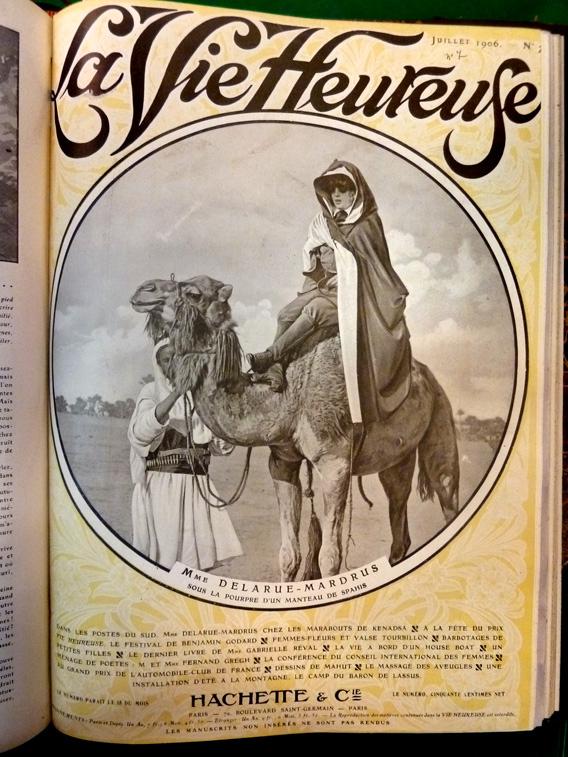 In 1909, the Académie française took up the question of electing female members. In the meantime Femina asked readers to elect 40 women writers, past or present, to fill a fictional female academy. This primitively photoshopped image imagines the winners in the halls of the venerable institution. Despite the optimism of the moment, a woman wouldn't be elected into the Académie française until 1980(!).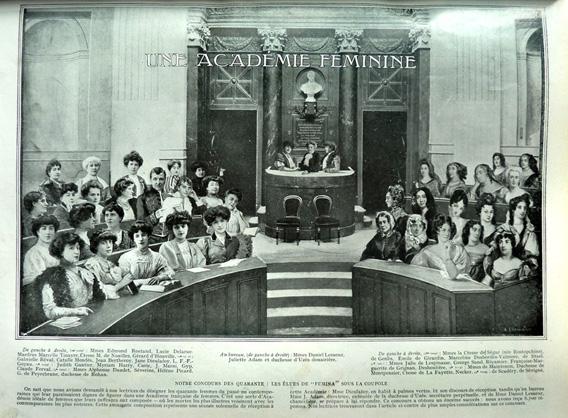 This striking cover by the beloved artist Paul Cesar Helleu assimilated breast-feeding with traditional French elegance. Some of the most popular women's fiction of the time discussed the challenges of nursing for the female professional. Sound familiar? In a 1909 novel, a rising legal star runs off to nurse in between court sessions; in another, the protagonist is a brilliant doctor whose child dies after the nanny adds water to breast milk while Maman is off seeing patients.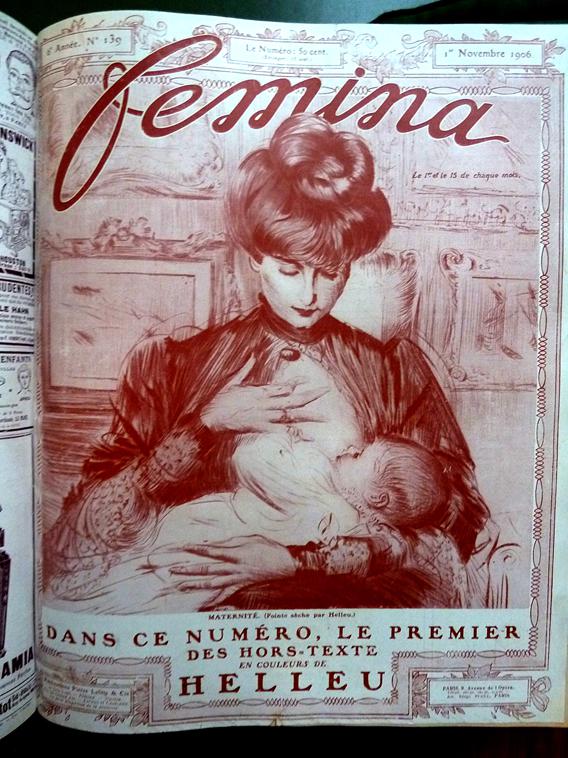 In spite of celebrated novelist Marcelle Tinayre's slightly awkward—and surely untenable!—pose, the caption on this photo leaves no room for doubt on its intentions: "Between the started manuscript and the child to whom she gives her hand, Madame Tinayre—even while composing wonderful books— has maintained the very spirit of feminine life—a tender heart, love for little ones, the taste for decorating her home." Compare this image with Tina Fey's eerily similar American Express ad (which suggests what might happen if Tinayre let go). Plus ça change?