Go see a special live performance of Slate's sports podcast "Hang Up and Listen" in Washington, D.C., on Monday, Oct. 1. Click here for more information and to buy tickets.
Near the end of the trailer for Wildcats, a 1986 sports comedy with a 13 percent Rotten Tomatoes rating, a voice-over actor informs prospective moviegoers that during the film, "Goldie Hawn tackles the impossible." The movie is about a woman who coaches a men's football team, and the implication is that such an endeavor equates to doing that which is undoable.
Sadly, that disembodied voice from the mid-'80s was on to something. Huge numbers of otherwise reasonable people, in 2012, simply take it as a given that women couldn't possibly coach men's sports teams. And so, regardless of ability, talent, or potential outcomes, a woman who aspires to lead a high-level men's team is actually reaching for the near impossible.
There are exactly zero women working as coaches for the 122 teams playing in the NBA, MLB, NHL, and NFL. Zero head coaches, zero assistant coaches, zero assistant to the assistant coaches. The average NFL team employs 18 coaches. Major League Baseball teams have six coaches and a manager. Most NHL teams carry at least four coaches, and a typical NBA squad has one head coach and four to six assistants. All together, that's more than 1,000 jobs … all held by men. To state it another way: 50.8 percent of the U.S. population has virtually no shot of becoming men's football, baseball, basketball, or hockey coaches at any level that would involve payment for services due.
OK, fine, they have a tiny shot: At the college level, women coach fewer than 3 percent of men's teams. And three people—Bernadette Maddox, Jennifer Johnston, and Stephanie Ready—represent the entire universe of women who have served as coaches for Division I men's basketball teams. They were all assistants.
There are, to be sure, some women coaching men's teams at the more than 36,000 high schools in the United States—in fact, more women than ever before. But if one of these individuals resides in your town, you are in the tiniest minority. Case in point: Natalie Randolph, a teacher at Washington, D.C.'s Calvin Coolidge Senior High School, appears to be one of only two women serving as head coach of a high school football team in the United States.
Women coach women's teams at all levels. But so do men. In fact, the percentage of women's college teams coached by women, for instance, has shrunk considerably since the passage and implementation of Title IX. (In 1972, 90 percent of women's college teams were coached by women—that number is now down to 42.9 percent. And according to this ESPN story, men have been hired for 68.5 percent of the college women's team coaching openings filled since 2000.) This is by no means meant to suggest that coaching men's teams should be valued more highly than coaching women's teams or represent the ultimate goal for a coach. The point here is simply that choosing a coach from an inherently flawed and unnecessarily narrow universe of candidates is probably not the best way to proceed. Not to mention that coaching women generally pays far less than coaching men.
There are all sorts of reasons why women almost never coach men's teams, most of which fall under the category of Catch-22s: the lack of women actively seeking these jobs due to existing norms that are reinforced at every athletic level, the dearth of female candidates with the type of experience that is valued by those filling positions to coach men's teams, the lack of female role models who have successfully coached men, the persistence of discrimination and stereotypes that die slowly, etc. Basically: Women never coach men's teams because they've never coached men's teams. Then there are these loopy justifications that you've surely heard, or maybe even uttered yourself: Women don't play some men's sports competitively, so they couldn't possibly be good at coaching those sports; men won't take orders from, or sufficiently respect, women; women have no place in men's locker rooms; and, of course, women are way too [insert your stereotype of choice here regarding emotional fragility] to successfully coach men's teams.
Here is the point in this article at which I would love to combat all of the above with numerous examples of women coaches killing it in men's sports. Only there's not much of a well from which to draw. So let's look at the rationales when applied to men.
The claim that is perhaps trotted out most often is the one about how women couldn't effectively coach sports such as football and baseball that they don't play competitively, and how they wouldn't be successful coaching men in the sports women do play, because they haven't competed in them against men or at the highest of levels. (Remember: This is not about women playing against men, where, in some instances, strength and muscular advantages are unmistakable factors.)
Rick Majerus was never good enough at basketball to play at the college level, yet he has coached teams to 517 college basketball victories over a 25-year career and sports a .705 winning percentage. Charlie Weiss, though perhaps not a favorite in South Bend, served as offensive coordinator for the New England Patriots during their run of three Super Bowl titles between 2002 and 2005. He also couldn't cut it as a college player. And there are plenty of others in the same boat. Ken Hitchcock won a Stanley Cup in the late '90s as the coach of the Dallas Stars. He never played hockey at a high level. Doug Blevins, who served as kicking coach for the Miami Dolphins for six years in the late '90s and early aughts, had cerebral palsy at a young age and was subsequently unable to walk. He's never kicked a football. Yet Adam Vinatieri, a Super Bowl hero during the Patriots' Weis-era, swears by Blevins' coaching methods.
These guys all demonstrate that playing the sport is not a prerequisite to coaching it—and one could argue that it's possible to become more educated than most about methods of achieving success in a sport, to follow and study it like no other, to simply outwork those who may have played that sport for a living. Having done something in the past does not automatically mean you will know how to explain it and teach it better than someone who hasn't. Isiah Thomas was one of the greatest players in NBA history. Ask Knicks fans how he stacks up as a coach.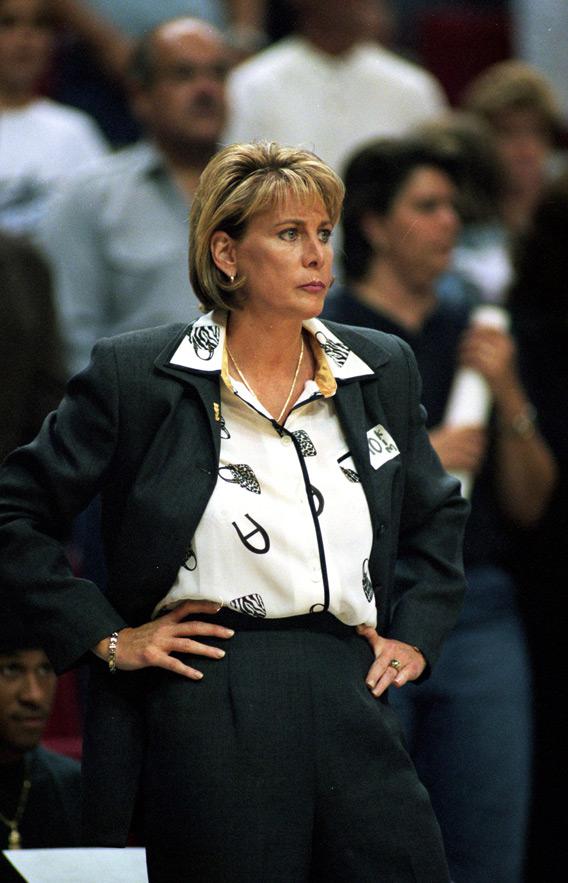 Another common argument for why women shouldn't coach men's teams: Men won't listen to or respect a female coach. Good news: We actually have some examples based on the experiences of women coaches to knock down this bunk claim. Just check out what high school coach Natalie Randolph's football players have to say about her. "I see a seven-foot-tall man when she gets mad," one player told the Washington Post in 2006. "She doesn't have any trouble getting respect." A few years ago, according to the New York Times, when a couple of players on her team were acting up and a male assistant coach was about to discipline the players, Randolph stopped him. "[S]he said, 'No, I got them,' " the assistant recalled. "Then she did her thing." Randolph, in short, earned and demanded respect. "She doesn't look like a stereotypical coach who's big, masculine and who yells," another player told the Times in 2010. "But she knew what she was talking about."   
The same can be said for Nancy Lieberman, another woman who somehow, miraculously achieved the impossible and figured out a way to get male athletes—in this case, professionals—to follow her lead. Lieberman was a superstar point guard for Old Dominion University who played professionally on both women's and men's basketball teams before coaching the WNBA's Detroit Shock from 1998 to 2000. In 2009, she became head coach of the Texas Legends, a men's team in the NBA's Development League that included past and future NBA players. During her one year in that role, Lieberman led the Legends to the playoffs and earned the respect of those she coached. In a story for the Tulsa World, one of her players, Keith Clark, cut to the heart of the matter. "Players would come up and ask me how it feels to play for a girl coach," he said. "No different than playing for a man. To them it's shocking, but to us, she's coach."
This is not the 1950s. Women serve as leaders of Fortune 500 companies, managing thousands of employees, some of whom, presumably, are men. And a recent study featured in Harvard Business Review asserted that women, on average, are more effective leaders than their male counterparts. Those still claiming that men won't respect coaches who are women are actually denigrating women and men. "To uniformly assume that men are so intolerant and incapable of accepting women as leaders should be insulting to men," says Ellen Staurowsky, a professor in the sport management department at Drexel University who teaches courses on and writes about gender issues in athletics. "Sport has the capability to be the ultimate meritocracy. In selling women short, men are being sold short as well."  
Nevertheless, stereotypes persist, as does the harsh reality that there is little opportunity for women to amass the experience needed to sufficiently impress those looking to fill a paying job as the coach of a men's team—or, at an even more basic level, to amass the experience to be good at the job. There needs to be a transformative shift in recruitment, training, mentoring, and hiring from the bottom up.
A good start would be to acclimate all kids to women coaches from a young age. (Sarah Palin's "hockey moms" are in the stands, not on the bench.) Creating a new normal that features a more diverse mix of men and women coaching Little League teams and Pop Warner football squads would help change assumptions that tend to form early. Grade schools and high schools should create incentives that encourage women teachers to take up coaching more broadly. And club/recreational leagues should take a page from Ithaca College's rugby club, which went after the right coach, not the right gender.
Then, of course, there remains the urgent need for trailblazers and role models. A woman serving as the head coach of a team playing in one of the four major American sports leagues would go a long way toward spurring change more broadly. The New Yorker's Ben McGrath, who spent a great deal of time with Lieberman last year for a profile of her in that magazine, got a sense of how that progression might work. "The consensus among the people I talked to around the league, including Nancy herself," McGrath told me, "was that the next step would likely be an NBA assistant coach rather than a big-time college head coach." From there, that female assistant coach would still have to work her way up in order to earn an NBA head coaching position.
Could Lieberman be the one to do it? She stepped down as head coach of the Texas Legends in 2011, telling ESPN's Marc Stein that she was putting her "long-held goal of 'making it normal' for a woman to coach men at the game's highest level" on hold to spend more time with her son before he headed to college. Lieberman is currently the Legends' assistant general manager. And while Goldie Hawn ultimately displayed the capacity to coach a bunch of guys in Wildcats, it is unlikely that she will lead the Cleveland Browns or the Buffalo Bills to glory. No women are anywhere remotely near landing head coaching jobs in the MLB or NHL. Pat Summitt has retired. It's 2012. Who's got next?