Interacting with naked people while on duty is required of San Francisco police officers at least annually. If one is not assigned to provide escort for the doms and slaves at the Folsom Street Fair, then there is the gay pride parade to contend with. Photographing naked people, off duty, however is punishable behavior—or so discovered Officer Gared Hansen, who enjoys creating fantasy scenarios with full-bodied mermaids and sorceresses.
The 36-year-old San Francisco Police Department officer accuses the department of violating his right to free speech by suspending him twice for his off-duty hobby of "creative photography" and nude "figure study," according to his complaint filed on Aug. 9 in a federal court.
Thanks to the 36-year-old cop's suit, a federal judge in Oakland is now saddled with making a ponderous precedent: Do police officers have the right to take and publish nude photos in their free time? Though cops with a penchant for sexy succubi may be rare, this case has important implications for other public employees with hobbies that their employers may find objectionable.   
The seven-year officer served 10 days of suspension this January following an internal affairs investigation stemming from a photo shoot in an abandoned hotel in March 2010.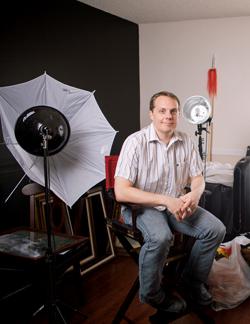 That's when four sheriff's deputies and a sergeant in neighboring Contra Costa County cited Hansen and his two models—er, sexy ghosts—for trespassing onto private property. When asked why he was there, Hansen identified himself as an SFPD officer and said that he was taking photos. Hansen says the deputies asked if he had a website for his photos. He said yes, which was enough for his bosses to claim that he was "establishing a nexus between [his] employment as a San Francisco Police Officer and [his] personal website."
Though his website did not mention his work for the SFPD, this amounted to "conduct which reflects discredit on the department," according to the complaint.
His department's distaste for his hobby did not come as a surprise. He was suspended previously in 2009 when his employer first learned of his side project and decided to investigate whether it violated the mission of the SFPD. There was no definitive ruling, but Hansen says that that the repercussions continued in the form of "punishment assignments" like transporting inmates to jail.
"I don't believe that artistic expression brings discredit to anything," explains Hansen, who describes his photos as art, not porn. "I believe that the work I make is beautiful and interesting and so do my friends and family … It seems like creating art is a benefit to the department."
Hansen, who works as a patrol officer in San Francisco's crime-heavy Mission District, has since taken down his site and put his fantasy photo shoots on hold. But his pre-existing body of work continues to be accessible via a site owned by his wife. Visitors to www.peanutart.com enter a (not-safe-for-work) world full of bare-breasted she-wolves, nymphs perched seductively on trees, and other freaky creatures with come-hither faces and prominent curves. Most of the women's bare skin has been painted—or Photoshopped—with bold otherworldly colors. 
So what's the likelihood that Hansen will be able to expand his online portfolio after hours, without additional repercussions? It depends, say legal experts pointing to a haze of overlapping precedents setting boundaries around public-sector employees' First Amendment rights. The most important was Pickering v. Board of Education, a 1968 Supreme Court ruling in favor of a small-town teacher, who had been fired for criticizing the board. 
Since that decision, cops and other public employees' rights to free speech on and off duty has been protected by the First Amendment under two conditions: First, the content of the speech had to be a "matter of public concern"—meaning it must have some political or social relevance. And second, employees' free speech interests had to outweigh the employers' interests to efficiently operate.
Nudity—often in the form of pornographic content—has been muddying the waters ever since, begging for legal clarification to questions like: Are naked photos a matter of public concern? And when do public employer's interests outweigh employees' right to read, make, or sell something that could be considered offensive to others.
Courtesy of some ballsy plaintiffs and hard-thinking jurists, we have some answers. For example, reading Playboy (in uniform and on-duty) at the firehouse is a constitutionally protected right since 1994. That was the year a federal judge ruled that Los Angeles County Fire Department's anti-sexual harassment measure banning the magazine imposed "severe limitations" on the First Amendment rights of Captain Stephen Johnson. The fireman celebrated with the declaration that he'd bring a copy to work the next day.
Meanwhile, posing for Playboy in uniform and with your department's gear even off-duty has been legitimate grounds to be fired ever since 1996. That was the year Carol Shaya Castro lost her suit, after she was terminated for appearing in a spread titled "N.Y.P.D. Nude: One of New York's Finest Steps Out of Uniform." A New York appellate court found she brought disrepute to the NYPD and reasoned that the agency's interests outweighed her own.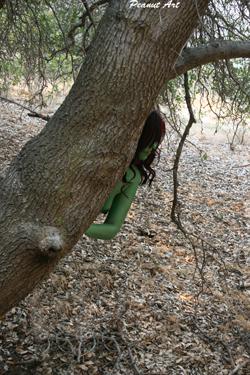 For similar reasons, selling eBay videos of yourself stripping out of a generic cop uniform resembling your real one, while masturbating (off duty, no less) is not protected speech to the consternation of a San Diego police officer identified only as John Roe. The Supreme Court determined in 2004 that Roe's—ahem—products were not a matter of public concern and his attempts to identify himself as a law enforcement officer—even if generically—brought San Diego PD disrepute.
By comparison, Officer Hansen's off duty artistic endeavors seem tame, say legal experts.
"The question becomes whether the public employer's interests in a disruption-free, efficient workplace trump the public employee's free-speech rights," says David Hudson, a legal scholar at the First Amendment Center. "I don't see how his photography causes a disruption or even creates a huge morality problem."
For now, the San Francisco Police Department isn't talking. A spokesman there declined to comment on its reasons for suspending Officer Hansen but did confirm that he is still employed there.
Martin Mayer, an attorney for the California Peace Officers Association, who represents law enforcement agencies in discipline cases against their own police officers, seems optimistic that Hansen's work will get First Amendment protection.
"Publishing nude photos could be considered a matter of public concern," says Mayer. "Because we like it."
Related Magnum Slideshow: Nude as Muse