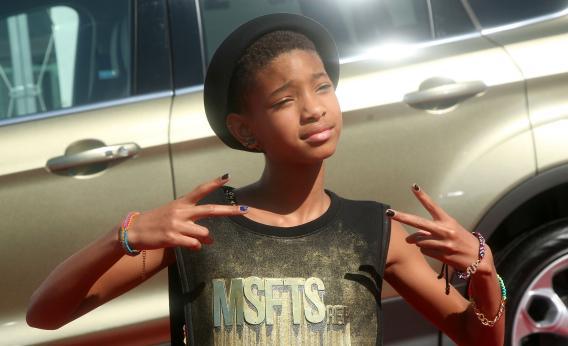 Alyssa, I definitely feel your affection for Willow Smith, the daughter of Will Smith and Jada Pinkett, doing a by-the-books R&B number that hearkens back to my heyday in the '90s when women could sing awesome songs with their clothes on. I would argue that genuinely cool R&B is getting its legs again with the remarkable and recently headline-grabbing career of Frank Ocean, but I appreciate the need to make music for the teeny-boppers that isn't horribly offensive or objectifying. Still, I can't enjoy Willow Smith's career any more than I could enjoy the career of Will Smith and Jada Pinkett's other pubescent child, Jaden Smith. I'm just too weirded out by the insistence that children have careers before they have high school diplomas, first loves, or that all-important awkward phase out of the public eye. And as taboo as it is to raise the subject of someone's faith in public, well, I'm going to have to do it.
Mel Gibson's abusive behavior is informed by his devotion to a faith that teaches that the Vatican II—which upheld the ban on contraception—is somehow too liberal. Tom Cruise and Katie Holmes' announced divorce is plausibly rumored to be a product of Cruise's devotion to Scientology, a church that is so PR-oriented that it's entirely possible that the whole marriage was prearranged to make Cruise seem more normal. Janet Reitman's book Inside Scientology was a source of great controversy, but no one has legitimately disputed her portrayal of a church that treats its celebrity members like kings while forcing some of the most devout but non-famous members into a life of unpaid servitude that features, a la 19th century American slavery, attempts to control your marriage. In this book, Reitman paints the celebrity Scientologists—like Smith and Pinkett—as people who coast by on their privilege, pushing the teachings without having to pay the price of the less famous devotees.
So what does this have to do with Willow? One of the teachings of Scientology is that childhood is, well, an illusion propped up by a hopelessly corrupt mainstream society. On paper, it doesn't actually sound that bad. Scientologists believe that children are full human beings with full human rights and capacities, an ideal I often promote myself, to a common sense extent. But as I learned from Reitman's book, a lot of true believers—and Smith is rumored to have achieved the highest level possible—go all in. That means that children aren't just encouraged to offer opinions and try on identities in their youth, but are often expected to make adult-level commitments to things like careers at very young ages. So while I want to enjoy the professional-level work of Willow and Jaden Smith, I can't.
It's about more than the fact that they have voice coaches, personal trainers, and first-class representation behind them. I don't mind any of that, if the final product is good. But knowing that they're under pressure from a religion that doesn't really believe in the unadorned days of development that mark childhood wigs me out. We simply have too much scientific evidence that the brain is developing at that age. I know the Scientologists deny the findings of psychology. But I also have to point out that when the faith was developing, psychology was an underdeveloped science that involved a lot of guesswork.
While imperfect, the psychologists that Scientology hate so much to this day have actually learned a lot since L. Ron Hubbard's time, via the scientific method, about how the human mind works. If they had a time machine, they may have been able to aid Hubbard, who started his church in no small part because he felt psychologists of his time weren't helping him adequately with his problems, actually get the support he desired. He wasn't wrong, in a sense, about psychology. It was a new field at the time. Since his time, though, psychologists have learned a lot about various mysteries of the human brain, including those of child development.
So, it turns out I can't watch anything Jaden and Willow make without wondering what it would be like if they could grow up in a culture that just lets kids be kids.
Clarification, July 9, 2012: This piece originally stated that Willow Smith was intended to be named Will Smith, Jr., and disappointed her parents by being a girl. That line has since been removed.
---