As a kid, I imagined many things for my life.  Marrying a rock star was not one of them. I appreciate and enjoy music, but have no passionate or fanatical interest in it. I don't know any obscure bands and can't talk knowledgeably about any artist's "catalog." I don't particularly like going to see live music that much—it's too loud, and I get too tired. I don't hang out in rock clubs wearing leather miniskirts or do anything else featured in Almost Famous. I am a normal-looking brunette.
I started dating Travis Morrison, a computer programmer who worked at my company in early 2010.  We got to know each other through chatting at the lunch table. We were the only people in our small office who regularly brought in food from home. I had the vaguest recollection that I had heard from a colleague he had been in some kind of famous band, but I didn't really know the details. The first time we socialized outside the office, I was shocked when one of the people attending a small dinner party lit up when she recognized him. "I LOVE your band, I saw you all play at least three times in high school!" She squealed with glee. I had never heard of his band, "the Dismemberment Plan," and it didn't really sound like a band I would like.
As we started dating, I naturally inquired about his musical past. He had been the lead singer of the Dismemberment Plan, but they had broken up in 2003 and hadn't played a show together since 2007. He'd put out some albums as a solo artist and then decided to leave the industry and go into computer programming full time. He worked at the Washington Post and then the Huffington Post, where I met him. I asked him about his albums, and he told me that I should just listen to the one he considered the best, Emergency & I. When I asked about the others, he said he didn't have any copies, and that I would have to buy them on iTunes. So I downloaded and listened. I enjoyed them, although I didn't memorize any lyrics or listen to them on repeat. But that chapter of his biography didn't play much part in our lovely blossoming romance. At the time, Travis got his singing joy largely from an Episcopal church choir. I would attend the monthly services to support him, and we'd go to brunch afterward.
Our first year together proceeded in the usual way: we cooked dinners for each other, hung out with friends and worked hard at our demanding jobs. I brought him to my grandma's 90th birthday party, and he introduced me to his extended clan of Minnesota cousins.
About a year into our relationship, Travis told me that the Dismemberment Plan was planning to re-release Emergency & I on vinyl and that they would likely play some shows together in early 2011 to promote it. It all sounded like good fun. To everyone's surprise, all the tickets sold out within hours. They announced more shows, which were received with equal enthusiasm. I was excited to get to see him play.  I imagined my role in all this would be supportive partner, in the same way I would be if he had decided to go to grad school or take up a new hobby.
But it became clear pretty early in the tour that returning to play with your famous rock band that has a cult following is different from going to grad school. Usually when you go to grad school, you don't appear on Jimmy Fallon. Or have your photo in the New York Times. Or have people tweet sightings of you at brunch. After years of relative anonymity, for a moment, he became someone people spotted.
There were moments of extreme cognitive dissonance when I saw him up there. He's a wild and expert showman on stage. As I'd watch him do things like play the keyboard by smashing it with his forehead, spit water all over the audience or writhe convulsively on the ground, I would think, "I can't believe this is the same man who likes to go to bed at 10 o'clock and sweetly brings me coffee in bed every morning."
The enthusiasm for the planned handful of East Coast shows was so overwhelming that they added more, got booked for a weeklong tour of Japan, and accepted invitations to a couple of choice summer music festivals. Travis was surprised. He'd often joke, "If we'd been this popular when we were actually a band, we might not have broken up."
I attended many of the U.S. shows, which brought many memorable "rock star" experiences that were fun departures from our everyday life. We had a blast ending up at the Pick Me Up Diner in Chicago at 2:30 in the morning to drink coffee milkshakes with a ragtag group of Travis' old friends. On a whim, I jumped on a train in a snowstorm to see him play in Philadelphia; I had to stop at H&M to buy clothes to wear to work the next day. We had a great night together wading into the crowd after Travis played the Pitchfork Music Festival; Travis bought a fresh T-shirt, and we got curry and watched the other bands play. I made friends with the other band members' interesting and accomplished girlfriends. I got a kick out of seeing him on a JumboTron.
While there were many moments of quiet glamour, I also developed some habits and tricks for navigating the sometimes-strange world of being "with the band." I learned to not to be mystified when, for the hour or two before a show, Travis would sink into silence and disappear into a dark closet to sing along to Harry Nilsson, whom I'd never heard of (Travis made me watch a documentary about him). I learned to not self-consciously shrink when I walked into a backstage room where I didn't know anyone and found myself making small talk with people who'd been introduced to me as "This is Kelly, we slept on her floor in Milwaukee three times when we toured there."
It was breathtaking to watch from backstage the intense adoration in the people in the front rows, but actually interacting with Travis' biggest fans was disorienting for me. I've grinned, tongue-tied in front of people I admired, but had never been anywhere near the other side of it. After every concert, dozens of people waited around to talk to him, to tell them how much they loved the show and get him to sign things. There is something very  sweet about this devotion to the Plan's music, but I learned this was not a place I wanted to hang out. This was very different from just meeting Travis' old friends, who were happy to chat with me. When people are fans, all normal rules of polite social behavior fly out the window. Fans have no interest in my presence and don't want to acknowledge it. I get it—it's not a conscious affront. The reality is that I am the person standing between them and their idol, and I learned it was much easier for me to go do something else than to pretend this was the same as socializing at a cocktail party.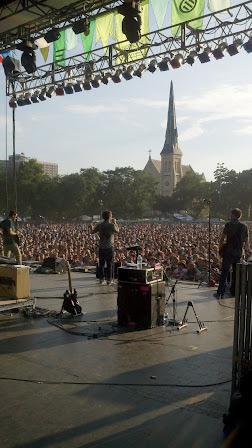 Usually the interactions would involve them intensely staring into Travis' eyes and saying things like, "I met you one time when you played Phoenix in 1998. That was an amazing show. I talked to you at the CD booth. Do you remember me??"  Travis would smile and be good-humored about not remembering talking to them at the CD booth. Then the pause, where a normal-world response would be to say, "Great to meet you" and wrap up the interaction and move on. But fans do not do that. They just stand there and stare, trying to make the moment last as long as possible, braving any amount of awkward silence. It would be up to Travis to cut off the moment by saying cheerfully, "OK, I have to talk to this person who is standing behind you who wants me to sign his poster."
If I ever feared that these new dynamics would be threatening to our relationship, Travis never failed to remind me that he was the same guy who goes shopping with me at the Park Slope Food Coop and loves to vacuum. One cold winter weekend, after playing two ecstatic, sold-out shows at Webster Hall in New York, he got up early and went to his office job, came back to my apartment while I was out, and surprised me by cleaning and making me dinner to thank me for doing so much planning and helping throughout the weekend.  That was the man I wanted to marry—incredibly humble, loving, and grounded.
Since those shows in 2011, life has definitely gone back to "normal." The media attention has died down, people recognize him more often but not constantly, and we go about our everyday lives. We moved in together and are getting married this summer. As more shows for the Plan are scheduled, occasional rock stardom seems to be something that could dot the landscape of our life together, an event that happens between vacations and job promotions and first birthdays. I don't think I will ever dress in leather miniskirts like someone out of Almost Famous, but it seems, from time to time, I will be sitting backstage, finding myself not married to a sweet and mild-mannered computer programmer but to the rock star out front.