On a sleepy Sunday morning in late July 1965, Detective 3rd Grade James McDonnell received a call in the upstairs squad room of midtown Manhattan's 17th Precinct. There was a man at the Western Union office in Grand Central Station who might be impersonating a police detective, he was told. The man was in the company of a 14-year-old runaway and had contacted the boy's father in Texas to wire plane fare so the son could fly home. The father had grown suspicious when the man had asked for $150—twice the needed amount. McDonnell quickly drove the 10 blocks to Grand Central, parking his unmarked black sedan on Lexington Avenue and hurrying down to the terminal's lower level. Criminal impersonation of a police officer was an E felony—a "good collar," as cops like to say, and if the perp had a gun, even better. There'd also been chatter on the detective grapevine about a number of recent cases of phony policemen, so McDonnell was eager to see what was up.
Inside the Western Union office, McDonnell saw a man who looked just like a New York detective—"calm, good looking, sharply dressed," the now 89-year-old retired detective recalls. But when McDonnell flashed his gold shield to the "detective," the man was slow to show his own, and was also reluctant to tell McDonnell what squad he was from, making McDonnell suspicious.
McDonnell asked the man if he had filled out an incident report, or a "5" as it was known in detective parlance. When the "detective" asked what a "5" was, McDonnell knew something wasn't right. "I told the clerk to lock the door so we could sort everything out," and handed the clerk a slip of paper with the precinct phone number on it so he could call for backup. Meanwhile, McDonnell kept his eyes on the bogus detective's hands, just in case he tried to pull a gun. In a matter of minutes, four burly uniformed officers barged into the Western Union office, and McDonnell handcuffed the suspect without resistance.
Once restrained, 34-year-old John Aitken got panicky. He'd been arrested before for child molestation, and if he was charged with corruption of a minor, as he might be now, he could be facing a serious prison sentence. Aitken told McDonnell he was trying to do the runaway a favor. He had used the kid in a robbery scheme but "the kid was too green." He felt sorry for him and had just wanted his "cut" for doing a good deed by helping him get home. If McDonnell could make sure he wouldn't do heavy time for the charge he was facing now, Aitken said, he could give information on something much bigger, something that involved big names and lots of money.
As Aitken's interrogation proceeded back at the 17th squad room, he confessed that he had knowledge of an extortion ring that had shaken down dozens of prominent closeted homosexual men across the country—most of them married and with families. "Nobody could believe the names he was naming, or the amount of dough they were being shaken down for," McDonnell recalls. "Once he started talking, you couldn't shut him up. I barely got home that night."
McDonnell's squad commander gave him the time he asked for to investigate and confirm Aitken's tale. Aitken's tips led to a quick arrest of the security director of the New York Hilton, and indications that the operation was national in scope. "I couldn't believe what I was looking at," McDonnell says. "It just went on and on." In early August, a couple of weeks after the Aitken collar, McDonnell received an order from the chief of detectives' office to report down to the Manhattan district attorney's rackets squad, with his notes.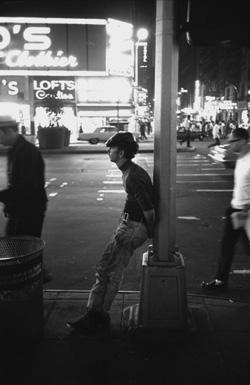 In the year following the Western Union arrest, the NYPD and the FBI, working in parallel (and sometimes at odds), would uncover and break a massive gay extortion ring whose viciousness and criminal flair was without precedent. Impersonating corrupt vice-squad detectives, members of this ring, known in police parlance as bulls, had used young, often underage men known as chickens to successfully blackmail closeted pillars of the establishment, among them a navy admiral, two generals, a U.S. congressman, a prominent surgeon, an Ivy League professor, a prep school headmaster, and several well-known actors, singers, and television personalities. The ring had operated for almost a decade, had victimized thousands, and had taken in at least $2 million. When he announced in 1966 that the ring had been broken up, Manhattan DA Frank Hogan said the victims had all been shaken down "on the threat that their homosexual proclivities would be exposed unless they paid for silence."
Though now almost forgotten, the case of "the Chickens and the Bulls" as the NYPD called it (or "Operation Homex," to the FBI), still stands as the most far-flung, most organized, and most brazen example of homosexual extortion in the nation's history. And while the Stonewall riot in June 1969 is considered by many to be the pivotal moment in gay civil rights, this case represents an important crux too, marking the first time that the law enforcement establishment actually worked on behalf of victimized gay men, instead of locking them up or shrugging.
By the summer of 1965, Frank Hogan had been Manhattan district attorney for almost 25 years, earning the nickname Mr. Integrity. The NYPD detectives who worked in the office's various investigative bureaus were considered "the pick of the force," as The New Yorker's Richard Rovere put it. They wore sharp suits, crisp shirts, silk ties and Old Spice after-shave. The Rackets Squad, which investigated unlawful doings in the garment, construction and trucking industries as well as labor union corruption and some organized crime activity, was particularly favored by Hogan, who had once been its senior prosecutor before becoming DA. The squad's commander, Inspector Paul Vitrano, enjoyed Hogan's confidence for the work the squad had performed on numerous, highly publicized cases. Jim McDonnell had 15 years as a detective and shared the working-class, Irish Catholic background of most of the of Rackets Squad members, but he still felt like an outsider when he arrived to brief them on the information he'd developed.
At the time McDonnell was assigned to Rackets, the DA's office had been "looking at" a couple of police impersonation cases and had received a couple of letters, most of them anonymous, alerting them to homosexual blackmail incidents. An earlier discovery of an NYPD arrest warrant and a knock-off of an NYPD detective's shield, on an Eastern Airlines flight between New York and Miami, had raised suspicions that something outside the usual parameters of a police impersonation case was in play. The information McDonnell came in with connected the dots, allowing the office to see that the cases were not isolated and that an extortion operation of significant size was at work.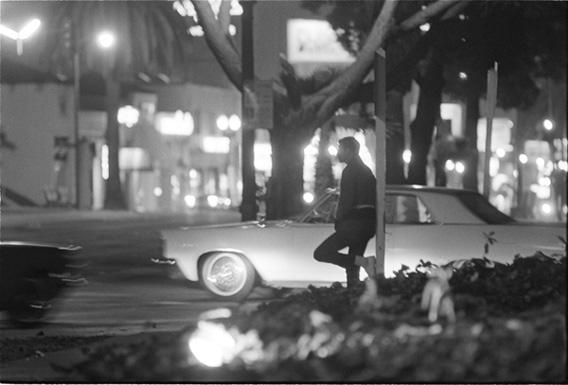 McDonnell was only on temporary assignment to the rackets squad, but he insisted on "running" the principal informant he had developed. That informant was Edward Murphy, the Hilton hotel security director who he had arrested shortly after the Western Union incident.
Although the Manhattan DA's office got into the case first, the FBI was not far behind. Around the same time as the Western Union incident in New York, a renowned paleontologist and professor emeritus from Princeton walked into a New Jersey FBI field office and explained that two men claiming to be federal agents had confronted him about a homosexual assignation with a male prostitute in Washington, D.C. The "agents," he said, had told him the prostitute was underage but that they could process the matter through back channels if the professor gave the agents $11,000 in "bail money." After waiting for his money to be returned, as the agents stipulated they would in their "arrangement," the professor now suspected he'd been had, and wanted the FBI to help him get the money back.
This federal involvement was led by Robert Morgenthau, the U.S. Attorney for the Southern District in New York. (Morgenthau would later succeed Frank Hogan as Manhattan DA, holding that office for 35 years.) Morgenthau's deputy was Assistant U.S. Attorney Andrew Maloney, who would later become the U.S. Attorney for the Eastern District (Brooklyn) under Ronald Reagan, where he convicted John Gotti. The lead FBI agent in New York was Special Agent Paul Brana, who went on to become director of security for the New York Times.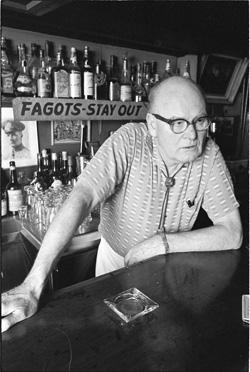 That a gay extortion ring existed in the mid-1960s was hardly a surprise. Broad societal homophobia set the stage for extortion, offering blackmailers lots of leverage. Closeted gay men, if exposed, could expect their careers wrecked, marriages ruined and friendships destroyed. Scandal sheets like Confidential magazine took exceptional delight in outing the prominent, publishing cruel, mocking exposes littered with snide references to "tearoom arrests," "lavender stripes," "double-gaitedness," and "forbidden satisfactions." Even more-respectable precincts of the press could be disdainful. In its review of Basil Dearden's 1961 British blackmail thriller, Victim, which was instrumental in the repeal of anti-sodomy laws in the U.K., Time magazine scorned the film's "implicit approval of homosexuality as a practice."* A 1963 New York Times report, headlined "Growth of Overt Homosexuality in City Provokes Wide Concern," cited the general belief "that strict enforcement of the law against seduction of minors is important to protect borderline cases from adult influences that could swing them toward homosexual orientation when heterosexual adjustment was still possible."
Law enforcement was especially homophobic. In most states, homosexuality (sodomy) was a punishable offense. In many cities, the police engaged in entrapment campaigns, sending uncover officers into public restrooms, bathhouses, or gay bars to be propositioned or to offer sex before making an arrest, often fabricating evidence. In fact, some police officers extorted money from closeted gay men to keep their secret hidden—"fairy shaking" as it was known. At best, authorities were indifferent, particularly to crimes against, and especially between, gay men. Coroners might tell reporters at a murder scene that the cause of death was "loose sphincter." Reporters would then understand it was a gay-on-gay attack, heading back to the "press shack" at headquarters muttering about yet another un-newsworthy "homo-cide."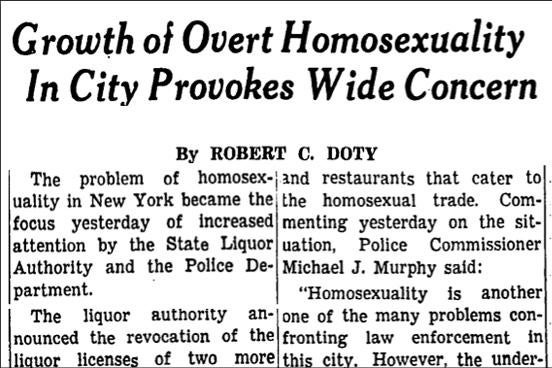 What would be remarkable about the Chicken and Bulls case, as it developed, was the way cops and prosecutors set aside their own prejudice. If Hogan's men did have any distaste for the proclivities of the victims, those personal feelings were eclipsed by sympathy for the men and their families, disgust at the cruelty of the criminals, and professional outrage that the good name of the NYPD was being sullied by extortionists carrying their gold shields. "We had all these big people around the country thinking our guys were really doing this, and it was starting to make us all look bad," former rackets investigator Tobias Fennel explains. The class backgrounds of the victims certainly didn't hurt, helping to get the attention of well-placed members of the judicial and law enforcement establishments who controlled the police.
As the NYPD and FBI pursued their investigations in 1965 and 1966, they found that the ring had conducted operations in a dozen or more cities around the country. It was fluid in nature, with a changing cast of about two dozen "bulls" and "chickens."
Three main ringleaders organized, financed, and equipped its various operations. In Chicago, there was John Pyne, already in his early 50s, who had joined the Chicago Police department in 1938. Pyne had been a member of the Chicago department's Confidential Squad, learning the tricks of the blackmail trade from the very same shakedown artists he had put in jail. Using a nationwide network of police officers, mostly "clerical men," in his pay, Pyne had dozens of different police badges, which were referred to as buttons. Pyne also had arrest forms, warrants, and extradition forms "from virtually every jurisdiction in the country," as Assistant U.S. Attorney Thomas Baer would later say at Pyne's arraignment. 
Moving between New York, Chicago, and Baltimore was Sherman Chadwick Kaminsky, a 38-year-old "salesman" who also went under the alias of Paul Vargo. Kaminsky's past was hazy. According to court documents, Kaminsky said he was "born and raised in the streets of New York." In some accounts he is said to have served in the Israeli army. In his mug shot, he has a full head of well-combed hair, giving him a vague resemblance to the late Jerry Orbach. Kaminsky often partnered up with John Fellabaum, described in press reports as a "weightlifter and bodybuilder" in his late 20s from Monroeville, Pa. Fellabaum's beefcake physique apparently made him an attractive lure.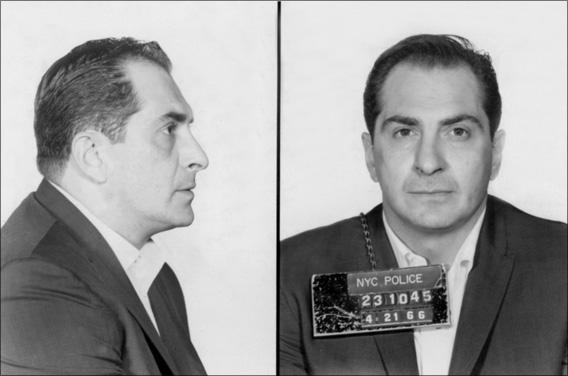 Another principal figure was the arrested Hilton Hotel house detective, 39-year-old Ed Murphy. A burly tough from Manhattan's lower west side, Murphy was expelled from a Catholic grammar school as a young boy and was put in reform school after whacking a policeman over the head with a milk bottle for breaking his shoebox. He served in the Army in France during World War II and in the late-'40s became a doorman at a couple of gay bars on Eighth Avenue near the Port Authority Bus Terminal. After a spree of robbing dentists of gold used in fillings, Murphy was sentenced to 10 years in state prison, most of it spent in isolation after violent assaults on fellow inmates and guards.
Released from prison, Murphy went back to working the door at a number of sketchy gay clubs such as the Cork, the Sans Souci, and the Bali. He also took up professional wrestling, grappling against legendary characters such as the Super Swedish Angel and Gorgeous George, and throwing chairs at people who booed him. With his bright shaved head, Murphy took on the wrestling moniker of "Skull." But to the young male runaways and prostitutes whom Murphy cared for—and sometimes pimped—he was "Mother." Despite his criminal history and shady involvements, Murphy became the director of security at Manhattan's Hilton Hotel, where McDonnell had arrested him. According to McDonnell, Murphy was gay himself, and smitten by his striking-looking Puerto Rican boyfriend, who worked as a beautician.
According to McDonnell, Murphy had been arrested with a counterfeit detective shield in his possession. Some of the cops at the station house were ready to take him into a back room and give him "the treatment" for passing himself off as one of them. McDonnell intervened. "I told Murphy I'd be straight with him and he trusted me." Murphy became one of his most important informants. Before long the investigation was gaining momentum. "I had informants feeding me more information than I could handle," said McDonnell.
In New York, the ring operated out the Tangiers nightclub, a seedy knockoff of the storied El Morocco . Chickens were sent to work the Hilton Hotel near the old Madison Square Garden, or the Astor Hotel in Times Square, the latter being notorious for the young men who lounged on the "meat rack" outside it, and for the circular bar in the Orangerie which was popular with theatre people. Detective Fennel, McDonnell's rackets squad colleague, said the chickens employed by the ring had exceptionally sharp sense of what we now call gaydar. "They could spot a potential mark a mile away," said Fennel. "They could tell who was game and who wasn't after just a few remarks at the bar. "
In almost every case, after making contact, the chicken would accompany the mark up to his room, or suggest another hotel where they could go instead. Once in the room, one of two scenarios would follow.
In some cases, the bulls would wait until the two men had gotten themselves into a compromising position before bursting into the room and identifying themselves as vice squad detectives, capitalizing on the fear, panic, and surprise they induced in the victim as they initiated what they referred to as the play. At the Hilton, where Skull Murphy was head of security, the timing was made easier by the inch or so Murphy had shaved from certain room doors, into which he inserted a small dental mirror taped to the end of a cane, the better to see exactly when to pounce.
The bulls would explain the penalties for violating sodomy laws or corrupting a minor, then demand an outright bribe, or as they did to the Princeton professor, suggest that the victim pay "bail money" as a way of avoiding making his arrest public, or prison. In some cases the bulls might induce a payoff by putting a victim together in a room with another man they pretended to have arrested for the same thing elsewhere in the hotel. That other man might say something like: "Hey, I can't afford to be arrested. I'm going to offer them money, what about you?" Having the victim induce the payoff, rather than demand the money outright, lowered the criminals' exposure in court.
With all the right clothes and the right police jargon, some of the blackmailers appeared "more detective than real detectives," the FBI's Paul Brana said. The official paperwork—warrants, affidavits, arrest forms—was convincing too.
Sometimes the thugs carried real guns and used real badges. But in New York, where penalties for police impersonation and criminal possession of a weapon were stiff, the thugs often flashed fake badges and either didn't carry a gun, or carried toy pistols, instead. The fact that at the time real corrupt detectives were known to employ similar "fairy shaking" techniques only made these bulls more believable.
In some instances after an "arrest," the bogus cops would park their "unmarked" vehicle outside a station house, ostensibly to check whether the duty captain might OK dropping the charges if a payment was arranged, which tended to encourage the victim to comply. In other more resistant cases, the blackmailers would bring their victims right into night court in lower Manhattan, with one of the bulls sitting the victim down in the back of the courtroom while another kibitzed at the rail with the calendar clerk about the arraignment schedule or a mutual friend "On the Job."
In at least one case, the phony cops bluffed a sleepy desk sergeant into putting a victim into a holding cell overnight when the bogus detectives, who said they were from another precinct, told the sergeant they had another call to handle.
After the victim broke, everyone would return to the hotel to wait until the banks opened. As the victim squirmed or sat in shock, the bulls might blithely pass the time playing cards. At 9 a.m., they would be standing in line with the mark, in case the teller asked any suspicious questions or the victim signaled for help. Often the sums were so large, the teller would have to bring a supervisor over for authorization, heightening the tension. "Sometimes they took everything the victim had," recalls Robert Morgenthau. "They wiped people out."
In another scenario, the chicken would simply rob the mark in the hotel room, making off with his wallet. The hustler would keep any cash, but his handlers would then use the victim's driver's license, credit cards, or employment ID to run a background check, often with the assistance of the crooked cops in police intelligence or clerical units on their payroll. This was how they determined who they had entrapped and whether they were worth targeting. "They weren't looking for nickels and dimes," Andrew Maloney says. "They were looking for people who really had something to lose—people who were vulnerable and had the resources to pay them what they wanted."
Presenting the victim's wallet or ID as proof they knew what the victim had been up to, the bogus cops would explain that they were investigating a robbery or a homosexual prostitution ring and that the victim was being called as a material witness to provide testimony in the jurisdiction where the incident had taken place unless he posted money for a bond—with them. If the victim paid up, the cops said they could find another victim to testify in his stead. A victim who had become "a little Herman" during the initial robbery—thug-speak for frightened—was more likely to acquiesce when confronted later on. According to the Chicago Tribune, the Chicago ringleader, John Pyne, had a henchman pose as a wire service reporter to call victims and threaten to print stories "exposing their homosexual activities," sharpening fear of imminent public exposure.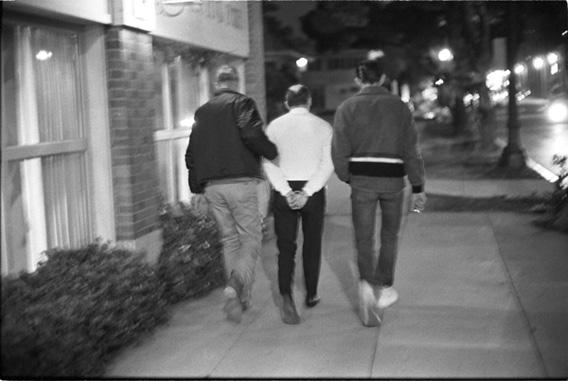 They played this long game with chutzpah too. On two occasions they marched New Jersey Congressman Peter Frelinghuysen, who sat on the House Foreign Affairs Committee, right out of his Capitol Hill office and onto a private plane for a trip to his New Jersey bank where he paid them $50,000 in total, according to the FBI's Paul Brana. Admiral William Church, who, among other duties was in charge of the New York Naval Yards at the time, was escorted from the Pentagon, handing over $5,000, as was an Army general who paid $2,000. The criminals also rushed a prominent surgeon right out of an operating room, forcing his colleague to finish the procedure. They didn't miss a chance to see a bit of the world either, flying to London to nick a well-known British producer for $3,000.
Once successful in obtaining a payoff, the culprits often returned for more. A Midwestern teacher paid $120,000 over a four-year period. A Kansas City businessman handed over nearly $150,000 until he pleaded with the criminals to kill him because he had no more money. If denied, the criminals made good on their threats, often destroying lives. The Times reported that "The marriage of one victim who refused to be intimidated was wrecked when the gang informed his wife." According to Time magazine, the fiancé of another victim broke off her engagement.
In one case, two phony detectives, armed with pistols and flashing their shields, broke into a hotel room and got the drop on a nuclear scientist from California with a chicken. The bogus cops took the man's credentials then let him leave for the West Coast. A month later, the cops arrived in California and gained entrance to the government research facility where the scientist worked. As they confronted him for money, they were interrupted by the scientist's supervisor. The quick-thinking victim introduced the extortionists as two detectives he had befriended on his last trip east, and the two "detectives" were then given a tour of restricted areas of the facility, right at the height of the Cold War.
At least one shakedown effort went awry. According to the FBI's Paul Brana, and former U.S. Attorney Andrew Maloney, after being misidentified as a target, a Kansas abortionist took out a shotgun and chased the thugs away.
Investigators worked to collect evidence on the extortionists and to determine who had been victimized. At one point when John Pyne, the ringleader from Chicago, flew into New York, both his airport porter and his taxi driver were New York detectives. Once the arrests began, ring members rolled on each other fairly readily to avoid heavy jail time, or became confidential informants. This sometimes allowed investigators to follow the thugs as their operations unfolded in real time.
Testimony from chickens was harder to get. Most were transients or runaways from abusive family backgrounds who were difficult to track as they moved between fleabag hotels and seedy YMCAs, turned tricks in the back of tractor trailer trucks parked on waterfront piers, or sought cinematic thrills in the grindhouses of 42nd St. Some were drug addicts, under the thumbs of their pushers and their pimps, who were often blackmailers in the ring's middle ranks.
But getting the victims to cooperate, which was crucial to any prosecution, proved to be "the most difficult part of the investigation," as Robert Morgenthau explains. Of the few victims who came forward on their own, only a small number were willing to sign formal complaints.
Many of those who had been identified as victims by members of the ring simply lied to investigators. Some were petrified by the personal and professional costs of being "outed" if the extortionists made good on their threats. Others were anxious that the criminals might learn of their cooperation through law enforcement leaks and physically attack them, or their families, in retaliation. Their concern was not unfounded given how far-flung Pyne's payroll was thought to be. "The blackmailers were counting on the victims not taking the stand," Andrew Maloney says.
Some of the victims continued to believe that the men who shook them down were real cops. The nuclear scientist who'd given his "friends" a tour of his facility for instance, refused to believe his blackmailers were not real cops, saying he was "disgusted" with the NYPD. The scientist only cooperated after he was shown mug shots of his two visitors. At one point, an anonymous law-enforcement official signaled victims through a quote in the Times: "Extortion of money from well known persons who are homosexual or bisexual is a persistent problem. We want to alert these people who come from all walks of life that such extortion schemes exist and we want to impress upon them also that New York City detectives are no part of this disgusting racket."
And there were victims who were wealthy enough to pay off the blackmailers. According to the Times, "a musician who has made numerous appearances on television," whom many at the time believed to be Liberace, declined to testify before a New York grand jury. "I can afford to lose the money," he was quoted in the Times as saying. "I hope they die of cancer." It was the contractual "morals clause"—standard back then—which of greater concern. According to McDonnell, the entertainer, who was being coached by his lawyer, told him by phone that he would not be able to identify anyone anyway, and that he had "nothing to gain and everything to lose" by testifying.
Some of the victims being identified in the investigation fled to their country houses, or to Europe. Others went completely underground. Detectives found one victim by staking his son's birthday party at the family's Connecticut estate.
Many of the victims' wives were especially distraught. Some were learning of their husbands' secret life for the first time. Others were worried their husbands might commit suicide.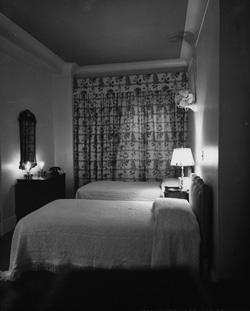 Underscoring the emotional delicacy of the situation was the suicide of Admiral William Church, cousin of the powerful Democratic Senator from Idaho, Frank Church, who'd been shaken down several months after being robbed of his credentials by a chicken at the Astor Hotel. Church was initially "arrogant and abrupt," when McDonnell approached him in his Pentagon office, but grew "very taken aback and withdrawn," only agreeing to talk to investigators and prosecutors up in New York after being shown what he was told was a yet-to-be-activated subpoena with his name on it. The rackets squad's commanding officer, Inspector Paul Vitrano, wanted Church to fly up to New York with McDonnell right then, but McDonnell argued that if they let Church come up on his own, as he preferred, they might get more information from him. It was agreed that he would drive up by himself the next day, when Church would have an off-the-record conversation with Hogan. This would spare Church from testifying before a grand jury, which would have resulted in him losing his commission.
Later that night however, Church drove to a motel in Bethesda, Md., and shot himself in the head. According to McDonnell, the "subpoena" he showed Church was merely an official-looking piece of paper with Church's name written on it. "He just assumed it was real," said McDonnell, who still winces at the turn of events. McDonnell called Church's private office number to see where he was when he hadn't shown up at the scheduled time and heard the news from Church's secretary.
In the end the ring was broken and its victims largely protected because of persistence, discretion, and trust, as well as sensitivity to men whose lives and careers could easily be shattered. "I felt sorry for them," Detective McDonnell recalls. "I did everything in my power to make sure their families and the business associates did not get involved." Adds Robert Morgenthau: "We treated them as victims of crime. We didn't want to cause them any personal embarrassment." Financial records, which were crucial for making cases, were sought with particular delicacy to avoid stoking rumors among bank employees. In some cases, the Mattachine Society, a homophile organization whose members included lawyers with connections in high places, served as a go-between so that the victims would feel less exposed.
Authorities announced arrests as they occurred, but the press coverage was fragmentary. It was only in the beginning of March 1966, when the New York Times ran a front-page story based on anonymous police and prosecutorial sources, that details about the number and prominence of the victims, the amount of money involved, and the brazenness of the criminals became known. The Times was careful not to identify or "out" any of the ring's targets, complying with DA Hogan's request. But the play given the story underscored the very homophobia that had contributed to the victims' exploitation. "Nationwide Ring Preying on Prominent Deviates."read the Times' headline.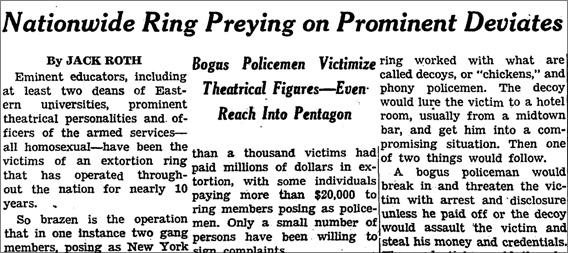 Although prosecutors often had enough evidence to win convictions at trial, "We got most of the perpetrators to plead because we really did not want to put the victims on the stand," Andrew Maloney explains. "And even when they testified in open court, we did not get into the sex thing." "We made every effort to protect them," his boss Robert Morgenthau recalls. "Every effort to keep things confidential."
After Hogan's initial announcement to the New York Times, prosecutors downplayed the cases in the media, shunning what could have been sure publicity, by trying the cases one-by-one and not as part of a broader, more sensationalistic package. For their part, news organizations which did have embarrassing information on high-profile victims were for the most part discreet. "It wasn't something that the media wanted to generate attention to," Andrew Maloney says. "In those days, things (like this) were handled a little bit differently." Although the Times did run a front-page report in May 1967 that a congressman had paid blackmail to the ring, the paper did not specify the congressman other than that he was "from an eastern state." Most other news about the case was relegated to the inside pages.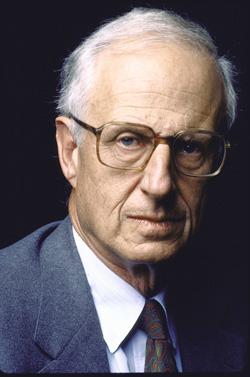 The Church tragedy aside, authorities were successful in limiting personal and professional damage. Military officers—the two generals, as well as a much-decorated Navy pilot and some others—who admitted to being targets had to retire or leave the service, however. Congressmen Frelinghuysen cooperated with authorities in their investigation, although his blackmailers were ultimately not prosecuted. And while Frelinghuysen was able to remain in Congress, according to the FBI's Paul Brana, he was forced to leave his seat on the Armed Services Committee after the Justice Department discreetly informed House leaders, citing concerns for national security.
The low-profile approach seemed to satisfy activists of the day. In 1966, the Mattachine Society gave Robert Morgenthau its man of the year award. "Obviously they were happy with the outcome and the way we handled it," Morgenthau says. Members of the rackets squad who worked the case all received commendations. McDonnell was made a permanent member of the DA's squad by Frank Hogan himself, who, according to McDonnell, picked up the phone and made the appropriate call right in the middle of a Christmas party. Not long after this case, the NYPD ended its undercover "entrapment" operations, yielding to political pressure from the Mattachine Society and from a crusade which had been mounted by the then-liberal New York Post.
The court proceedings against the defendants often smoked with indignation, a far cry from the days not long before when crimes against gay men would have prompted prurient remarks or indifference. In Chicago, Assistant U.S. Attorney Michael Nash called ringleader John Pyne "a menace of the most depraved kind." Pyne was given two 20-year federal prison terms, to be served consecutively. In New York, federal Judge Irving Ben Cooper thunderously denounced weightlifter John Fellabaum as being "so steeped in filth that as I read the (investigation) report I cringed, and my flesh crept as I read the depth of iniquity to which you have allowed yourself to sink." According to former federal prosecutor Thomas Baer, Cooper was disgusted at Fellabuam for making the witness, a gentlemanly antiques dealer from Maine, take the stand and publicly "out" himself, only for Fellabaum to plead guilty immediately after the opening trial session. (Fellabaum wound up appealing his conviction on the grounds of inadequate counsel, with the appeal going up to the Supreme Court in 1969, where it was denied cert.)
Sherman Kaminsky agreed to plead guilty on federal charges, but when Admiral William Church committed suicide, New York DA Frank Hogan raised the prospect of prosecuting him on manslaughter charges. Kaminsky tried to strike a deal with federal prosecutors, says Andrew Maloney, but the feds refused. Panicking, Kaminsky jumped bail, becoming a fugitive for 11 years.  
Authorities suspected that Kaminsky might have spent some time in Israel, but couldn't find any productive leads. In January 1978, however, the FBI got a tip and apprehended Kaminsky early in the morning at the Seattle-Tacoma International Airport as he transited flights between Vancouver and Denver. According to the FBI, Kaminsky had lived for much of the intervening 11 years in Denver under the name of Calvin Paley, and had operated a rabbit-raising business as well as a company that distributed hair replacement products.
Because Kaminsky had deliberately fled, the federal statute of limitations on his extortion conviction was voided. In the end, Kaminsky dodged jail, making a deal with federal prosecutors to gather state's evidence on a fellow detainee who was suspected of being a central figure in the 1976 Orlando Letelier bombing case. Judge Irving Ben Cooper, still on the federal bench, showed he had lost none of his edge when interviewing Kaminsky in chambers for the deal, telling Kaminsky that what he had done before was "a dirty, slimy, almost inhuman bit of deportment." Having upset numerous violent, right-wing Cuban nationalists as well as a few Chilean secret agents with his testimony, Kaminsky was enrolled in the federal witness protection program in whose custody he has presumably died.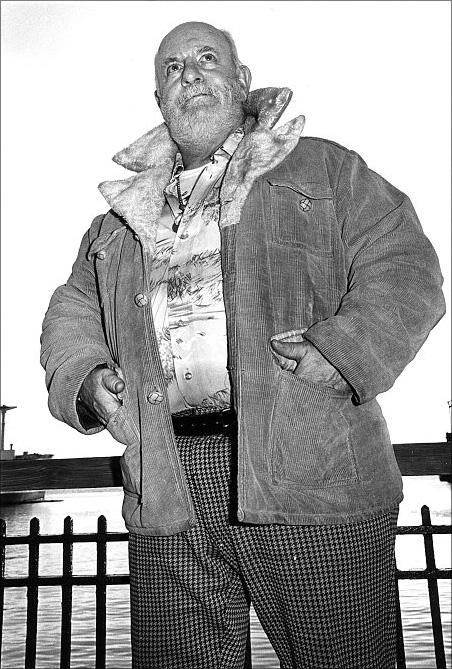 But it is the Hilton Hotel's Edward "Skull" Murphy who had the most interesting second act, by far. His life after his arrest points to the incredible changes that overtook gay America in the years after the extortion ring was broken. Murphy pleaded guilty to the New York State indictments against him but he served no jail time, his cooperation on the case leading to a five-year suspended sentence.
Murphy hardly went straight however. He became the "door manager" at the Stonewall Inn, where he made payments to the mob and payoffs to the police. According to David Carter, author of the 2005 book Stonewall, Murphy may have used the that club's membership lists, which held the names of thousands of open and closeted gay men, to identify well-placed homosexuals who worked on Wall Street, or gained that information from manipulative bartenders and waiters. At one point, a large cache of negotiable securities disappeared from the United States and were put up for sale in Europe. According to Carter, the NYPD later found indications of collusion between mob figures and the employees of a federal depository who frequented Stonewall. Murphy, Carter suggests, may have told the mob of these men's proclivities which would have been quite effective as a blackmail tool on Wall Street. 
Carter also maintains that Murphy was arrested during the Stonewall riots in June 1969, but escaped police custody handcuffed to a drag queen named Blond Frankie. Murphy and Blond Frankie allegedly hopped a cab to another bar further downtown called Keller's, which was popular with by seaman by day and with gay men by night, where an S&M drag queen got them out of their restraints.
After Stonewall, Murphy appears to have pulled off one of the more intriguing makeovers in criminal history, becoming, against all bets, a gay movement activist and community icon. Those who knew about his role in the Chickens and the Bulls case either got old and forgot or died off. When Murphy did speak about the case, he airbrushed his role, claiming to have been a confidential informant for the FBI, not the NYPD, and had actually infiltrated the ring for them. 
In a significant turnabout, Murphy earned prominence for working with people with AIDS, runaway teens, and young prostitutes, as well as homeless kids, addicts, and the mentally retarded. His Christmas party fundraisers were "a holiday fixture," recalled one admirer, and he was especially adept at getting bakeries and dairies to donate to AIDS hospices and old age homes. In fact, he was so persuasive that he even got Detective Jim McDonnell to do some volunteer work when he retired and surprised McDonnell at an awards dinner with a plaque to honor his work. And Murphy apparently had enough of a name and stature in the community to merit a cameo in Joseph Lovett's documentary Gay Sex in the '70s.
On the political front, Murphy played a key role in rallying support for gay initiatives. A 1978 Village Voice profile by Arthur Bell portrayed Murphy leading a march on behalf of a gay rights bill then before the New York City Council, with a lavender marshal's hankie knotted around his wrist as he led protesters in a rousing chorus of "Hey, hey, ho, ho, discrimination's got to go." Murphy looked like "a character from Guys and Dolls who'd just stepped away from the craps table," wrote Bell. And his penchant for referring to his brothers as "queens, fags, and cocksuckers" did not go down well with "the (Dewar's) White Label liberationist crowd." But Murphy was a "phenomenal resource" whom everyone respected, another activist explained. According to Bell, Murphy turned against the mobsters who he'd long worked for, becoming a witness in hearings into mob control of the gay bar scene held by the New York State Select Committee on Crime.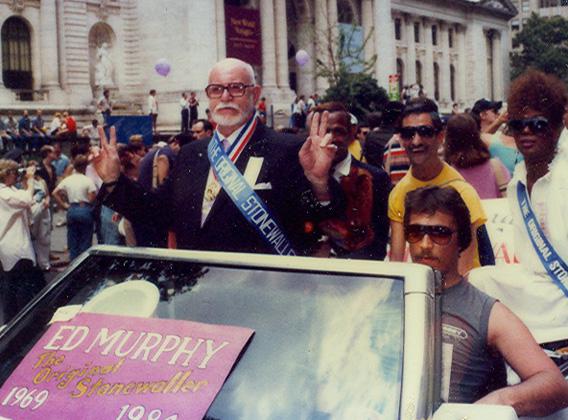 Eventually known as the "Mayor of Christopher Street," Murphy played a central role in organizing the now-famous street festival that takes place during New York's annual gay pride weekend. Every year, Murphy and a crew much younger men would ride in a convertible Cadillac in the gay pride parade itself. A picture from the 1984 parade shows Murphy looking dapper, in a trimmed beard and a blazer, wearing a blue sash bearing the words: "The Original Stonewaller."*
Murphy died of AIDS in early 1989 at the age of 64. At his standing-room-only Roman Catholic funeral, the priest said that "If Ed Murphy is not with God, then there is no God." As pallbearers carried him to the hearse, a police escort stopped traffic and a tenor sang Danny Boy. An obituary in the New York Native called Murphy "a patriarch to his own," and said that "bigotry appalled him." He was, the obituary declared, "a humanitarian with few peers whose like may not pass our way soon."
Later that year, Murphy was named posthumous Grand Marshall of the Lesbian and Gay Pride parade. The caddy Murphy traditionally rode in led the march, empty but for the driver.
Correction, Sept. 14, 2020: This article originally contained a photo of Canadian wrestler John Joseph "Skull" Murphy that misidentified him as Ed Murphy. The photo has been removed.
Correction, July 13, 2012: The article originally mischaracterized Pauline Kael's review of Victim, unfairly attributing anti-homosexual sentiments to her. It also wrongly claimed that her review ran in the New Yorker; she had not yet started writing for the New Yorker at the time she reviewed Victim.
Correction, July 11, 2012: This article originally misstated that Edward Murphy wore a rainbow sash during the gay pride parade. It was blue.