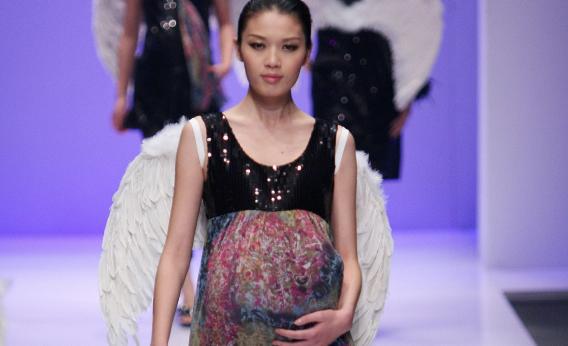 Cognitive dissonance: The New York Times has two section-leading stories about China today, one on the growing market for women's magazines like Cosmo, Elle, and Vogue, and another on the violent enforcement of China's one-child policy via forced, late-term abortions. From the first:
"We're going through this wonderful period where huge numbers of women are coming out of poverty into the middle class and beyond," Mr. Edwards [president and chief executive of Hearst Magazines International] said. "Many of these women are choosing to spend on luxury goods."
These may be the same women who, after a lifetime living under reproductive restrictions, are no longer even interested in having more than one child.
There have been some studies, including a long-term experiment in a county in Shanxi Province where the family planning law was suspended, that show that families would not have many more children even if the law were abolished. Scholars say the reasons are rapid modernization and a mass movement toward urban areas — parents often say they cannot afford to have more than one or perhaps two children.
Meanwhile, glossies are doing so well that Elle had to start publishing twice a month because at 700 pages, its issues had grown too bulky for consumers to lug around. Hearst is designing special cloth bags to help women carry the magazines home. And the market for the luxury goods being hawked in these massive books—Gucci, Prada, and upscale Chinese brands—continues to expand, both in Beijing and in smaller cities. According to the Times, advertising spending for women's consumer mags in China jumped 16.9 percent so far this year.
Who knows if the women inspiring special sacks for their fashion reads are the same women who, if now given the choice (not that they are being given it), would still opt not to have multiple children so that they can, say, buy more Gucci? And after a lifetime of low reproductive expectations, who can blame them? Who knows if they are the same women who, like Pan Chunyan, are being dragged at eight months pregnant from their local grocery store by thugs, and injected with a drug that results in a dead baby, born "black and blue all over." But the friction between these two stories is impossible to overlook.
As long as local officials are evaluated on their ability to keep their township's population down, it's hard to imagine these forced abortions and sterilizations coming to an end. Still, there's a tiny opening: The Times reports that on blogs and even in state-run newspapers, objections to the one-child policy are being expressed more widely than ever before. And scholars at a recent Peking University gathering were vocal in their outrage. But how long until the same young women who can't keep their hands off the latest issue of Vogue start wanting more of what they have never been able to have?  
As for the woman who was dragged from the grocery store at eight months pregnant? She tells the New York Times that she and her husband do not plan to try for another child again.
---