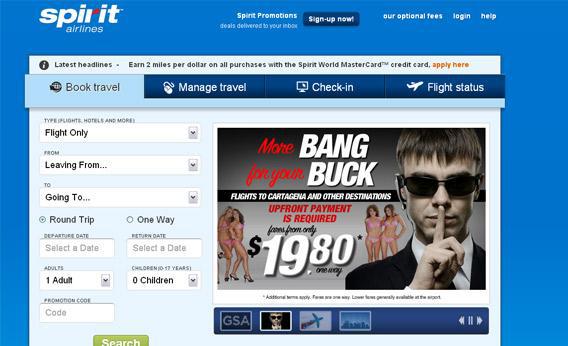 Spirit Airlines wants you to know that if you fly one of their planes to Colombia, you'll have plenty of money left over to hire hookers. The low-cost airline, which previously has offered deals pegged to the scandals of Anthony Weiner, Arnold Schwarzenegger, and Ron Blagojevich, is now lampooning the Secret Service prostitution scandal with an offer to fly to Colombia for less than $20, as long as you book by Thursday night. "More Bang for your Buck," the ad promises, adding that "upfront payment is required." Get it?! You can afford extra paid sex when you get there! Ah, hookers, such a reliable punch line.
Enter some women's studies scholar to pour cold water all over this hilarious premise.  Janice Raymond, an American scholar in sex trafficking, points out in the Guardian that life for Colombian prostitutes might be sorta tough, or something. "Pimps control many of the women in the legal tolerance zones," Raymond writes, referencing the area of legalized prostitution where members of the president's security team are accused of hiring women. Raymond quotes a local expert observing that "many women in the brothels of Cartagena are victims of sex-trafficking." God, women's studies professors are so laaame. (Next thing you know, some historian will be pointing out that during the Great Depression, poor women often prostituted themselves to pay their bills and feed their kids. Why, that could've been your great-grandmother. That must've been funny!)
We sure hope Spirit Airlines find success with this ad. 'Cus there's nothing funnier than a single mother selling her body to make money, getting stiffed on her rate, and facing the wrath of her pimp for non-payment. Ha-ha!
---