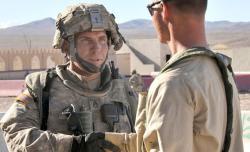 "Since this is such an unknown path for me I am hoping to blog about it and look back in a year to see how far we have come….its a blog time capsule," wrote Karilyn Bales, wife of Staff Sgt. Robert Bales, who is accused of murdering 16 Afghan civilians, on her blog. (The blog is no longer online, but portions of it were captured as screen shots by the New York Times and other publications.)
I also created "time capsules," in my case a book and a column, to track the ups and downs of my husband's deployments. When we military spouses record our lives, writing is often the only way to reach out, express a need, or ask for help.  We want our children to read our words decades from now and understand what it was like to give birth to them without their father present, or watch live television footage of an airstrike you know your spouse is flying in.  We also want readers write back to us and say, "I went through that too!" The world feels a little smaller, a little friendlier, when that happens.  
But creating community among military spouses is only one of the purposes for a military spouse blog like Karilyn Bales'. These blogs write themselves into the larger conversation about the cost of war— they create a historical record that will provide a glimpse of how a decade of conflict affected American families. Collections of war letters from the past engage us with their promise of a peek through the curtain on the personal lives of soldiers in a combat zone, but today's military spouse blogs throw those curtains wide open. Most of it is very mundane, including Karilyn Bales': a child's first word, how happy you are to get a phone call from the front. But that doesn't alter these blogs' potential value for future readers. I often think that if the spouses of the Greatest Generation blogged, then maybe we, the current generation, would be able to look back and apply their lessons to our lives. 
We don't have Greatest Generation military spouse blogs, and we don't have these women's letters, either. In the past, letters from wives or family members to soldiers weren't saved, simply because soldiers in the field are always on the move. There was no record of how relationships unfolded, or how wives coped at home; very little to learn from at all. So let's learn from Karilyn Bales' blog—not just use it as evidence in the case against her husband. It's a time capsule all of us need to examine, because it documents a casualty of war: her family.
---