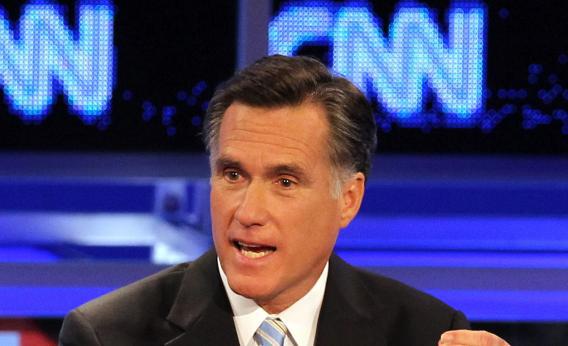 In Will's master work on Romney and abortion, he offers this canny diagnosis of the candidate:

His problem isn't that he breaks his promises. His problem is that he can't stand the idea of breaking his promises. He'd rather rewrite his history, again and again, than admit to betraying a commitment. If possible, he'll formulate the initial pledge so it's emptier than it looks. If necessary, he'll redefine it. His word means everything to him, even when his words mean nothing.
I thought about that last night as I watched Romney claim that when he said the U.S. auto industry should go bankrupt, he was really trying to save it. Never mind that only financing from the federal government could get the car companies to the point where they could make it through managed bankruptcy. Romney can never resist the fudge. To return to abortion, though, I've been assuming that all his scrubbing of his history will actually serve his conservative base if he's elected president. As payback if he's elected, he'll have to stick with the pro-life stance he now insists (falsely) that he always had.
This week, though, I'm less sure. Assume that Romney will ever have a finger to the wind on this issue. It's impossible to watch Will and Slate V's excellent video of Romney's many calibrations and think that his personal discomfort about abortion translates into support for the pro-life agenda that's more than instrumental. And now we have a double pro-choice win that suggests it's instrumental for Republican candidates to tread very carefully. The usual assumption is that the right knows how to rise up over abortion and birth control and the left does not. But a few weeks ago a pro-choice social media stampede took down the Komen Foundation's plan to stop funding Planned Parenthood, and then on Wednesday the same force tore down Virginia's ultrasound bill. Gov. Bob McDonnell backed away from requiring women to get vaginal ultrasounds before an abortion, and the assumption was that McDonnell thought the bill made him look to extreme as he starts trying to court a national audience.
Wow. Twenty-six states have ultrasound laws and seven of them, like the Viriginia bill, mandate the ultrasound and tell abortion providers to give women a chance to see it. At Planned Parenthood and at other clinics, it's standard to recommend an ultrasound to patients—not to shame women in hopes they'll change their mind, a crucial difference from these state laws, but to date the gestational age of the fetus accurately. And now all of a sudden a Republican governor with national aspirations is backing away from an ultrasound requirement as fast as he can, and a new Quinnipiac poll shows that voters have a favorable view of Planned Parenthood by a 55 percent to 22 percent margin, and oppose cutting federal funds to the women's health provider by a margin of 60 percent to 31 percent. With numbers like that, maybe Romney will be tacking back to the center on this issue if he ever sews down the nomination. If he can find it.
---