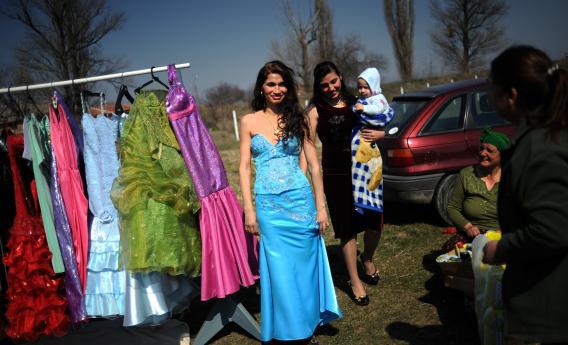 Controversial statement: The most compelling television series of 2011 was not The Walking Dead or some other high-concept drama, but the British reality series My Big Fat Gypsy Wedding. Not just another frothy wedding show, My Big Fat Gypsy Wedding explored—albeit imperfectly—many issues of import, particularly gender relations and societal expectations of women in traveling communities. I can't wait for the U.S. edition, which TLC promises is coming soon.
Which is why I was so taken with The Invisible Ones, by Stef Penney. A mystery set in 1980s England, The Invisible Ones follows a half-Roma private detective—his father was Roma but married an outsider and settled down in a house—who is hired to find a missing Gypsy woman. Her father has not seen her in many years, since her arranged marriage to into a family close-mouthed even by Roma standards. Rumor has it she ran away after it became clear that her only child suffered from a devastating genetic disease, leaving the baby behind with her strange husband and his clan. The detective, Ray, must rely on his Roma background to conduct the case, though it is a world he is not entirely comfortable in.
Like My Big Fat Gypsy Wedding, The Invisible Ones delves into some of the thorny issues faced by travelers of both Roma and Irish extraction in England and elsewhere: the conflict between Irish travelers, Roma, and the rest of the British Isles; the strict, troubling gender roles that require girls to marry young, have many children, and tolerate controlling husbands; the lack of education among many Gypsies; how their way of life is changing in modern times. Penney demonstrates sensitivity by alternating narrators: In addition to PI Ray, who is at best ambivalent about and sometimes disgusted by the Roma, the story is also told from the perspective of the missing woman's young nephew. J.J. is on the cusp of adolescence and just beginning to realize that some things he has taken for granted, like the cramped trailer he calls home, will leave him disconnected from society at large.
---