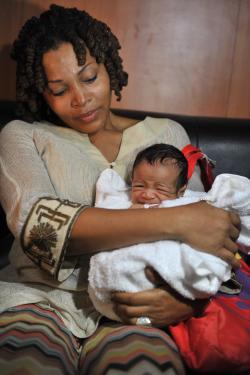 Last week, the financial-management website Mint published an estimate of how much a homemaker would earn if she were paid market prices for her work. The result—that a homemaker would earn nearly $100,000 per year—seems to vindicate lots of stay-at-home moms who think their work is undervalued.
But Mint's study—and the other perennial attempts to quantify a homemaker's worth—should instead be about the worth of a working mother. 
 
With women making up nearly half of the workforce and 71 percent of mothers with children under 18 working or looking for work  this emphasis on how the homemaker's job often goes "well beyond the usual 9 to 5" seems irrelevant.  
To Mint's credit, it keeps the discussion of the homemaker gender neutral—implying that a female or male homemaker is worth $96,261. However, considering that just 3.3 percent of married couple families have a stay-at-home father, it's safe to assume this "study" is mostly about women. 
Mint purports that the worth of a homemaker can be calculated by adding the daily cost of a personal chef, a house cleaner, a nanny, a personal driver, a lawn maintenance crew, and a professional laundry service. But with the majority of women in the workforce, shouldn't the article instead have been an acknowledgement of the mothers who are doing all of these high value services and paid work?
In Dividing the Domestic: Men, Women, and Household Work in Cross-National Perspective, sociologist Tanja van der Lippe writes that, in the OECD countries—that is, mostly high-income nations—if women "do not have a paid job, they spend 28 hours a week on domestic work; if they work full-time (35 hours or more weekly), they spend 17 hours on domestic work." Even though working women are at the office for at least seven hours each day, they only spend 40 percent less time on housework than stay-at-home women. 
Furthermore, says sociologist Liana Sayer in Dividing the Domestic, marriage in the United States still means an increase in women's housework time and a decrease in men's. Working mothers, even more so than homemakers, are the ones working past 5 and, as Mint put it, being "taken for granted by [their] family members."
Mint might not be wrong in its discussion of homemakers, but it is certainly dated.  Even the Washington Post's parenting blog implicitly acknowledges this: Alongside Janice D'Arcy's discussion of the Mint estimate is a picture of a 1950s mom vacuuming in an apron and dress, happy toddler at her side. Rather than just a vacuum, I would have instead hoped for a blog that called to mind a woman with a vacuum in one hand and briefcase in the other. 


---