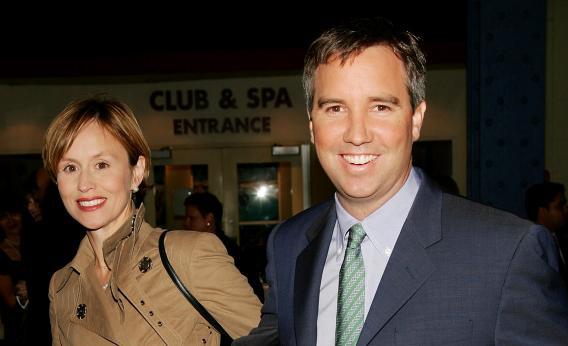 News outlets are reporting that Bobby Kennedy's son Douglas has been charged with child endangerment for getting into a fight with nurses at a Westchester maternity ward in January. Kennedy says he was trying to carry his newborn infant outside for some fresh air, and that the nurses aggressively stopped him. "We are sickened by the fact that our simple desire to take our healthy baby son out for a walk has been warped into child endangerment," he said. In an interview with the New York Daily News, the husband of one of the women involved said the nurses were just doing their jobs, and that Kennedy had removed the GPS tag from his infant so that he could evade hospital security.
Whatever violence occurred in Westchester last month is unfortunate, but not unexpected. A couple of years ago, I wrote about the growing market for infant abduction security measures at U.S. hospitals. According to a survey conducted by the trade magazine Campus Safety, one-third of all hospitals were planning to purchase some form of "infant abduction prevention solution" in 2009. These include radio transponders, security badges, high-tech alarm systems, and blood samples just in case they're ever needed for—knock on wood—a forensic analysis.
What's behind the trend to jack up security the nation's birthing centers—or "harden the target," as those in the industry describe it? First, there's a biased perception of the risks of baby-snatching, on account of the intense media scrutiny of each (incredibly rare) case. The heightened attention to the issue has indeed reduced the number of reported infant abductions, but even before anyone started investing in baby LoJack, the rates were miniscule. According to data from the National Center for Missing and Exploited Children, your chance of having your baby abducted and harmed was at most one in 3 million. As I wrote in 2010, you're about as likely to have your baby crushed to death by a nonvenomous reptile.
The second, and more important, reason for high-end baby security is that maternity wards are facing greater market pressures than ever before. Hospitals see their birthing centers as places to recruit new patients—or, indeed, entire families of new patients—so they're very keen to beat out their competitors. That's why you'll see some wards boasting of flat-screen TVs, Jacuzzi tubs, and tiled bathrooms. It's also why high-end anti-babysnatching protocols are taught to the nurses on the ward.
If the nurses in Westchester did try to stop Douglas Kennedy from taking his baby out of the ward, it's only because they're part of a burgeoning baby-security complex that's designed to recruit hospital customers and assuage overblown fears of kidnapping. As has already happened in airports and other settings, the growing incursions into our privacy are bound to produce some conflicts of their own.

Read more in "Invasion of the Baby-Snatchers: Our irrational fear of infant abduction could be causing real harm."
---