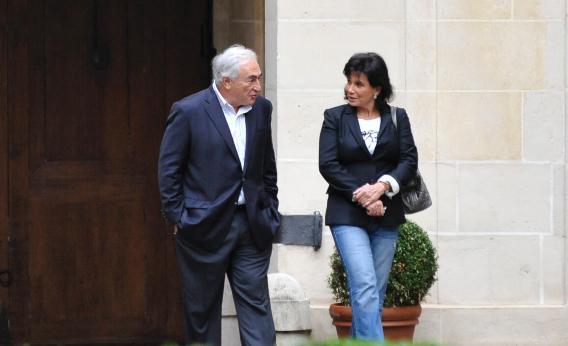 One of the least fun parts of being a feminist is the gradual process of accepting that women's reactions to their subordinate social situation are not always ennobling. Outspoken feminists tend to be drawn to images of ass-kicking ladies, both of the fantasy sort (Buffy!) and the real-life sort (Gloria!), and so discovering that large portions of the female population still have an image of the long-suffering martyr as the ultimate in female heroics? Well, it's just disappointing. Why would anyone think it's more heroic to be known as someone who takes a bunch of crap from a man and says, "Thank you, sir, may I have another?" as opposed to someone who throws it back in his face and walks out the door? I have no idea, but yet again, we're seeing a woman celebrated for standing by her man in the face of mounting public humiliation. Anne Sinclair, the wife of Dominique Strauss-Kahn, was named France's Woman of the Year by Terrafemina, a French women's magazine. And it was women voters who pushed her over the top, as male voters picked Christine Lagarde, who replaced Strauss-Kahn at the IMF after he was charged with raping a hotel maid in Manhattan.
Politicians know how powerful the image of the martyred wife is, which is why dragging the angry, tortured wife up on the podium with you while apologizing for illicit or criminal sexual behavior is so standard that it becomes news if the wife refuses. Hillary Clinton knows intimately how being perceived as a martyr standing by your man can drastically improve the public's view of you. Prior to the revelations of Bill Clinton's cheating in the White House, Hillary was one of the most divisive public figures in America, perceived as an independent feminist and feared for it. The intense public humiliation she suffered changed the equation dramatically; while the hard right was always going to hate her, Clinton becamse a beloved figure to the rest of the country. Ironically, she used the pity-induced popularity to start a career as a straight-up strong woman politician, and now she seems mostly beloved for exactly who she is. But it all started for her when the country fell in love with Hillary-the-martyr, and that she was able to turn it into something better than that is a testament to her perseverance.
There's good news here. A public martyring may be losing its appeal to a new generation of women who had the benefit of feminism from the cradle. Sinclair's popularity is strongest with women 50 and over in France. Wives have opted out of the podium march in a couple of recent American sex scandals, notably ones involving Mark Sanford of South Carolina and Anthony Weiner of New York, and they were able to do so without any public castigation for being bad women. Of course, their husbands also saw their political careers come to an end, suggesting that a humiliated wife might still be a necessary ingredient for public support to stay behind a politician caught up in a sex scandal. But hopefully younger generations of women will find nothing heroic about suffering in silence, and start looking more toward women who stand up and speak out when looking for heroes. 
---